Amy Schumer Has Lyme Disease Now, As Well As Questions About It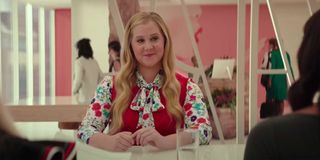 Lyme disease is relatively common, though it doesn't crop up with the rich and famous all that often. Still it happens, and big names like Avril Lavigne, Ben Stiller and Shania Twain have retreated from the public eye for a time as they've dealt with the effects of the disease. Now, Amy Schumer has joined the ranks of those notable names who have suffered from Lyme, and it sounds as if she may have been dealing with the disease for a while.
Still, the Trainwreck star says she only sought treatment for Lyme disease this summer after feeling like she may have been dealing with the after effects of getting a tickborne illness for "maybe years." She detailed the medications she's on and more on Instagram, but it sounds as if she still has questions about her diagnosis and what to do for it.
I'm not sure a doctor would answer these questions in a public forum like social media, but the nice thing about being able to share experiences on a forum like that is being privy to a whole bunch of experiences. In this case, Amy Schumer has some questions regarding whether or not Doxycycline and wine are a green light or a red light and more and it seems like she just wants to hear from other people who have also dealt with the disease.
Amy Schumer's public health condition share is one that more often crops up during the summer months, as people spend more time outdoors. In addition, It comes as other celebrities have discussed their dealings with Lyme disease over the last few years. Yolanda Hadid may be one of the most notable battles with Lyme, as it took her time to even determine what her diagnosis was. As of last year, Hadid revealed she has been in remission from the disease for seven years.
A lot of these celebrities go on to be advocates of Lyme disease. The aforementioned Avril Lavigne is the head of The Avril Lavigne foundation, which lends support to causes such as Lyme disease. Yolanda Hadid is part of Global Lyme Alliance. Alec Baldwin, himself a sufferer, has spoken out at events about Lyme, including the Bay Area Lyme Foundation LymeAid.
Lyme has been on the increase in recent years, as more people are coming into contact with ticks. Lyme bacteria is often spread by mice and the ticks that carry the disease shift around as deer populations do. There's a glut of information on this topic online, but the basic gist is, Lyme disease rates have gone up over the past couple of decades.
Here's hoping Amy Schumer's diagnosis helps her to deal with the symptoms of the disease. Meanwhile, I have some questions of my own. Namely, when is Schumer getting back to work? I know she has a Hulu series on the docket, but as TV and movie productions trickle back and she's hopefully starting to feel better, I am champing at the bit for more info!
Amazing Race & Top Chef superfan with a pinch of Disney fairy dust thrown in. If you've created a rom-com I've probably watched it.
Your Daily Blend of Entertainment News
Thank you for signing up to CinemaBlend. You will receive a verification email shortly.
There was a problem. Please refresh the page and try again.