Filming Delays Kept Ben Affleck And Ana De Armas Together In CA, But His New Movie May Finally Moving Forward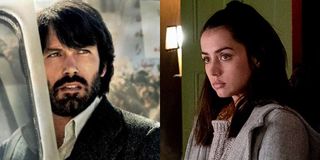 Ben Affleck and Ana de Armas have been joined at the hip since quarantine started back in March. The couple have done a little traveling together, they've walked dogs together and at one point Ben Affleck was even seen hanging out on a balcony at a Malibu location where Ana de Armas was filming. Soon, however, Affleck may be getting back to work on a new movie himself.
In fact, if things had been normal, he would have already been working. Ben Affleck had several productions ground to a halt this spring. One of them was the Robert Rodriguez movie Hypnotic, which was expected to originally film in Los Angeles. The flick got shifted to Austin for a July filming date as LA dealt with its own pandemic problems. As history has shown, Texas then also saw its rates go up and the production had to sit in limbo over the summer.
Soon, however, it looks as if Ben Affleck will be getting back to work. According to a CNBC report, the parent company of Hypnotic Solstice Studios has been looking around for a new venue for a while. Apparently the production will be moving to Vancouver, Canada for an October start in terms of filming. Australia and the U.K. were also looked at before the location was finalized.
Solstice Studios told the outlet that filming in the U.S. would be impossible not due to the rates in the country but just due to the availability of testing for those working on the movie, with Solstice Studios head honcho Mark Gill saying the testing capacity made it "impossible" to keep Hypnotic in The States. Basically, because there is a delay between the testing and the lab results, there's no way to reconcile with what the unions were asking for and what was actually available, per Mark Gill.
Some productions such as Yellowstone have been able to resume filming in the United States due to quarantine and other safety facets and procedures, but for a big budget movie like the one starring Ben Affleck, there are typically larger crews and more people interacting. So, Vancouver has more of the capacity to handle the set and the necessary testing.
Once Hypnotic gets off the ground, that should get the ball rolling in terms of Ben Affleck's workload. He also has the Disney flick The Last Duel (with Matt Damon) to complete. Then he'll be directing Ghost Army and also has a role in The Witness for the Prosecution coming up, based on the Agatha Christie novel of the same name – and not to be confused with Death on the Nile, the upcoming Hercule Poirot movie that already has a trailer. Plus, there's that whole little return of the Batfleck thing to look forward to...
Meanwhile, at some point soon Ana de Armas will have some No Time To Die promotional work to do. She was also recently seen filming in Malibu and her next movie will be playing Marilyn Monroe in Blonde. So, the a-list couple is going to be very busy in the coming months.
The good news? Both will be doing some interview and red carpet work together later this year. The reason they even met in the first place was because they filmed the thriller Deep Water together. It sounds like a shark movie, but it's actually about an unhappy couple and the games they play. Deep Water is expected out this November, but that's still subject to change.
Your Daily Blend of Entertainment News
Reality TV fan with a pinch of Disney fairy dust thrown in. Theme park junkie. If you've created a rom-com I've probably watched it.
Your Daily Blend of Entertainment News
Thank you for signing up to CinemaBlend. You will receive a verification email shortly.
There was a problem. Please refresh the page and try again.