The Fitting Way Christopher Nolan Convinced Kenneth Branagh To Work On Tenet With Him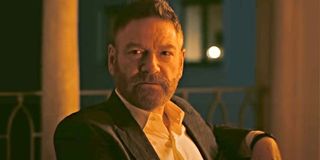 I wouldn't call Sir Kenneth Branagh and Christopher Nolan frequent collaborators, but they did work together on Dunkirk before the director and actor joined Nolan's latest theatrical jaunt Tenet. The story behind how he got involved in that endeavor is pretty fitting, actually, and Branagh shared how it happened in the recent interview.
Christopher Nolan's known for being a bit of a meticulous and mysterious creator and apparently one day he just showed up on Kenneth Branagh's doorstep to convince him to join Tenet. If I didn't know any better, I'd think a little time inversion might be involved. Speaking to Digital Spy, Branagh revealed exactly how Nolan convinced him to sign on.
Look, all I'm saying is that in Tenet people tend to know things they shouldn't know -- and minor spoilers -- like Neil understanding the protagonist likes Diet Coke, thanks to time inversion. I can neither confirm nor deny that time inversion exists in our every day life, but does it shock me to know Christopher Nolan randomly just ascertained Kenneth Branagh's exact location on the exact day he needed to ask him about a major movie project? No, not it does not.
On a more serious note, though, Christopher Nolan probably has excellent assistants and it is fortuitous that he figured out how to get Kenneth Branagh back to play Andrei Sator in the movie. Some of the finest time inversion scenes in Tenet are, in fact, given to Branagh in the movie and it's been pretty fun for fans to see Branagh go from playing the morally upstanding and rather oddball Hercule Poirot to the over-the-top aggressive villain Sator recently.
As a bonus, what Kenneth Branagh is doing in Tenet is also a far cry from his Dunkirk character, which saw the actor playing a commander and someone who sticks around after the major battle to handle stuff--and did it with barely any script. Tenet may be a little less emotional than Dunkirk, but it's also got a twistier and more complex plot and doubtless that was a totally different sort of challenge. If you don't believe me, just look into Elizabeth Debicki's comments on the script.
The good news is that if Christopher Nolan wants to work with Sir Kenneth Branagh again in the future, he now knows where to find him! Tenet is currently in theaters globally. To see what else is coming up, take a look at the movies release schedule for the rest of the year.
Amazing Race & Top Chef superfan with a pinch of Disney fairy dust thrown in. If you've created a rom-com I've probably watched it.