Halle Berry Explains Knowing Something 'Didn't Feel Quite Right' While Filming Catwoman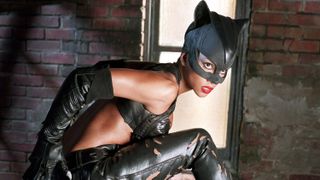 Whenever the topic of "bad" comic book movies comes up, Catwoman is usually near the top of the list. Despite boasting an indisputably talented leading lady and centering on one of the most popular villains of all time, the movie was an unqualified dud. Now, it turns out Halle Berry had a feeling things with Catwoman wouldn't end well, because something "didn't feel quite right" when they were making it.
On paper, Catwoman seemed like it could have been a big success. Not only was it one of Halle Berry's first post-Oscar gigs, but she already had a proven track record of mastering the art of the comic book movie, thanks to the success of the X-Men franchise. But when it hit theaters in 2004, the response was anything but positive, as its Rotten Tomatoes score can attest. Despite a big budget, it failed to make much of an impression at the box office, too, pulling in less than $100 million worldwide.
At the time, fans may have been confused as to what went wrong. But Halle Berry recently told Variety that she had concerns about Catwoman early on -- even though she felt powerless to do anything about it:
Her concerns definitely weren't unfounded. Many reviews of Catwoman pointed out the film's lack of substance. Despite having a talented actress at their disposal, the filmmakers ultimately failed to find a way to tell a compelling story about the eponymous character. Those criticisms stood the test of time -- today, Catwoman is often used as a textbook example of what comic book movies shouldn't do, especially when it comes to how they portray female characters.
Halle Berry's frustrations with how Catwoman played out were valid. But she didn't let that stop her from supporting the next generation of actresses to take the role on. She recently hyped up Zoe Kravitz after she won the role in The Batman, sending her encouraging messages on social media.
We still have a while to wait to find out exactly how the newest incarnation of Catwoman will be integrated into Matt Reeves' upcoming movie. Zoe Kravitz has hinted that fans should anticipate good things -- and the glimpse we saw of her in the film's first trailer was definitely promising.
What did you think of Halle Berry's Catwoman? Are you excited to see what's next for the character in The Batman? Let us know in the comments!
Your Daily Blend of Entertainment News
Thank you for signing up to CinemaBlend. You will receive a verification email shortly.
There was a problem. Please refresh the page and try again.