How The Devil All The Time Book Writer Got Involved With The Netflix Movie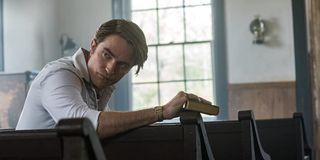 Oftentimes whenever a book is adapted into a film, the author takes a back seat, allowing the production team to do all the heavy lifting. But there are rare cases where the author is more involved. In Netflix's new movie The Devil All The Time, it sounds like book writer Donald Ray Pollock wasn't planning on participating on the movie, but one filmmaker insisted otherwise.
If an author gets involved in an adaptation of their work, sometimes their involvement is as simple as a blink-and-you'll-miss-it cameo. For The Devil All The Time, you might have heard the author's cameo and not even known it. Director Antonio Campos, who also adapted the screenplay, said the only person he ever wanted to be the narrator in the movie was writer Donald Ray Pollock, according to Polygon. Here's what Campos had to say:
Listen to Donald Ray Pollock's narration in The Devil All The Time, and you'll understand why Antonio Campos was so eager to have him do it. His voice is a perfect fit for the Southern gothic movie. And since Pollock is the original writer, it makes sense that he would be the narrator; though apparently he doesn't even narrate his own audiobooks.
Donald Ray Pollock is an award-winning American writer. Although packed with a lot of violence, The Devil All The Time released to wide acclaim, being chosen as Publishers Weekly Top Ten Books of the Year among other accolades. It is Pollock's first novel.
The Devil All The Time is also his first book being adapted into a movie. Starring Tom Holland, Robert Pattinson, Sebastian Stan and Bill Skarsgard, it follows a young man named Arvin Russell (Holland) who is surrounded by several sinister characters in his small-town in Ohio and must fight to protect his family.
Though the novel may have been warmly received, the movie mostly got mixed reviews from critics, but the fans seem to love it. CinemaBlend's own Mike Reyes said the following about the movie in his 3-star review:
The Devil All The Time is available now on Netflix. For more movie news, stay tuned to CinemaBlend.
Your Daily Blend of Entertainment News