Tom Holland Responds After Fans Show Love For His Role In Netflix's The Devil All The Time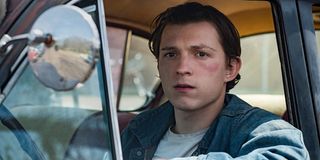 If you were looking for more Tom Holland in your life, your wish has been granted with Netflix's latest movie The Devil All The Time. He recently has been getting a lot of love from fans for his performance. Now the Spider-Man actor has responded to the outpouring of support.
With The Devil All The Time, Tom Holland has made a sizable shift into a serious, dark, and bleak drama, taking him to places he hasn't gone before in his career. While sometimes that kind of move can be rejected by fans, it looks like that's not the case for Tom Holland. He recently took to social media to thank fans for embracing the film. Take a look:
While Tom Holland has appeared in serious dramas before like The Lost City of Z, he has yet to be a true lead star in one-- especially one as gritty, dark, and depressing as The Devil All The Time. As you can imagine, that can put a lot of pressure on a young star building his career. And it's something that the public is responding to.
Despite this, Tom Holland recently spoke about how he came into The Devil All The Time feeling "scared and nervous." He questioned whether or not he could actually play his character who he calls "complicated" and "dark," and that he had to go places mentally he didn't want to go again. But we know how that turned out.
For a little context, The Devil All The Time, written and directed by Antonio Campos, is about 1950s backwoods American town, following a young family trying to get by during tough economic times and that are surrounded by several corrupt figures in the town, including a pastor, a photographer, and a police officer. Tom Holland's character, Arvin Russell, fights to protect his family from these sinister characters.
The movie by and large is getting mixed reviews, with many critics saying the standout performances are what make it, but due to its violent content, it likely won't be for everyone. CinemaBlend's own Mike Reyes gave it a three-star review and said:
Of course, everyone knows Tom Holland more for his role as Spider-Man in the MCU. Most of his recent on-screen appearances have been as that character (though he's done voice acting work on movies like Pixar's Onward), so it's exciting to see that fans are embracing his performance as a character that's different and dark.
And if you're a Tom Holland fan and are eager to see more of him, you likely won't have to wait much longer after The Devil All The Time. The actor has a slew of upcoming projects, including the Russos Brothers' movie called Cherry and the video game adaptation of Uncharted. For more on these movies and more, be sure to stay tuned to CinemaBlend.
Your Daily Blend of Entertainment News