Tim Burton's Batman: 12 Behind-The-Scenes Facts About The Michael Keaton Movie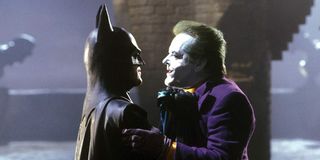 While Batman would become the hero that Hollywood needed, believe it or not, he was but not the one it wanted years ago. It was not until Michael Keaton put on the cape and cowl in the title role of what would become the highest grossing film of 1989 when he truly became comic book movies' golden goose. However, some behind-the-scenes facts reveal that the actor's enduring legacy as Bruce Wayne was almost tarnished before it even began.
To really understand why this is, you have to keep in mind that before Batman, the most exposure the DC icon had in mainstream media was the campy TV show, which ended more than two decades earlier. To many audiences, outside comic book aficionados who knew him best, the "Dark Knight" sounded like a misnomer for the Caped Crusader at the time. Fortunately, after writer and illustrator Frank Miller's 1986 reinvention and Michael Keaton's committed portrayal in the film adaptation soon after, making Batman any lighter usually feels a little off (cough Batman & Robin cough).
Even following Christian Bale and Ben Affleck's well-regarded performances and anticipation for how Robert Pattinson will play the role, Michael Keaton remains one of the more beloved actors to don the Batsuit, and is even set to reprise the role alongside Batfleck in the upcoming solo Flash movie. If you think that sounds crazy, you should hear about some of the events that took place before, during, and even after the making of 1989's Batman. Broaden your mind with the following 12 bits of batty trivia.
Neither Tim Burton Nor Michael Keaton Had Much Prior Batman Comic Book Experience
While it is practically a rule these days for a superhero movie to be helmed by a fan, that was certainly not the case in when Tim Burton was tapped to make the 1989 Batman, having only loved one comic book in his life - Alan Moore's The Killing Joke - as the director's quote on a reissue of the iconic graphic novel would claim. Furthermore, years later, Michael Keaton told Marc Maron on his WTF podcast that he had no knowledge of the character outside of the 1960s series when he was cast. You can only imagine, if that fact had been known back then, how much worse the hate mail could have been.
Casting Michael Keaton Ignited Angry Backlash Among Batman Fans
Ben Affleck and Robert Pattinson, respectively, are not the first actors to experience premature public outcry for being cast as Batman. Just ask Michael Keaton, whose primary background in comedy (i.e. Mr. Mom and the previous year's Beetlejuice for Tim Burton), had thousands of fans vocally casting doubt on his worth as Bruce Wayne. It is hard to imagine now, not just from the love he receives for Batman today, but for one of the earlier, and more unlikely, choices for the role.
Bill Murray Was Once Considered To Play Batman
There is a dizzying list of actors once considered to play the Dark Knight, the most surprisingly, probably, being Bill Murray (yes, that Bill Murray). Long before Tim Burton was involved in making Batman, Ivan Reitman was attached to direct with a more comedic tone in mind and thought of putting his Ghostbusters star in the title role. Reitman also would have made Eddie Murphy Robin, when the Boy Wonder was still involved in the story, that is.
Early Batman Script Drafts Included Robin
As an original storyboard sequence tweeted out by Mark Hamill in 2019 reveals, Sam Hamm's Batman screenplay initially introduced of the Caped Crusader's young sidekick, in which pre-Robin Dick Grayson would assist Batman in foiling the Joker's plans at the conclusion. Kiefer Sutherland actually recounted to On the Box about turning down the role at 19. Of course, Tim Burton's finished product saw no sign of the Boy Wonder and, although he considered including the character in Batman Returns, it was not until Joel Schumacher took over the franchise with Batman Forever that Robin got his big moment, as portrayed by Chris O'Donnell.
Adam West Later Expressed Disappointment Of Not Being Asked To Reprise Batman
We might have seen the 1960s' Robin, Burt Ward, back in the ol' red and greens had his Batman, Adam West, received his wish to play the character again in Tim Burton's film. The actor, who passed away in 2017, said that he "cried for an hour" when asked how he felt about Michael Keaton's casting in a 1989 episode of A Current Affair, but would come to accept that with a new generation, a new man in the cowl would naturally follow. However, he and Ward would reprise their roles in two animated films, proving that good things do come to those who wait.
Michelle Pfeiffer Was Briefly Considered To Play Vicki Vale
Speaking of, before the role of photographer, and Bruce Wayne's love interest, Vicki Vale ultimately went Kim Basinger, Michelle Pfeiffer was thought of. However, according to a testimony in The Hollywood Reporter by Robert Wuhl (journalist Alexander Knox in Batman), Michael Keaton was against the idea due to his previous romantic history with the actress. He must have changed his mind by 1992, thankfully paving the way for Pfeiffer to give her iconic performance as Catwoman in Batman Forever.
Robin Williams Was Approached To Play The Joker
In another case of almost castings, Robin Williams wanted to be Batman's Joker, but a report by Fansided, which cites Brian Cronin's Comic Book Legends Revealed as a reference, reveals a disappointing twist to that story. Apparently, Warner Bros. only used the late actor's desire to play the supervillain to stir interest in their first choice: Jack Nicholson, whom the role would famously go to. The Fansided article also mentions a 2010 Empire Interview in which Williams claimed a similar thing happened to him when he was offered to play Batman Forever's Riddler, only to have the opportunity taken away in favor of Jim Carrey.
Jack Nicholson's Joker Makeup Went Through A Few Complications
I can only imagine how Robin Williams might have dealt with all the makeup involved to play the Joker, as a featurette included on the 2005 edition DVD release of Batman sheds light on. Jack Nicholson and makeup artist Nick Dudman recalled in interviews how the actor's allergy to spirit gum - an essential element of movie makeup - forced them to figure out another way to construct prosthetics for his creepy, permanent smile. Another challenge was preventing Nicholson from smearing his white makeup when Joker wipes his flesh-colored face paint off, which was achieved by an elaborate combination of substances that the actor, fortunately, was not allergic to either.
Michael Keaton Was Unable To Hear In His Full Batman Costume
Despite all the crap Jack Nicholson endured, the real joke was on Michael Keaton, whose Batsuit was more uncomfortable and problematic than you would imagine. In addition to being claustrophobic, Keaton revealed to NPR that the cowl left him pretty much deaf to any surrounding noise, giving him a sense of isolation that he would smartly channel into his performance. The actor also contributed to the creation of the Batman's disguised voice, which would become tradition to any preceding portrayal of the character (excluding George Clooney).
Twenty Minutes Of Footage Was Stolen From The Batman Set
The only thing more famous about 1989's Batman other than… well, Batman are the numerous problems that befell the production, including multiple script rewrites and an increasingly escalating budget while Tim Burton and company were still in the middle of filming. One major contributor to the financial problems, in particular, was the discovery that two reels of film consisting of about 20 minutes of footage were stolen from the set, which led the crew to improvise ways to work around the missing sequences. It all worked out in the end, of course, after the film earned more than $400 million and widespread acclaim… from most people, that is.
Tim Burton Was Initially Disappointed By His First Batman Movie
Despite the critical and commercial success, Batman was not without its critics - the harshest of which, at the time, was its own director. In an 1992 interview with Empire, in promotion of his sequel, Batman Returns, (via Rotten Tomatoes) Tim Burton actually said, despite enjoying some elements, he found it "boring" as whole, calling it "more of a cultural phenomenon than a great movie." That does not even mark the end (or the most jarring extent) of his displeasure over the film.
Tim Burton Was Also Not A Fan Of Prince's Batman Soundtrack
While Danny Elfman's rousing score fits perfectly with the scope of Gotham City, the idea of even someone as talented as Prince reflecting the sound of Batman, to some people, feels a little off. Tim Burton agrees, as he mentions in a 1992 Rolling Stone interview with David Breskin (via the writer's website), in which he says the following about how the late musician became involved with the film and why the situation was a disappointment to him:
Tim Burton would go on to add that, while Prince's official soundtrack for Batman is an album he enjoys, he finds it hard to listen to without reminding him of what he does not like about the film (which he seems to put the blame on himself more) and even "tainted" his admiration for his music. At least we can say that Seal and Joel Schumacher did not fall prey to the same fate with Batman Forever's inclusion of "Kiss from a Rose."
What do you think? Would you tell your friends about this list of trivia, or do you feel we could have done more to explain how Batman got his wonderful toys? Let us know in the comments and be sure to check back for additional information and updates on the Tim Burton comic book flick, as well as even more behind-the-scenes looks at some your favorite movies and TV shows, here on CinemaBlend.