Howie Mandel Reveals Film Prep For Little Monsters Was So Bad It Made Him Phobic Of Condoms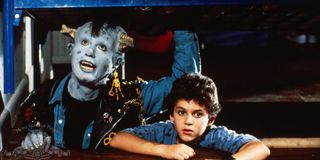 Once upon a time, before Howie Mandel was primarily known for hosting Deal or No Deal and being a judge on America's Got Talent, he delighted (or terrified) kids in the late 80s with the movie Little Monsters. He played Maurice, a blue monster with horns on his head, living under a boy's bed. Now, it's been revealed, that experience made him phobic of latex, and yeah, that includes condoms.
Howie Mandel has long suffered from obsessive-compulsive disorder (OCD) and attention-deficit/hyperactivity disorder (ADHD). But when he agreed to be Maurice in Little Monsters, he didn't give much thought to what the process could be like transforming him into the monster. Sitting and having people touch him and wrap him in latex was torture for the gemaphobe, according to an interview with Gamespot. Here's what Howie Mandel said about it:
Ouch. That makeup process would be painful for anyone, but even worse for someone suffering from OCD and ADHD. I think anyone could empathize with Howie Mandel's disgust for latex after going through that ordeal. He's only human.
For those of you who didn't grow up in the '80s and '90s, Little Monsters was a kids movie starring Fred Savage and Howie Mandel about Brian Stevenson having a monster named Maurice under his bed. They become friends and Maurice takes Brian down to the world of monsters and they play tricks on other kids that are sleeping. It's kind of like Monster's Inc. to a degree. But, take one look at Howie Mandel's Maurice and you'll see the extent of makeup they put on him. Does not look fun.
Howie Mandel isn't the first or the last actor to suffer through an extensive makeup process for a role. Many have admitted the process is long and difficult to get through, sometimes taking up to 8 hours to put on makeup. Dave Bautista, who has to put makeup on for his character Drax in the MCU, reportedly has to sit in a sauna and sweat the makeup off.
But for Howie Mandel, the main issue with the makeup process comes down to the amount of latex they used on him. My guess is if he knew then what he knows now, he'd say, "No deal."
Your Daily Blend of Entertainment News