Trick 'R Treat And 12 Other Great Anthology Horror Movies And How To Watch Them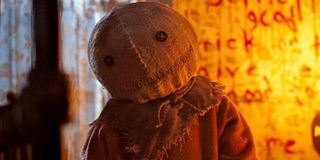 CinemaBlend participates in affiliate programs with various companies. We may earn a commission when you click on or make purchases via links.
One thing that always makes a horror fan happier than one horror movie is a bunch of horror movies, but the only thing more satisfying than that is a bunch of horror movies in one. Since the early days of the genre, anthology horror flicks like Trick 'r Treat have indulged in the chance to tell multiple stories of a suspenseful, frightening, or comically creepy variety presented as one feature length collection.
I don't know about you, but whenever I catch word of a new horror anthology on the horizon (whether it is one film or a TV series like Black Mirror), it often immediately becomes the next thing I want to see. The chance to see what different styles and themes each segment will explore, especially with multiple filmmakers at the helm, never fails to pique my interest. Of course, as a horror fan should with any movie, I tend to be cautiously optimistic when approaching a new anthology since not every collage forms a perfect picture.
However, while anthology horror movies do have a history of being hit-or-miss, the hits are certainly not to be missed. To help you better identify the beautiful, bloody diamonds in the revolting rough, I have collected the appropriate number of 13 films below that, in my opinion, make up the ultimate anthology of truly satisfying horror anthologies. Our first is one that breaks the traditional anthological structure while honoring the traditions of a most beloved time of the year.
Trick 'R Treat (Cinemax)
A school principal struggles to hide his disturbing secret, teens discover the truth behind a local tall tale, a young woman looks for a costume party date in all the wrong places, and more shocking tricks and treats affect the citizens of a small town who take Halloween very seriously... or not seriously enough.
Why It Is A Great Horror Anthology Movie: Halloween has never been taken more seriously, however, than in writer and director Michael Dougherty's Trick 'r Treat - an underrated 2007 cult classic that otherwise rarely takes itself too seriously and abandons traditional anthology structure by flashing back and forth between its increasingly creepy tales, all tied together by the holiday's new de facto mascot, Sam.
Stream Trick 'r Treat on Cinemax. *
Rent Trick 'r Treat on Amazon.*
Tales Of Halloween (Shudder, Tubi, IMDbTV, Crackle, Vudu)
A babysitter and her boyfriend learn the dangers of eating too much candy, a boy is mentored in neighborhood mischief by a devilish stranger, a man struggles to keep his wife's obsession with Grimm fairy tales from getting out of hand, and more ghoulish and grave circumstances are faced one particularly eventful All Hallow's Eve.
Why It Is A Great Horror Anthology Movie: Admittedly, 2015's Tales of Halloween owes a lot to Trick 'r Treat in terms of tone and concept, but the otherwise traditionally structured horror anthology earns its place as one of the best for its 10 fun and freaky loosely interwoven stories (including one by The Descent director Neil Marshall) are each better than the last.
Stream Tales Of Halloween on Shudder, on Tubi, on IMDb TV, on Crackle, or on Vudu). *
Rent Tales Of Halloween on Amazon.*
Ghost Stories (Hulu)
A skeptical professor (Andy Nyman) who has made a living off of disproving supernatural phenomena is challenged by a famous paranormal researcher who inspired his work to debunk the three cases that left him stumped.
Why It Is A Great Horror Anthology Movie: Based on a play co-written by Jeremy Dyson and star Andy Nyman (who also share directorial credit for the adaptation) and featuring a dazzling performance by Sherlock's Martin Freeman, 2017's Ghost Stories sets itself apart from other collections of increasingly disturbing stories not just by framing itself as a series of investigations, but from its thought-provoking and truly haunting twist ending.
Stream Ghost Stories on Hulu. *
Rent Ghost Stories on Amazon.*
Creepshow (Amazon Rental)
A lonely farmer experiences a most unusual growth, a plot for revenge comes with unexpected results, and a curmudgeonly shut-in's commitment to living free of infestation fails in the most terrifying way are just a few of bizarre tales in this tribute 1950s horror comics.
Why It Is A Great Horror Anthology Movie: In 1982, famed horror writer Stephen King and legendary director George A. Romero (the father of the modern zombie movie) collaborated on Creepshow, which would be remembered for years to come as the most essential in comedic horror anthologies and later inspired Greg Nicotero to develop a TV series of the same name that is exclusively available on Shudder.
Twilight Zone: The Movie (HBO Max)
Two late night travelers discuss their favorite memories of a classic science fiction TV show, which introduces a series of new, modernized takes on its most famous episodes and one original tale.
Why It Is A Great Horror Anthology Movie: In 1983, Steven Spielberg, Joe Dante, George Miller, and John Landis each directed their own segment on Twilight Zone: The Movie, which honorably pays tribute to the most essential in TV horror anthology series from creator Rod Serling, despite mostly being remembered for years to come by an infamous tragedy that occurred on set.
Stream Twilight Zone: The Movie on HBO Max. *
Rent Twilight Zone: The Movie on Amazon.*
V/H/S (Amazon Prime, Tubi, Pluto TV, Vudu)
On a mysterious, but seemingly simply, assignment to steal a rare video cassette from an old house, a group of crooks instead find an innumerable amount of tapes containing footage of events that range from unusual to extreme, but all completely unexplainable.
Why It Is A Great Horror Anthology Movie: Not only is 2012's V/H/S, helmed by some of the most celebrated names in indie horror (including future Godzilla vs. Kong director Adam Wingard), one of the most satisfyingly original and deeply traumatic anthologies in recent memory, it is a well-regarded classic of the also hit-or-miss found footage genre.
Stream V/H/S on Amazon Prime, on Tubi, on Pluto TV, or on Vudu. *
ABCs Of Death 2 (Pluto TV, Vudu)
Dismemberment, drug abuse, the dead rising up from their graves, and 23 other frequently lethal circumstances serve as the basis of this collection of boldly grim, individually helmed shorts presented in alphabetical order.
Why It Is A Great Horror Anthology Movie: Speaking of the V/H/S franchise, its following two installments are widely believed to be a step down, but 2014's ABCs of Death 2 achieved the opposite reputation by exploring the many ways a person can meet their end in a much more consistent, unique, scarier, and even funnier fashion than its 2012 predecessor.
Stream ABCs Of Death 2 on Pluto TV or on Vudu. *
Rent ABCs Of Death 2 on Amazon.*
The Mortuary Collection (Shudder)
An eccentric funeral home director (SpongeBob Squarepants and John Dies at the End star Clancy Brown) is visited by a young woman (Caitlin Custer, neé Fisher) looking for a job, whom he then entertains by recounting the stories of his most notorious clients.
Why It Is A Great Horror Anthology Movie: In yet another anthology of deadly cautionary tales, writer and director Ryan Spindell's The Mortuary Collection is of the most acclaimed Shudder original movies released in 2020 for its funny, shocking, and often thought-provoking eye for morbid curiosity.
Stream The Mortuary Collection on Shudder.
Tales From The Hood (Amazon Rental)
An eccentric funeral home director (Clarence Williams III) is visited by three young men looking for a drug shipment, whom he then entertains by recounting the stories of his most notorious clients.
Why It Is A Great Horror Anthology Movie: You know, I genuinely did not realize how similar The Mortuary Collection is in its narrative framework to Tales from the Hood until now, but one thing it could not steal from co-writer and director Rusty Cundieff's 1995 cult classic of Black horror movies is its honest and timeless commentary on racial injustice cleverly presented through a supernatural twist.
Rent Tales From The Hood on Amazon.
Southbound (Shudder, Hulu, Amazon Prime)
A man hoping to find his long-lost sister, an all-female band driving to their next big concert, a pair of crooks looking for an escape, and others each come across an abrupt and harrowing stop while traveling down the same barren desert highway.
Why It Is A Great Horror Anthology Movie: The narrative framing of 2015's Southbound is actually quite inventive with each story (including a wraparound segment from Ready or Not and Scream 5 directors Radio Silence) seamlessly transitioning over to the next, as if it is one endless loop of memories from the most disastrous road trip ever.
Stream Southbound on Shudder, on Hulu, or on Amazon Prime. *
Three... Extremes (Amazon Prime)
This disturbing trilogy tells the stories of a housewife who learns the revolting truth behind a natural aging cure, a filmmaker thrust into a game of life or death by an actor desperate for attention, and an author haunted by her memories of growing up in the circus.
Why It Is A Great Horror Anthology Movie: Three of the most accomplished horror auteurs in Asian cinema (including Audition director Takashi Miike) each contribute their own individual exercise in unflinchingly painful dread in Three... Extremes, an anthology that goes above and beyond to live up to its name.
Stream Three... Extremes on Amazon Prime. *
Rent Three... Extremes on Amazon.*
Holidays (Netflix)
A lovesick high school student trying to find the perfect Valentine for her crush, an abusive pimp falling for a brutal Halloween trick, a little girl who learns she was right to fear what she may find in her Easter basket, and others endure an experience that makes planning an seasonal celebration seem far less stressful than usual.
Why It's A Good Option for Horror Fans: You may never be able to enjoy St. Patrick's Day, Christmas, or any more of your favorite holidays the same way again after seeing them through the twisted perspectives of Kevin Kölsch and Dennis Widmyer (who remade Pet Sematary in 2019), Tusk director Kevin Smith, and the six other filmmakers behind this anthology that is so bizarrely intense, it is borderline offensive.
All Hallow's Eve (Amazon Prime, Tubi)
When the boy she looks after finds a mysterious videotape in his trick-r-treat bag, a babysitter (Katie McGuires) curiously pops it in to find three unusual short films all somehow related to demented clown.
Why It Is A Great Horror Anthology Movie: To be honest, I would actually put writer and director Damien Leone's All Hallow's Eve in the "hit-or miss" category of horror anthologies, but I still recommend it purely as the chilling debut of Art the Clown, who would out-scare the likes of Pennywise in my book when he returned for his own gloriously over-the-top slasher film Terrifier in 2016.
Stream All Hallow's Eve on Amazon Prime or on Tubi. *
Rent All Hallow's Eve on Amazon.*
With a few notable exceptions that found their way onto my list above, I believe and have accepted that most horror anthology are destined to have one or two segments that may not measure up to the rest in one's eyes. Yet, that should not be any reason to discourage you from experiencing every last one because every person's fear is triggered by something different. You have better chance to find what scares you not from one horror movie, but from multiple horror movies in one.
This poll is no longer available.
Your Daily Blend of Entertainment News
Jason has been writing since he was able to pick up a washable marker, with which he wrote his debut illustrated children's story, later transitioning to a short-lived comic book series and (very) amateur filmmaking before finally settling on pursuing a career in writing about movies in lieu of making them. Look for his name in just about any article related to Batman.