The Internet Has Thoughts About Spider-Man Game Swapping Lead To Look Like Tom Holland For PS5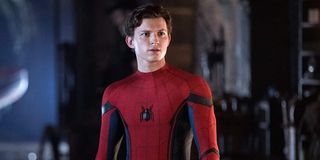 It's common knowledge that Spider-Man is one of pop culture's most famous superheroes, and among the ways this has been proved over the years is Marvel Comics' Web-Slinger appearing in literally dozens of video games. Earlier this month, we passed two full years since Insomniac Games' Spider-Man was released and was met with critical acclaim. Spider-Man is getting remastered for the Playstation 5, and among the forthcoming changes is that the game's Peter Parker now looks an awful lot like Tom Holland.
Seriously, take a look at the below tweet comparing how Peter Parker looked in the PS4's version of Spider-Man and how he'll look if you play the game on PS5, and there's no mistaking a resemblance for the actor playing Spider-Man in the Marvel Cinematic Universe.
Just to clarify for those who aren't familiar with Spider-Man, the video game follows along with a 23-year-old Peter Parker, meaning he's been fighting crime for about seven years at that point. So he was definitely supposed to look more like an adult than a teenager, but this PS5 remaster now has the lead character looking more like Tom Holland's Peter Parker, who is still in high school as of Spider-Man: Far From Home.
Of course, the internet has a lot of thoughts about this Peter Parker face change, and the majority of them aren't positive. For example:
Let's not forget that Spider-Man also includes Miles Morales, who gains spider-powers by the end of the game and is getting his own spinoff game. And yet, despite being Miles being younger than Peter, it arguably now looks the reverse in this PS5 remaster.
However, maybe you're like the below Twitter user and don't think that Spider-Man's Peter Parker looks like Tom Holland so much, but another famous person, such as The Good Doctor's Freddie Highmore.
So why the drastic face change? Interestingly enough, it's not for Tom Holland-related reasons. John Bubniak was Peter Parker's face model for Spider-Man's PS4 incarnation, but Insomniac Games revealed that in order to get better match to Peter Parker/Spider-Man voice actor Yuri Lowenthal's facial capture, the company brought in Ben Jordan as Peter's new face model, resulting in Lowenthal's "moving performances" taking on "a new life."
Yuri Lowenthal jokingly responded to that explanation with the following:
So whether you'll play Spider-Man for the first time on the PS5 or you've already gone through the PS4 version of the game and plan on upgrading, just be aware going in that Peter Parker will look a lot different than he originally depicted. However, that's not the only thing the P55's Spider-Man is bringing to the table. The game will also boast improved graphics (including building windows having true reflections), more sharply-defined characters, a higher frame rate and various other upgrades. The Spider-Man costume worn by Andrew Garfield in The Amazing Spider-Man will also be one of three new suits that players can obtain.
The PS5's remastered Spider-Man will be available on Marvel's Spider-Man: Miles Morales Ultimate Edition, which arrives on November 19. As for Tom Holland's Spider-Man, his yet-to-be-officially-titled next movie is currently slated for a December 17, 2021 release. Find out what other MCU movies are on the way with our comprehensive guide.
Your Daily Blend of Entertainment News
Connoisseur of Marvel, DC, Star Wars, John Wick, MonsterVerse and Doctor Who lore. He's aware he looks like Harry Potter and Clark Kent.