Yellowstone: 8 Things That Need To Happen in Season 4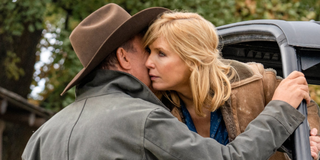 Warning: Season 3 finale spoilers for Yellowstone get discussed below.
Yellowstone recently wrapped its latest season with a cliffhanger-heavy finale that will no doubt have fans buzzing until it comes back. The Paramount Network series has already started filming Season 4, which means some of the answers are already playing out in front of the camera. Until new episodes arrive on fans' screens, though, there is time to consider the things that need to happen in Season 4.
To its credit, Yellowstone has a history of fulfilling fans' dreams when it comes to what happens on the show, especially those of yours truly. So with another season on the horizon, it is time to head back to the drawing board. From the aftermath of that possibly deadly finale to figuring out who's guilty and who's innocent of the finale's crime spree, there are lots of things to discuss, so let's get into it.
Everyone Survives the Cliffhanger
Yellowstone set-up the potential deaths of four integral characters in its finale, and I have the possibly controversial request for the writers to reveal that John, Beth, Kayce, and Jimmy all survived their respective ordeals. Each of the characters are too crucial to the fabric of Yellowstone for any of them to get killed off the show.
They all serve a profound purpose, and Season 4 would not be nearly as good as its past seasons in their absence, even if new characters would likely be introduced that attempt to balance things. Every season up to Season 4 has had the four of them in it, so if the show is not broken, why try to "fix" it by losing John, Beth, Kayce, or Jimmy?
Jamie Should Not Be Guilty
When it comes to suspects who could have been behind the three-way assassination attempt on the Duttons, Wes Bentley's Jamie Dutton is among the prime suspects. His motive does not necessarily fit where Kayce is concerned, and that is currently the hope that I am holding onto in believing Yellowstone will avoid making Jamie the grand schemer and culprit.
Plus, if it were Jamie behind it all, why did he not at least fake an attempt on his own life, or to try and take Rip out in the process? Yellowstone seems to be giving itself enough wiggle room for Jamie to be innocent, and I hope Season 4 reveals that to be the case. Last season's unanswered questions leave too much for him to do in Season 4 and beyond without having to deal with those consequences.
More Reveals About Thomas Rainwater
If there is one character that Yellowstone needs to expand further upon in Season 4, it is Chief Thomas Rainwater. His relationship with John and the rest of the cast is incredible to watch. However, there is still so much that viewers do not know about him.
The first season touched on part of his fascinating biography, including his adoption and professional background. Season 4 needs to give fans more, though. For instance, what does Thomas Rainwater's personal life look like when he comes home for the day? Did I miss if he is in a relationship? We know a lot about John Dutton's day-to-day, and I am ready to learn more about Chief Rainwater's.
The Ranch Being Saved
The ranch is the namesake of Yellowstone, and while last season was the biggest challenging to its future to date, I am ready for Season 4 to confirm its safety. All seems bleak right now, but the discovery of endangered wildlife or something else of that nature could realistically protect the Duttons' beloved property.
The storm clouds that continuously persist over the ranch are part and parcel for Yellowstone's storylines, so Season 4 could see it take on another form besides ranch development. Of course, the idea of losing the ranch is the most potent risk that the Duttons have had to face, so anything from here out would be more of a cakewalk. Still, I am ready to start strutting in Season 4.
Beth And Rip Getting Married
This Yellowstone fan headed into last season already anticipating Beth and Rip getting their romance on, and the Western largely satisfied overall in this regard, and even I was pleasantly surprised by Beth and Rip's romantic progress. Season 4 should only see their relationship intensify with Beth's (hopefully) near-death experience at the hands of a mail-bomber.
The couple got engaged last season, and I am ready for Season 4 to let them get married, so please, Taylor Sheridan, do not hold out on me. I need a Beth/Rip wedding replete with secret-softy Rip saying beautiful things about Beth in front his father-figure, John Dutton, and then for her to share her own thoughts about Rip. However, between the bomb and the bombshell Beth has kept from Rip about Jamie, I am fearful things may not happen this way.
Monica and Kayce Need To Stay Married
No other coupling on Yellowstone keeps me on as sharp an edge as Kayce and Monica. The lovely husband-and-wife team has survived more than their fair share of drama, only to keep finding their way back to each other. Last season gave viewers a chance to slightly relax with them working through their issues by each other's side, and I want Season 4 to stay that course.
Kayce and Monica have the wherewithal to make it for the long haul, and I am hopeful that the young parents will manage to make it. Of course, Kayce's potentially deadly situation the Season 3 finale, as well as his potential run for governor, could put a strain on things. Here is hoping that Yellowstone maintains their marriage despite all obstacles.
Monica's Family Needs To Be Back In The Picture
Once Monica moved in with the Duttons, her time visiting her home at the Broken Rock Indian Reservation diminished substantially. Now, with Kayce getting shot at and possibly being injured, Monica should start leaning more on her wise grandfather Felix more than ever in Season 4. Not to mention the idea that Tate would benefit from some guidance from his great-grandfather, as he needs all the wisdom he can get.
Yellowstone gave Monica a significant arc in having her take down the serial killer/rapist who had been targeting Native American women on the reservation. Hopefully, she can return to that location more often next season to deal with other issues impacting the community, as well as to visit with her family. I need more Monica and Felix scenes. They were sweet and provided more insight into Monica, which is always a good thing.
More Backstory For John And Evelyn Dutton
There is a lot for fans to keep up with when it comes to the backstories for the characters they know and love on Yellowstone. The cast has acknowledged not knowing a lot about their own roles, with Kevin Costner practically saying as much. Hence, a lot remains a mystery, including the backstory for John Dutton and his late wife, Evelyn.
A few stories have been told that elaborated on some details, but I still have a lot of questions. For instance, how did John and Evelyn meet? What happened to John's brother? How did the Duttons get the land? Did Evelyn have a family (brother, sister, etc.)? Where is her side of the family now? How does Beth's feelings about her mom conflate with her siblings? There is still so much to learn.
Elsewhere, several new characters got introduced in Season 3. Roarke, Willa, Angela Blue Thunder, Teeter, and Mia were among those bringing something new to the show, and Teeter managed to romance Colby! On that note, I hope to see a lot more from them (and Walker) in Season 4. Yellowstone made it so all of them seem destined to have an even larger part to play. And this is something I've wanted before, but Monica and Beth need to share more interactions next season on Yellowstone, as the actresses' scenes last year were among the show's most outstanding, so I want to see their characters' relationship as sisters-in-law deepen. Beth admitted she had no friends, and Monica would be the best one she could ever ask to have.
Find out if any of these things will happen when Yellowstone returns for Season 4 in 2021, well after this fall's big premieres. For now, you can relive things that have happened during the first two seasons of Yellowstone on NBCUniversal's new streamer, Peacock.
Like a contented Hallmark movie character, Britt happily lives in the same city she grew up in. Along with movies and television, she is passionate about competitive figure skating. She has been writing about entertainment for 5 years, and as you may suspect, still finds it as entertaining to do as when she began.
Your Daily Blend of Entertainment News
Thank you for signing up to CinemaBlend. You will receive a verification email shortly.
There was a problem. Please refresh the page and try again.