Ana De Armas On Feeling Like She's Been Talking About James Bond's No Time To Die Forever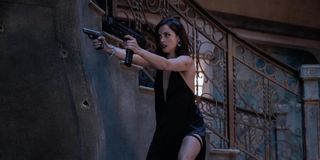 At the beginning of 2020, fans of the James Bond franchise had No Time To Die to look forward to. That was true for the cast and crew, too, who would be able to gather and celebrate Daniel Craig's final outing as the infamous 007. Things have obviously changed and, while it's been disappointing for fans, it's also been a challenge for the film's stars. In fact, Ana de Armas admits she feels like she's also been waiting for the upcoming film forever.
No Time To Die was originally scheduled to hit theaters in April 2020. After COVID-19 made wide-scale movie releases a liability, it was delayed like so many other films. Fans have been clinging to the hope that it would finally be in theaters this November -- and as recently as a couple of weeks ago, the studio was continuing to move like it would. But we learned this week that the latest James Bond film won't be released until April 2021.
While it's probably a good call for the studio to wait for the pandemic to become less, well, pandemic-y, that doesn't change the disappointment many people are feeling at having to wait even longer. Ana de Armas, who makes her Bond franchise debut in No Time To Die as CIA agent Paloma, told Flaunt that she, too, is more than ready for the movie to be out there:
Ana de Armas brings up a good point about delaying the film's premiere. Since COVID-19 hit, many studios have shifted their release strategies so that fans can watch movies on digital platforms. While that's probably helping them offset some of the financial losses this year, it's almost meant that movies are hitting the market while foregoing a time-honored Hollywood tradition.
Movie premieres are a thing of the past - at least for now. It has to be a little disappointing for casts and crews to have lost the ability to gather and reflect on the experience of making the films.
That will be especially important for No Time To Die, because it marks the end of Daniel Craig's tenure with the James Bond franchise after 15 years and five movies. He and the rest of the Bond crew deserve a chance to commemorate that moment together. Hopefully, by the time the film can finally premiere, it will also be safe enough to roll out the red carpets again.
Your Daily Blend of Entertainment News