Hocus Pocus Is Back In Theaters Right Now And Apparently Crushing It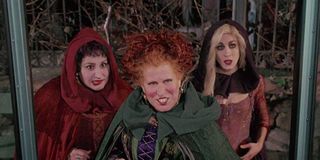 There haven't been many big box office numbers this year. COVID-19 has caused some theater chains to shutter until 2021 and created countless delays for tentpole premieres because most of us just aren't going to the movies. So it's always surprising to hear about a movie crushing it at the box office -- especially when that movie is Hocus Pocus.
The beloved Disney Halloween classic starring Bette Midler, Sarah Jessica Parker and Kathy Najimy was re-released in 2,570 theaters around the United States this weekend. According to Deadline, it's estimated to rake in between $1.6 and $1.8 million dollars, enough to make it the second highest grossing film in the country, behind Tenet.
If those numbers hold up, Hocus Pocus will earn the distinction of being the highest-grossing re-release of the COVID-19 era. Prior to that, Star Wars: The Empire Strikes Back held the record for 2020. Movies like Jaws and Jurassic Park have also seen limited returns to theaters this year.
Hocus Pocus' unexpected success is impressive for a few different reasons. The film was first released in 1993, so it doesn't exactly have a lot of buzz around it. It's also widely available for fans to rent or buy and stream on various digital platforms. Plus, on October 1, the film aired on Freeform as recently as October 1st, and the Hocus Pocus event included Bette Midler live-tweeting.
According to Deadline, drive-in theaters accounted for most of the tickets sold. Still, the fact that fans are still willing to leave their homes to see a movie they've had plenty of access to is noteworthy.
It's not clear what exactly drove the higher-than-expected turnout. To be fair, the nostalgia factor is in play. Plenty of people who were kids when Hocus Pocus first hit theaters are now at an age when they could be ready to introduce their own children to it. There's also the fact that it's a seasonal slam dunk. Hocus Pocus is the perfect movie to set the tone as we head into spooky season.
Whatever the reason, it's fair to celebrate this as a small victory for theaters around the country, which have taken a huge hit due to COVID-19. There have been very few premieres this year as well as disappointing revenue for many that did make it to the big screen. As studios continue to turn to digital platforms to get movies to patrons around the country, it's cool to see at least one movie perform better than expected.
Perhaps it's time for studios to dust off some other classics -- Disney has The Legend of Sleepy Hollow, and The Nightmare Before Christmas is always a crowd-pleaser. Plus, there are plenty of creepy classics that could pique an older audience's interest, the most obvious of which is Halloween.
What spooky movie would you like to see come back to the big screen? Let us know in the comments!
Your Daily Blend of Entertainment News