What's Going On With The Jungle Book 2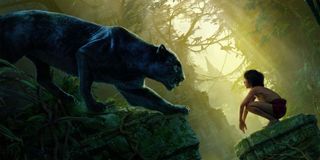 It has been four years since Jon Favreau brought Rudyard Kipling's classic novel The Jungle Book to the big screen with the live-action/animated fantasy that brought in nearly $1 billion at the global box office. The story of Mowgli, a young boy raised by wolves, finding his way in the jungles of India by living among a group of friendly, and not so friendly, speaking animals of all shapes of sizes, remains one of the best of the Disney live-action adaptations. This makes it all the more strange that the House of Mouse hasn't made a major push to release The Jungle Book 2 after all these years.
It's not like The Jungle Book 2 has never been in the works or anything like that, considering the project was announced way back in 2016 and was even making some progress as late as 2018, but there's been much of nothing since then. So, as we look toward an undetermined future, let's take a look at what's been going on with Jon Favreau's The Jungle Book 2.
The Jungle Book 2 Has Been In Development Since 2016
The first The Jungle Book adaptation (well, second if you include the 1994 effort) opened domestically on April 15, 2016, but a few days before it hit theaters, The Wrap revealed that Disney was already planning a sequel to followup on the film's early success. There weren't a lot of concrete details at that point in the early development stages (not like there are all that many now), but it was believed that most, if not all, of the voice cast would be returning. For those who don't remember that includes names like Bill Murray, Idris Elba, Christopher Walken, and Scarlett Johansson, as well as speculation that Neel Sethi would be returning as Mowgli.
The Live-Action Sequel Was Originally Believed To Be Released Between 2017 And 2019
Shortly after the release of The Jungle Book in April 2016, and word that Disney was already working on a sequel, THR released a report regarding upcoming live-action adaptations of some of the studio's most successful animated features and other properties. Among these titles were A Wrinkle in Time, Dumbo, Jungle Cruise, and The Jungle Book 2, with dates ranging from July 2017 all the way to December 2019. According to studio insiders who spoke with the publication, The Jungle Book 2 was set to get one of five release dates within that timeframe.
As we all know now, that obviously didn't happen and it remains to be seen when we will finally get to see The Jungle Book 2 in theaters.
In 2016, Jon Favreau Said The Plan Was To Shoot Jungle Book 2 After Lion King
Back in December 2016, a few months after Jon Favreau was revealed to be the director of the live-action version of The Lion King, he told Collider that he was planning on making both movies back-to-back, with production on The Jungle Book 2 starting once he finished the 2019 remake of the 1994 Disney animated classic, stating:
Obviously, these plans didn't pan out and Jon Favreau turns his focus towards other projects, most notably the Disney+ series The Mandalorian.
By 2017 Favreau Put An End To Those Plans To Focus On Lion King
What steam a fast-track for The Jungle Book 2 had in late 2016 was put on ice a months later when Deadline reported in March 2017 that Jon Favreau had temporarily stop focusing on the live-action sequel so that he could devote more time and energy to getting everything right for The Lion King remake. No information was given as to when Favreau would pick up where he left off with the continuation of Mowgli's story, but there would be some developments in regards to the highly anticipated sequel the following year.
Screenwriter Justin Marks' Early Draft Was Based on The Book And Unused Material From The 1967 Movie
Fans of The Jungle Book and its sequel were in for some good news in early 2018 when screenwriter Justin Marks told Slashfilm that he and Jon Favreau turned to Rudyard Kipling's original novel as well as material that was scrapped from Disney's 1967 animated movie, stating:
Justin Marks didn't want to give too much away about the direction of the second film, but he alluded to the fact that the 2016 Jungle Book deviated from the source material in terms of its ending, but having Mowgli go back to the man village in the second movie was something they could reevaluate.
Neel Sethi Told Gulf News Tabloid! In 2018 He Would Be Reprising His Role As Mowgli
In October 2018, Neel Sethi, the young actor who portrayed Mowgli in the 2016 live-action adaptation, told Gulf News Tabloid! that he would be reprising his role whenever The Jungle Book 2 came to fruition and that he was just waiting on Jon Favreau and crew to pick up with the development. Sethi, who was just 10 years old when the first Jungle Book movie was filmed several years back, is obviously much older (14 years old at the time of the 2018 interview), so it remains to be seen how this will play into the story, since he'll be in his late teens by the time production eventually gets underway.
So, that about catches us up with everything that's going on with The Jungle Book 2, a movie that we most likely won't see for quite some time considering the current state of the film productions. But hey, with all but one of the characters being computer-generated, Jon Favreau and crew could get working on this before we know it. And like any big-budget production, a lot can change in the blink of an eye, so make sure to check back for all the latest information on The Jungle Book 2 as well as other Disney live-action projects here at CinemaBlend.
Your Daily Blend of Entertainment News
Philip grew up in Louisiana (not New Orleans) before moving to St. Louis after graduating from Louisiana State University-Shreveport. When he's not writing about movies or television, Philip can be found being chased by his three kids, telling his dogs to stop yelling at the mailman, or yelling about professional wrestling to his wife. If the stars properly align, he will talk about For Love Of The Game being the best baseball movie of all time.