What It Was Like Working With Ben Affleck And Ana De Armas On Romance-Sparking Movie Deep Water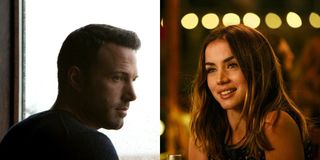 Any young actor would probably jump at the chance to share the screen with some of Hollywood's biggest names. Not only do you get a chance to see your own star rise -- you have the opportunity to work with, and observe, some of the best talent in the industry. That seems to be exactly what was on Jacob Elordi's mind when he was on set for Deep Water, a.k.a. the movie that sparked Ben Affleck and Ana De Armas' ongoing romance.
Jacob Elordi has only been working in Hollywood for about five years, but he's managed to make a name for himself with starring roles in 2 Hearts and Netflix's romantic comedy film series, The Kissing Booth. He's also expanding his horizons, taking on roles in a variety of genres, from horror (The Mortuary Collection) to comedy (The Very Excellent Mr. Dundee).
Branching out has given him a chance to learn more about his craft -- and he recently told E! Online that one of the best ways to do that is to watch his veteran co-stars do their thing:
Jacob Elordi plays Ricky in Deep Water, an erotic thriller based on the Patricia Highsmith novel about a couple that plays deadly mind games with one another after they fall out of love. Ben Affleck and Ana De Armas will star as Vic and Melinda Van Allen in the adaptation, which was filmed in late 2019.
While there aren't too many details about exactly how Jacob Elordi's character fits into the film's twisty plot, it sounds like he at least got a chance to be on set with Ben Affleck and Ana De Armas and witness them in their element.
Of course, most of the attention toward Deep Water up until this point has been centered around the fact that it served not only as a new project for both Ben Affleck and Ana De Armas but also as the setting for their burgeoning romance. The two actors have made plenty of headlines in 2020 after going public with their relationship, especially since fans learned they were quarantining from COVID-19 together.
However, they've also made some big news all on their own. Ben Affleck's drama The Way Back earned him buzz for his personal portrayal of a recovering alcoholic. After stealing the show from veteran actors in Knives Out, all eyes have been on Ana De Armas as we await (and wait… and wait…) her upcoming turn as a Bond girl in No Time To Die.
Deep Water is set to hit theaters on August 21, 2021.
Your Daily Blend of Entertainment News
Your Daily Blend of Entertainment News
Thank you for signing up to CinemaBlend. You will receive a verification email shortly.
There was a problem. Please refresh the page and try again.