Is There A Harry Potter Reunion On The Way? Here's What Tom Felton Says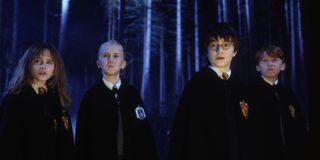 It's been nearly two decades since the Harry Potter films first premiered. In the years since, the stars of the films have gone on to forge their own lives and careers -- but that doesn't mean they don't still consider the franchise to be a big part of their lives. In fact, Tom Felton has hinted that he still keeps in touch with some of the cast members, and they're trying to find a way to celebrate the series' upcoming anniversary.
Tom Felton played Draco Malfoy in all eight Harry Potter films. As Harry Potter's Hogwarts nemesis, he was often on the sidelines for many of the series' most heartfelt moments. That doesn't mean he didn't form lasting bonds with his castmates, though. In fact, over the years, he's shared tons of pictures and old footage through social media, reminiscing about the good times the cast had growing up on set.
In a recent conversation with Entertainment Tonight, Tom Felton confirmed that he still keeps in touch with many of his Harry Potter co-stars -- and that he's trying to find a way to keep them connected virtually during the pandemic:
The cast wouldn't be the first to stage a virtual get together this year, and a lot of Harry Potter fans would probably love to see some kind of reunion, even if it can only be online for now. While there's been plenty of Harry Potter content in the last decade -- from prequels and sequels to supplementary stories and anecdotes -- nothing quite compares to the original series.
It is too early to say who might be available to participate in a reunion, but the cast is huge. And regardless of who shows up, with eleven years of memories together, they'll likely have plenty to talk about. Of course, if a virtual reunion doesn't work out this year, there's an even bigger anniversary coming up in 2021. Next year marks the 20th anniversary of the release of Harry Potter and the Sorcerer's Stone, so it is a huge milestone for the film franchise. Hopefully by then, the pandemic will be less of a threat and an in-person reunion will be feasible.
What would you want to see in a virtual Harry Potter reunion? Let us know in the comments!
Your Daily Blend of Entertainment News
Your Daily Blend of Entertainment News
Thank you for signing up to CinemaBlend. You will receive a verification email shortly.
There was a problem. Please refresh the page and try again.