11 Great Movies Coming To Netflix In November 2020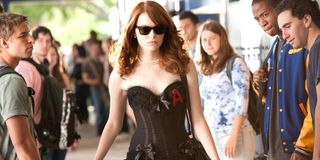 November 2020 has come to us with the speed of a moving train, and it's still surprising that it's almost the end of this unprecedented year of history. As we've seen every month, the new crop of Netflix titles that the public will be able to choose from has become even more exciting and diverse, with old favorites and some more recent hits all mingling to make your day.
If you want to see the entire rundown of what's coming to Netflix in the next month, you can check out the full rundown for November 2020 below. However, should you be ready to plan out your schedule for the month ahead, you can see what awaits you in the list we're about to present. Also, keep in mind that unless specified, the films shown below will be available to watch as of November 1.
Easy A
Easy A is one of those movies with a reputation that you can see coming from a mile away, and it's a rep that says it's going to be talked about for some time. Between Emma Stone's central role as a girl dealing with her own public relations nightmares in high school, and supporting performances by Patricia Clarkson and Stanley Tucci as two of the funniest movie parents in some time, this smartly funny teen comedy has stood the test of time for a reason. If you haven't seen it yet, don't let the crowd's whispers influence you. See it for yourself and get the truth behind the rumors.
A Clockwork Orange
While we're just about to see the Halloween season laid to rest until 2021, that doesn't mean the frightening action needs to stop. While Stanley Kubrick's A Clockwork Orange may not be an outright horror show, seeing young Malcolm McDowell raising hell with the Droogs is still a pretty graphic sight. A controversial film back in its day for a handful of reasons, its status as a classic has never slipped; and you'll be able to see why when Anthony Burgess' satirical nightmare unfolds on your screen. Viddy well, dear readers.
Boyz N The Hood
After Spike Lee's Do The Right Thing scored a cultural and artistic win in 1989, other studios were looking to replicate that sort of success. It was because of that attitude that the late writer/director John Singleton was able to make his film Boyz n the Hood, and it's not hard to see why. Chronicling a group of friends trying to survive in South Central, Los Angeles, the movie would inspire future generations of fans and filmmakers, as well as help launch the acting careers of Academy Award winner Cuba Gooding Jr., Ice Cube, Nia Long and even fellow Academy Award winner Regina King.
Ocean's Eleven
It's never a bad time to watch Ocean's Eleven. Though we could sit here all day and dispute where the sequels fit in the canon of good versus bad follow-ups, director Steven Soderbergh's smooth modernization of the Rat Pack classic is a feel-good heist movie from start to finish. As this has been the year where audiences now more than ever need an escape, it's good to know that George Clooney, Matt Damon and Brad Pitt, along with the rest of their merry band of thieves, can still wow a room with this soon-to-be classic. Though make sure you have enough snacks prepared before watching.
Paul Blart: Mall Cop
Is Paul Blart: Mall Cop a comedy classic? Our guess is going to be that the results of that audience poll would be a big "No." But is the first of Kevin James' two films starring as the New Jersey mall cop with a heart of gold a crowd pleaser? Well, you need not look further than the fact that there as a sequel made in the first place. With our titular hero saving the day against some evildoers who would befoul his beloved mall, there's room for plenty of shenanigans to occur, as well as a lot of heartfelt sentiment. If you're still riding high off of Hubie Halloween, this is where you should be.
The Impossible
True stories sometimes makes for effective cinematic inspiration, as seen in the next pair of films we're about to show off. With director J.A. Bayona's film The Impossible, the story of a real life family caught up in the massive 2004 tsunami that rocked Thailand is told in painstaking detail, with spectacle and character both firmly in mind. Starring Naomi Watts, Ewan McGregor and a young Tom Holland, The Impossible tackles the challenges of natural disaster and the triumph of the human spirit in the aftermath of such adversity.
Fruitvale Station
The film that helped put both writer/director Ryan Coogler and star Michael B. Jordan on the film industry's map, Fruitvale Station is inspired by the real life tragedy of Oscar Grant III. Killed by a police officer at the transit station the film takes its name from, this movie digs into the aftermath of Grant's killing, while also adding the context of events from his life before that fateful day. Michael B. Jordan has always had an eye for socially conscious projects, and has been one of Ryan Coogler's most effective collaborators; and both of those facts can be readily seen in the results that Fruitvale Station presents to its audience.
Available 11/12/20
Cloudy With A Chance Of Meatballs 2
Sometimes, a big, bright burst of color, and a huge helping of laughter, are just what the world needs. Cloudy With A Chance Of Meatballs 2 delivers more of that sort of charm and entertainment, as it joins its predecessor on the Netflix library. In the tradition of other larger-than-life adventures that take place on an island, this sequel sees Flint Lockwood and his friends returning to Swallow Falls, as his crazy food machine is still wreaking havoc. Creating brand new creatures that are part food and part animal, this follow-up to the original animated smash hit gets pretty wild, with adventure and laughs both enjoying a place at the table.
Available 11/15/20
V for Vendetta
It's kind of strange that V for Vendetta is finding itself returning to Netflix only a couple weeks after the 2020 election has run its course. Admittedly, you'd think that the platform would play the days before the big decision as the moment to reintroduce this incendiary film into its lineup. But in a way, running Natalie Portman and Hugo Weaving's campaign for justice in an unjust world is probably best saved for after voters have dedicated their efforts to actually voting. While it may not be ready for audiences to partake in on the date it invokes with its memory, V for Vendetta will be available soon enough, for fans that want to remember, remember this tale of November.
Available 11/15/20
Loving
The Supreme Court decision of Loving v. Virginia is the basis for the story told in writer/director Jeff Nichols' historical drama Loving. As Ruth Negga and Joel Edgerton play Mildred and Richard Loving, the story of a couple whose interracial marriage prompted that very 1967 decision, is told in heartbreaking and uplifting detail. Their love, and the legal battle that ensued in its wake, eventually allowed such marriages to be legally executed on a national level. Loving celebrates the end result by chronicling all the hardship, and the momentous precedent that came as a result.
Available 11/16/20
Machete Kills
A lot of noise has been surrounding Robert Rodriguez's Alita: Battle Angel, as the film's fans are trying to get a sequel to the 2019 movie into production. Should anyone doubt the conviction of Mr. Rodriguez to deliver the most out of a second bite of any franchise apple, Machete Kills is a perfect example of why getting his talents back into the game is one of the best ideas. Going harder, more extreme and funnier than the previous Machete, Danny Trejo's titular badass returned true to form, with some new heroes and villains to contend with in the process. So you can be sure that if he can do this with a Machete sequel, he could absolutely ace an Alita sequel, if given the chance.
Available 11/22/20
A full gamut of entertainment awaits Netflix subscribers in November 2020, but be warned: all titles above are subject to change and availability. So you'll want to keep this listing handy, in case you need to figure out whether a title you're looking for has moved or not. We'll see you back here about this time next month, where snow might just be on the ground, and December 2020's best and brightest will await your very eyes!
Your Daily Blend of Entertainment News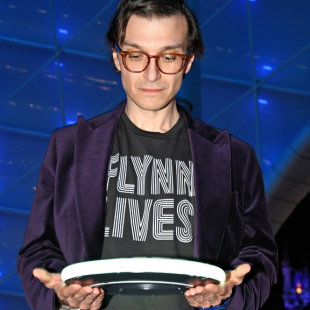 Senior Movies Contributor
CinemaBlend's James Bond (expert). Also versed in Large Scale Aggressors, time travel, and Guillermo del Toro. He fights for The User.