Jurassic World: Dominion's Legacy Actors Unite For A Sweet Photo As Filming Restarts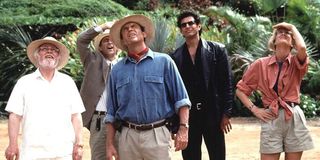 It feels like another lifetime ago that we first learned three Jurassic Park stars would be returning for Jurassic World: Dominion. While their time together on set was delayed by the global pandemic, they have finally reunited to continue their characters' stories on screen. The actors took time to share a photo commemorating the momentous occasion, and it offers a sweet tribute to the original film's legacy.
On October 23, Jurassic World: Dominion's director Colin Trevorrow marked the cast and crew's return to set when he tweeted a photo of Sam Neill, Laura Dern and Jeff Goldblum with a simple and direct caption:
Sam Neill also shared the photo with fans on his personal Instagram account, and offered a bit more context about its significance. At first glance, the photo feels like nostalgic perfection, because it offers one of the first glimpses we've had in decades of the actors who brought Alan Grant, Ellie Sattler and Ian Malcolm to life. But the background, which shows that the trio are standing in front of the Richard Attenborough Stage at Pinewood Studios, makes the photo that much more poignant.
Since Sir Richard Attenborough died in 2014, it's not possible for him to reprise his own role as Jurassic Park's creator, John Hammond, yet it's heartwarming to know the legacy actors from Jurassic Park found some way to commemorate him during production. That stage was named after Attenborough in 2012 and, while it's not clear whether the Jurassic World team is actually filming on it or not, it's cool that they were able to pay homage to their late castmate.
This is not the first photo of the castmates since their roles in Jurassic World: Dominion were announced. They've shared other updates together, including one encouraging fans to register to vote. However, their reunion feels like it was a really, really long time coming. It was first confirmed that the three stars would be returning to the third installment of the Jurassic World franchise more than a year ago, in September 2019. The actors all expressed excitement over returning to their roles and were primed to begin filming.
However, the COVID-19 pandemic put their big reunion plans on hold. Jurassic World: Dominion was in production when the virus began to spread and was shut down for several months.
The downtime gave the original Jurassic Park cast members a chance to reflect on the film's legacy. Jeff Goldblum spoke about how his character is even more relevant today than he was when the film premiered in 1993. Filming resumed late this summer, with myriad (and costly) safety protocols, like frequent COVID tests, in place -- and they proved they were willing to shut down production again after a few positive COVID tests were reported.
Due to this year's production delays, Jurassic World: Dominion's release date has been pushed back to June 2022.
Your Daily Blend of Entertainment News