Why Jeff Goldblum Believes His Jurassic Park Character Is Now 'More Relevant Than Ever'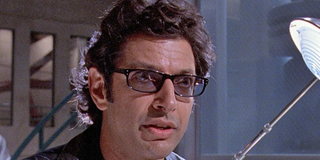 Jurassic Park fans know that the super popular franchise is, in some ways, a cautionary tale. In 2020, some of its core themes have felt especially relevant to some observers -- including Jeff Goldblum, who feels that his character, Dr. Ian Malcolm, and his worldview are needed now more than ever.
In Jurassic Park, Dr. Malcolm begrudgingly accepts an invitation to visit the theme park ahead of its opening. He cautions the park's owner, John Hammond, and his fellow scientists about the dangers of experimenting and innovating for the sake of experimentation and innovation alone. He knows the dangers that come with the unethical use of science and power -- and he experiences it firsthand when Jurassic Park's dinosaurs get loose and demolish not only the park but many of the people trapped inside of it.
We don't know for sure how exactly Jeff Goldblum's character will fit into the storyline when he returns to the franchise in the upcoming Jurassic World: Dominion. However, the actor recently said, during an interview on People TV's Couch Surfing, that he thinks his character's ideology is especially relevant today:
There's been a lot of discussion this year about human nature and where science fits into the global landscape, especially in the wake of the COVID-19 pandemic. So it's understandable why Jeff Goldblum would see a throughline between the character he plays and the real-world issues we face today.
It's also easy to understand why these things would be top of mind for Jeff Goldblum. Jurassic World: Dominion was one of numerous film projects that were put on hold when the COVID-19 pandemic began to spread earlier this year. The cast and crew are currently back to work but are utilizing an abundance of safety precautions to attempt to prevent the spread of COVID-19 on set. Jurassic World: Dominion's cast members have spoken openly about their strict quarantining protocols. The preventive measures they're taking were developed with the help of scientific experts.
Assuming the delays in production won't affect Jurassic World: Dominion planned release date, we'll see whether or not Dr. Ian Malcolm has any more words of wisdom to share about science, ethics and the global community. If he does, it will surely hit home with the franchise's 21st century audience. Jurassic World: Dominion is due to hit theaters on June 11, 2021.
Your Daily Blend of Entertainment News
Thank you for signing up to CinemaBlend. You will receive a verification email shortly.
There was a problem. Please refresh the page and try again.