Candyman Director Nia DaCosta Explains How She Wants To Get 'Inside The Head' Of Audiences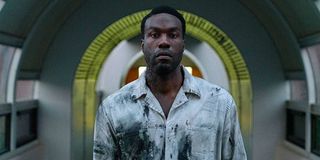 Having only one feature film under her belt with Little Woods, Nia DaCosta is a relatively new voice in Hollywood, but she's set to make a big splash with the latest Candyman. Regarding the sequel, DaCosta recently explained how she has every intention of getting "inside the head" of audiences, hoping they walk away from the film disturbed.
Horror directors typically have one job—to scare their audience. If they can do that, then they've won a big battle. For Nia DaCosta, she seems to want to take it a step further, not only scaring her audience, but getting so much inside their head that they can't get her movie Candyman out. Here's what she had to say at the Nightstream Film Festival (via Slashfilm):
This is a fairly ambitious goal. Psychological horror movies can be a difficult nut to crack without using cheap tricks, like an abundance of jump scares. Yet from the looks of the first Candyman trailer, Nia DaCosta might achieve her goal and then some.
Nia DaCosta also has a powerful horror filmmaker in her corner helping bring Candyman to life with Get Out's Jordan Peele. He had a hand in writing the screenplay and also will be a producer on the project. It sounds like both Peele and DaCosta bonded quickly over their shared love of horror, and he expressed his confidence in her ability to bring a fresh take on the classic horror.
That said, don't expect Candyman to be a light on the gore. In fact, it could be quite the opposite. After the trailer released, Nia DaCosta explained that she doesn't shy away from blood and gore, and won't pan away when violence and carnage come knocking.
Candyman was intended to be released this year, but due to global events, it has been delayed. Some thought it might head to VOD, but Nia DaCosta believes the movie should be seen in theaters. So it's been pushed back to 2021. Which, all things considered, Candyman arriving in theaters might be the best choice.
Though Nia DaCosta is going all-out with Candyman, don't expect her to make camp in the horror genre. She's already got her next project lined up in Captain Marvel 2 starring Brie Larson. That might sound like a strange pairing, but there are some solid reasons it makes perfect sense. With her clear talent, she's certainly a director to watch.
Your Daily Blend of Entertainment News
Your Daily Blend of Entertainment News
Thank you for signing up to CinemaBlend. You will receive a verification email shortly.
There was a problem. Please refresh the page and try again.