Candyman Director Nia DaCosta Explains The Film's Most Recent Delay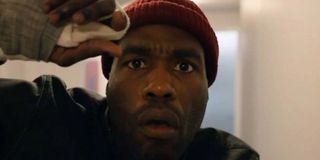 Like many other movies this year, Nia DaCosta's Candyman won't be showing in theaters as originally intended. Unlike many others though, the movie's premiere has been pushed back to 2021 and won't see an immediate VOD release. According to the director, there's a specific reason why they've chosen to buck this growing trend.
Fans of the '90s horror franchise Candyman have been eagerly awaiting Nia DaCosta's reboot -- especially since the film's creepy first trailer dropped in February of this year. However, after initially pushing its June 12 release to September, and then October, Universal Pictures announced this week that it's now put the film on hold until 2021. The studio has not announced an official release date yet.
Nia DaCosta surely knows fans will be bummed, but she used her Twitter account to explain why they've chosen to hold off on showing the film to fans until there's more certainty over the COVID-19 pandemic. She tweeted:
In a follow up tweet, Nia DaCosta made it clear that it's more important to her that they retain that spirit of community for fans when they finally get to see Candyman:
There is something to be said for the feeling of community that you can only get when you're sitting in a packed movie theater on opening weekend. It's especially memorable when you're seeing something thrilling, like a horror film. So it's understandable why the team behind Candyman would take this approach.
Even though we'll have to wait a bit longer to see Candyman, there is still plenty to be excited about when it finally does hit theaters and we can all see it together. Nia DaCosta, who recently joined on as director of Captain Marvel 2, has already proven herself to be deft at making movies that keep you on the edge of your seat. Jordan Peele, who's emerging as a modern day horror master, co-wrote the Candyman screenplay with Nia DaCosta and Win Rosenfeld.
Tony Todd will also make an appearance, which should be exciting for fans of the original franchise. However, Nia DaCosta's take on the series could help pull it from niche status by appealing to new fans. In short - it seems like it will be worth the wait. Make sure to stay updated on all the upcoming films, including those we'll see in 2021.
Your Daily Blend of Entertainment News