Spell's Omari Hardwick Reveals The Movies That Scared Him The Most As A Kid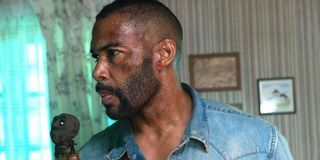 When it comes to horror movies, just about every movie fan has their favorites, whether it be classics like Psycho or Night of the Living Dead or more recent hits like Get Out and Hereditary. Those who've grown up with horror movies also more than likely have a few that truly scared them in their younger years. This is indeed the case for Omari Hardwick, whose latest film, Spell, offers up a few thrills of its own. And the former Power actor has a particular soft spot for an iconic horror picture.
While speaking to Omari Hardwick about Spell, I asked the actor what films gave him chills when he as a child. He told me that Stanley Kubrick's The Shining was the one that really kept it him up at night, in addition to a few others:
It's hard to disagree with Hardwick's sentiments on The Shining. Most of us probably have Jack Nicholson's thoroughly terrifying and mesmerizing performance as the tormented Jack Torrance burned into our eyeballs. Hardwick also brings up a good point that some content that's not necessarily horror-based can be scary for younger audiences as well. As a kid, you may have accidentally walked in on a steamy scene from a movie and were a bit scared and confused upon seeing it.
Still, pure horror just has a way of stimulating our brains in such a unique way, and Hardwick couldn't understate the significance of The Shining to his love of movies:
Based on the way The Shining is praised today, it's honestly hard to believe it received mixed reviews when it first hit theaters back in 1980. The public consensus of the film wouldn't begin to change until several years later and, by the early 2000s, it was receiving serious recognition. This praise, unfortunately, didn't come from The Shining's author, Stephen King, who famously disliked Kubrick's interpretation of his work. However, he was relatively pleased with Mike Flanagan's 2019 sequel, Doctor Sleep. While that film didn't perform well at the box office, it has managed to find plenty of success since it hit streaming.
Omari Hardwick has great taste in horror films and, with his role in Mark Tonderai's Spell, he now joins a long line of stars who have headlined supernatural thrillers. And for someone who grew up watching those films, that has to be a great feeling.
Spell is now available on premium video-on-demand and digital platforms.
Covering superheroes, sci-fi, comedy, and almost anything else in film and TV. I eat more pizza than the Teenage Mutant Ninja Turtles.
Your Daily Blend of Entertainment News
Thank you for signing up to CinemaBlend. You will receive a verification email shortly.
There was a problem. Please refresh the page and try again.