The 10 Sexiest Movies On Netflix Right Now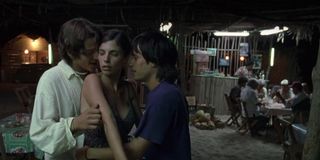 Turn off the lights, light a candle, grab some chocolate covered strawberries, put on something comfy, and then get ready to… watch some Netflix movies. Netflix has a huge selection of very sexy films from all over the world. These films put you right in the mood to enjoy some tasteful cinema. Tonight is the perfect night to enjoy some of the sexiest movies available to stream.
Netflix has many different types of sexy. For those wanting lots of sex scenes, Netflix has you covered. For those wanting lots of built up sexual tension, Netflix has you covered too. If you want movies that deal with taboo sexual topics, yes Netflix also has you covered. The films that we have selected check many different boxes to appeal to a wide selection of movie fans. Now that you've gotten in the mood to enjoy some steamy and sexy movies on Netflix, let's get into the list.
Cam (2018)
Cam is a film that grabs a spotlight, and then shines it big and brightly at the viewers and society. Cam is about a webcam girl who becomes obsessed with reaching the number one spot, but once she achieves fame, someone or something steals her identity. The film starts with a simple and straightforward concept, but then gets more into horror and sci-fi territory. Cam focuses less on being sexy and more on making commentary about internet culture, fame, and narcissism. The film creates suspense and tension as it builds up to the big face-off between the main protagonist and her clone. Despite the serious topics, Cam has some sexy and sensual elements, especially because of the webcam lifestyle premise. Orange is The New Black and The Handmaid's Tale's Madeline Brewer stars. 13 Reasons Why's Devin McKenzie Druid and Melora Walters have supporting roles as the main character's brother and mother. Stream Cam HERE.
Rocco (2016)
Rocco is a French documentary about the porn film industry, specifically Rocco Siffredi and his role as an Italian porn actor, director, and producer. Rocco Siffredi is the subject of the film, but it also focuses on the porn industry as a whole. Rocco of course features actual porn film scenes, so that's enough sexiness for many. However, Rocco is more than just a porn movie as it gives a real look at the humanity behind the industry, and its effects on different lives. Rocco easily balances pornographic scenes with documentary storytelling. Rocco exceeds at neither shaming nor glamorizing people who work in the porn industry. It also never shames the idea of embracing ones sexuality and whatever that may mean for the individual. The style also makes Rocco feel more like a scripted movie than a documentary. Stream Rocco HERE.
Newness (2017)
Swipe, swipe, and swipe again until you finally find someone who sparks your interest. You guys have a great first date, which eventually leads to a relationship. Things go great at first, but you soon both decide that the relationship would be better if you make it an open relationship. This is the concept behind Newness, a film that looks at hookup culture and all the hotness and mess of it all. Newness stars Nicholas Hoult and Laia Costa. As a film about an open relationship, there are plenty of steamy sex scenes, but Newness is much deeper than many one-night stands. It's all about the shallow and selfish exploits of the young and beautiful. It's only through really allowing themselves to be vulnerable and committed do the main protagonists in Newness have a real shot at love and happiness. Stream Newness HERE.
Adore (2013)
Adore follows four good-looking people, played by Naomi Watts, Robin Wright, Xavier Samuel, and James Frecheville, and explores what happens when a line is crossed. Adore has a few sex scenes and some very sexy long kissing scenes, but the film's sexiness mainly comes from the intimacy established between all four characters. The closeness of the group adds depth to their relationships but also makes everything so much more complex and taboo. In many ways, Adore can be viewed as an empowering story of women over 40 embracing their sexuality and loving without restrictions, but it all feels a bit incestuous because of the very tight-knit relationship of both women and their sons. Nonetheless, if you can get past that element, there is plenty of sexiness mixed with the beauty of the New South Wales setting. Stream Adore HERE.
Love (2015)
Gaspar Noe's Love wastes no time in letting viewers know that this movie will have lots of sex in it. The opening scene is a graphic sex scene. Love follows Murphy (Karl Glusman), Electra (Aomi Muyock), and Omi (Klara Kristin). Electra and Murphy have been in a relationship for two years, but they invite Omi into their bed in the form of a threesome. Omi and Murphy then secretly have sex behind Electra's back, resulting in an unplanned pregnancy. This European film aims to turn very sexually explicit scenes into a form of art. Gasper Noe treats each scene with tenderness and care that add an artistic nature to each sex act. At the core of Love is a love story told through sex. This film is definitely for those who want straight-in-your-face graphic acts of sex, like porn but artsy. Stream Love HERE.
Berlin Syndrome (2017)
Berlin Syndrome, a clear reference to Stockholm syndrome, plays on two of women's biggest fears: being abducted in a foreign land and going on a date with a serial killer. While backpacking in Berlin, Clare (Teresa Palmer) meets German teacher Andi (Max Riemelt). The two have a one-night stand and Clare wakes up the next morning locked in his apartment. She believes it was a mistake, but soon discovers that she is his prisoner. Berlin Syndrome in no way promotes falling in love with a psycho, kidnapper, but the undeniable on-screen chemistry of Teresa Palmer and Max Riemelt almost makes you wish that he wasn't a psychotic serial killer so that they might have a real chance at love. Berlin Syndrome is thrilling with a bit of sexiness thrown in, just enough sexiness to make you uncomfortable and worried about your own sanity. Stream Berlin Syndrome HERE.
Below Her Mouth (2016)
In the mood for sexy lesbian movies? Well, Netflix has plenty of options. One of them is Below Her Mouth, a Canadian lesbian/coming-out movie about Jasmine (Natalie Krill) and Dallas (Erika Linder) who begin a very steamy affair. This is another movie that uses many sex scenes as a way to emphasize the sexiness of falling in love. The film fully embraces the fact that it lives in a post-Blue Is the Warmest Color world of cinema and tries to take a similar approach. It unfortunately Below Her Mouth lacks a lot of the depth presented in Blue is the Warmest Color but it definitely doesn't lack in the sexiness. Stream Below Her Mouth HERE.
Blue Is The Warmest Color (2013)
Cannes Film Festival 2013 Palme d'Or winner Blue is the Warmest Color is a coming of age story about two young girls who fall in love for the first time. It follows the women from their high school days to early adulthood. Blue is the Warmest Color is a film filled with graphic lesbian sex scenes, but the most important thing about the movie is the love story between Adele (Adèle Exarchopoulos) and Emma (Léa Seydoux), and their journey as lovers and individuals, especially as it pertains to sexuality and sexual awakening. Blue is the Warmest Color is a compelling story of first love and all the agony, sensuality, and joy that comes with that time in one's life. Stream Blue is the Warmest Color HERE
God's Own Country (2017)
God's Own Country follows Johnny (Josh O'Connor), a Yorkshire sheep farmer, and Gheorghe (Alex Secareanu), a Romanian migrant worker. The two begin a passionate love affair while taking care of sheep. Not-so-subtly God's Own Country builds up tension between the two men, before they get down and dirty (literally having sex in the dirt). First, the men act aggressively towards each other, but with Gheorghe's guidance, Johnny learns to be truly intimate both in the bedroom and with his heart. God's Own Country effortlessly balances raw sexuality with raw, beautiful storytelling. God's Own Country is as sexy as it is visually beautiful and captivating. Stream God's Own Country HERE.
Y Tu Mamá También (2001)
In Y Tu Mama Tambien, real life best friends Gael Garcia Bernal and Diego Luna play lifelong friends Julio and Tenoch. They begin a road trip with Tenoch's cousin's wife, Luisa (Maribel Verdu). Luisa first has sex with Tenoch, and then Julio. While on the road, the boys begin revealing that this isn't the first time that they've slept with the same woman. This increases the boy's tension, leading to a threesome that ruins their friendship. Y Tu Mama Tambien debatably has one of the most memorable threesome scenes of all time, mainly because of Gael Garcia Bernal and Diego Luna's surprising (and hot) kiss. Y Tu Mama Tambien is one of Alfonso Cuarón's earliest films, and definitely one of his sexiest. Stream Y Tu Mama Tambien HERE.
These are some of Netlix's current sexy offerings, but we're sure the streaming service will continue to add even sexier international and domestic movies in the near future.
Your Daily Blend of Entertainment News
Spent most of my life in various parts of Illinois, including attending college in Evanston. I have been a life long lover of pop culture, especially television, turned that passion into writing about all things entertainment related. When I'm not writing about pop culture, I can be found channeling Gordon Ramsay by kicking people out the kitchen.