Why The Mandalorian Season 2 May Be Hiding Another Big Secret Like Baby Yoda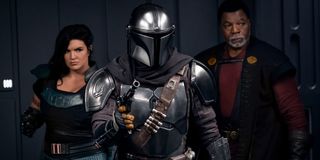 The Mandalorian Season 2 seems like one of the few TV releases of 2020 that didn't get delayed, so there's certainly a lot of hype surrounding its upcoming arrival. Fans have been eager for any and all details about Season 2, though so far, there hasn't been much confirmed as fact.
That's a strange thing considering this is one of the most highly-anticipated releases of the year, and it has me suspicious that Jon Favreau and Dave Filoni may have another big "Baby Yoda"-sized secret that will be revealed as Season 2 debuts on Disney+. Here are some of the signs pointing me towards that prediction, and why I believe there may be a reveal just as big as The Child waiting for audiences in Season 2.
The Mandalorian Season 2 Trailers Don't Show Much
We've seen a couple of official trailers for The Mandalorian Season 2, and they've been loaded with action and plenty of shots of Din Djarin and The Child. With that said, it's mostly action sequences, and not done in a way that really tells a story as to where we can expect this season to take us. Even the dialogue is inconsistent between the two trailers we've seen, with the bits of dialogue interchanged in certain scenes.
It's a departure from the Season 1 trailer, which if you re-watch now, does tell a story. We see Mando kicking ass and collecting bounties, but there's a ton of footage where Baby Yoda was definitely just in a prior scene but completely left out of the shot. The same could be done here, though I will say that the Season 2 trailers feature even less location variation in two trailers than the first Season 1 trailer. It's usually a tell-tale sign something is being hidden, but I can only speculate as to what.
The Lack Of The Mandalorian Season 2 Merch Featuring New Characters
Mando Monday kicked off premiere week, and while there's more Baby Yoda merch to buy than you can shake a stick at, there isn't a ton we've seen thus far that points towards the new characters or events we will see this season. A lot of it is Din Djarin, The Child, or characters that we've seen in Season 1. Why aren't we seeing characters that will be introduced in Season 2?
For those that may not remember, Jon Favreau specifically requested that Disney hold on marketing The Child before its reveal in The Mandalorian Season 1. The result meant a lot of merch wasn't available for the new character when the series aired, or even a couple of months after, but it did help keep a tight lid on the surprise. Toys are often a solid source of leaks when it comes to superhero shows or Star Wars, so the fact we don't have Season 2-specific toys could mean more secrets are being withheld again.
We Still Know Very Little About The Mandalorian Season 2 At This Point
The Mandalorian Season 1 ended with Din Djarin and The Child on the move and searching for a new home for the little one. Djarin's plan was to seek out other Mandalorians, acquire information about the Jedi and other Force users, and hopefully deliver "Baby Yoda" to some people who will know how to properly care for and protect it.
Now looking at Season 2, almost all of the confirmed information we have in terms of the plot is exactly what we knew at the end of Season 1. It's kind of strange that we haven't even gotten so much as a tease of some of the awesome classic characters that are rumored to appear, or even a scene that's like "hey, here's something new you don't know about." Again, it may be because there's something big being hidden that encompasses the season, and it'd be hard to keep it out of trailers if they got too deep into storytelling.
The Wild Rumors Ahead Of This Season
There has been a lot of chatter about what's in The Mandalorian Season 2, with tons of characters like Boba Fett, Bo-Katan, and even Ahsoka Tano rumored to appear in the season. While news of these castings and more has come from generally reliable sources, Disney and The Mandalorian powers that be still have yet to officially confirm them as true.
This has been taken to such an extreme that none of these characters have been seen in promotional material for The Mandalorian Season 2. Basically, there's stuff that a lot of credible sources are saying is present in the season that we know isn't being shown in the trailers. Long story short, it seems like the trailers were meant to show a lot of action, but nothing outright revealing about plot or characters. Isn't it suspicious that for all the rumors we've heard about Season 2, these trailers don't confirm a single one of them?
Disney Knows We Need This
2020 has been a rough year, and I think the folks at Disney may know that just as well as anyone. Between all the cuts made at Disney theme parks and movies they've had to push to streaming on Disney+, another universally acclaimed season of The Mandalorian would be a win for everyone at the end of this remarkably unpleasant year.
Perhaps The Mandalorian could've revealed a little more about Season 2 than it has so far, but has there been a decision to withhold fun and excitement in an effort to create the same frenzy there was with The Child's reveal? Here's hoping, because I would love nothing more than for at least one series to truly knock my socks off with a big surprise this season. As for what that surprise will be, well, I guess I'll have to wait and see.
The Mandalorian Season 2 releases on Disney+ Fridays at 12:01 a.m. PT. Continue to stick with CinemaBlend for more happening in Star Wars, and for the latest news in television and movies.
Your Daily Blend of Entertainment News
Mick likes good television, but also reality television. He grew up on Star Wars, DC, Marvel, and pro wrestling and loves to discuss and dissect most of it. He's been writing online for over a decade and never dreamed he'd be in the position he is today.
Your Daily Blend of Entertainment News
Thank you for signing up to CinemaBlend. You will receive a verification email shortly.
There was a problem. Please refresh the page and try again.