12 Cool Casper Behind-The-Scenes Facts You Might Not Know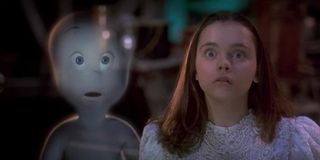 If you grew up in the 90s, then there is a high chance that you saw Casper, and if you're like me, there is an even bigger chance that you loved that fun (but slightly ridiculous) movie. The movie Casper is based on the Harvey Comics character of the same name. It starred Christina Ricci and Bill Pullman with voice-overs by Brad Garrett and Malachi Pearson. It's been 25 years since the movie premiered, but we're constantly learning interesting behind-the-scenes facts about Casper.
By today's CGI heavy TV and film standards, Casper might not be that impressive in terms of technology, but in 1995, it was revolutionary. Not only is Casper very technically advanced for its decade but it's also a film that now has a dedicated cult following. Many of the Casper's behind-the-scenes facts are just as fascinating as the movie itself. Here are a few cool things to know about the making of Casper.
Casper Used More CGI Than Jurassic Park
The original Jurassic Park premiered a few years before Casper, and though the film had a world full of dinosaurs, they were no match for one friendly ghost, at least not CGI wise. To celebrate Casper's 25th anniversary, director Brad Silberling shared some little behind-the-scenes tidbits on his Twitter page. One of them was that there were more CG shots in the (Casper) kitchen scene than in all of Jurassic.
The Los Angeles Times also shared this interesting fact about Casper's CGI versus Jurassic Park's CGI:
Twenty-Five Animators Worked On Creating Casper
In the series Movie Magic, Season 4, Episode 13,"Ghost Effects: Ghost Stories," the creation of ghosts in various popular ghost films and TV series is explored. In the Casper portion of the episode, it was revealed that 25 animators worked to create the character.
They used a special software that could alter Casper's facial expressions to preset modes, and then the animators would go back and add more details to Casper to make him fully dimensional. The animators also used actors to map out how to make Casper's facial movement more life-like. According to Movie Magic, it took the animators 18 months to complete Casper's 330 ghost shots.
J.J. Abrams Did Uncredited Script Rewrites On Casper
In 2018, Devon Sawa (who played the alive version of Casper) revealed on Twitter that J.J. Abrams was asked to write an alternative ending to Casper. It was approved and casting began. Steven Spielberg produced Casper, and it was the first time the men worked together. They collaborated again for Super 8. In an interview for Entertainment Weekly to promote Super 8, it was mentioned that Casper was the first time they worked together. Spielberg then gushed over J.J. Abrams writing abilities back then:
J.J. Abrams' work on Casper is uncredited, so we don't know how much of the ending he wrote. Sherri Stoner and Deanna Oliver are credited with writing most of the Casper script.
Devon Sawa Credits Christina Ricci With Getting Him The Casper Role
On the day Casper reached its 25th anniversary, Devon Sawa tweeted out a thank you to Christina Ricci for playing a part in him landing the role of human Casper. Casper director Brad Silberling then added that "It was the color in Christina's cheeks when I flew you down to meet us at lunch - THAT'S what sealed the deal."
In an interview with Vulture, Sawa explained that Ricci helped him land his other iconic teen role in Now and Then. Sawa shared that Ricci recommended him for his role in Now and Then because they bonded while filming Casper. Ricci may have been the catalyst that set off Sawa's career. He then went on to have more iconic roles like in Final Destination and as Stan in Eminem's Stan video.
Brad Silberling Reached Out To Little Richard To Record The Casper Theme Song
Casper got a major dose of soul when music legend Little Richard sang the theme song for the movie. During Silberling's Twitter Q&A to celebrate Casper's 25th anniversary, he answered one fan's question about Little Richard appearing on the soundtrack.
Silberling said he did things the traditional way by contacting him directly to be involved. He also shared that Little Richard spent a day in the studio adding his vocals, style, and funk to the Casper theme. Silberling also shared the fun behind-the-scenes fact that Little Richard drank a lot of coffee before singing.
Casper Used The Equivalent Of 19 Million Floppy Disks For The Visual Effects
In the same Los Angeles Times article mentioned earlier, it states that Casper required "the equivalent of 19 million floppy disks of computer-generated images." Remember floppy disks? Those little square thin things that you pushed into your computer and could save a few files, well it was the '90s, baby, so technology like CD ROMs hadn't really taken over, followed by the boost of hard drives, and eventually the transition to Cloud storage. Imagine trying to save movie files or images on floppy disks for an over $50 million blockbuster movie. That thought adds a scary element to Casper.
James Horner Tapped Into The Fairytale Elements Of Casper's Story To Compose The Movies' Music
On the Casper: Special Edition DVD, there is a segment called "Revealing Casper," which partly discusses composing the music for the film. Renowned composer James Horner, known for composing music for films like Titanic and Braveheart, composed the score for Casper.
In the DVD section, Silberling stated that Horner saw Casper as a modern fairytale and wanted to bring all those elements to it. Horner added that (at that time), he wanted to take on projects that brought something to him spiritually.
Horner went into the project with very little knowledge of the Casper comic, so he based most of the music on what he saw in the film. Horner said the film had charm and that his duty was to bring out the elements that showcased lost youth. He said that the loss of youth makes the film more of a fairytale.
A Maquette Of Casper Was Used During Filming
In an interview with Bobbie Wygant, Christina Ricci revealed that for plate shots, someone would hold a maquette, a small model, of Casper to help the actors know where to focus their attention. Ricci stated that it really helped her with scenes.
Ricci also shared that there was always someone reading the lines for Casper and the other ghost characters, but it was hard to visualize the final product until seeing it on screen.
Malachi Pearson Did All The CGI Voice-Overs Of Casper In The Film
Devon Sawa is the actor most associated with the character Casper in the film, but all of the voice-over work for the character was done by Malachi Pearson. Sawa even stated that he had 30 seconds in the film, but Malachi Pearson did most of the work. Sawa shared that it was a last-minute decision to make Casper human, and Pearson was too young at the time to play his human counterpart.
Pearson later went on to voice Casper in the spin-off animated series The Spooktacular New Adventures of Casper. He voiced Casper from 1996 to 1998.
The Same House Used For Whipstaff Manor Was Used For A Backstreet Boys Video
The main mansion where all Casper's action took place, where Casper and the Ghostly Trio resided, was also where the Backstreet Boys told everyone to "rock your body."
In 1997, Backstreet Boys released "Everybody (Backstreet's Back)" and the accompanying video. It was the first single from their second studio album Backstreet's Back. The video had the boys ending up at a haunted house. They then each turned into various haunting creatures, like a vampire, mummy, Dr. Jekyll and Mr. Hyde, and a werewolf.
The video didn't have any ghosts, likely because Casper was already there. Fans of both Backstreet Boys and Casper may recognize the similarities, especially the main circle floor where the Backstreet Boys do their memorable dancing scenes.
Steven Spielberg's Cameo Was Cut From Casper
Casper features a scene where Dr. Harvey (Bill Pullman) takes on the appearance of several different celebrities, including Mel Gibson and Clint Eastwood. When Spielberg got his celebrity friends to appear in the movie, he pitched them by saying he would do a cameo as well.
Entertainment Weekly revealed that Spielberg's moment in the movie was cut out because director Silberling thought the cameo scene was getting too long and he told him "you're not the strongest of the group." Silberling added that Spielberg was a little relieved to have his part cut because he felt obligated to do the cameo because that's how he got others to agree to it.
Christina Ricci Said Casper Was Demanding Physically
In the same Bobbie Wygant interview, Ricci shared that Casper required a lot from her physically. She also added that it kept her mind busy because she had to focus on knowing where Casper would be and what he would be doing in each shot.
Ricci also added she had to run up and downstairs, screaming, and even had to exaggerate her reactions to match the ghosts.
Casper is currently available to stream on Netflix. Stream it here.
Your Daily Blend of Entertainment News
Spent most of my life in various parts of Illinois, including attending college in Evanston. I have been a life long lover of pop culture, especially television, turned that passion into writing about all things entertainment related. When I'm not writing about pop culture, I can be found channeling Gordon Ramsay by kicking people out the kitchen.