Pretty Little Liars' Marlene King Adapting Now And Then Film For Television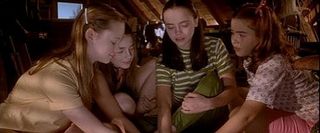 The 1995 movie Now and Then which came from Marlene King, the same woman who is now the showrunner on ABC Family's Pretty Little Liars, is in the process of being adapted to a series. Since King is already quite comfortable at ABC Family, the network is working with her on the movie-to-series project.
The Hollywood Reporter says that the 1995 film Now and Then,which starred an impressive cast of movie actresses both established and relatively new at the time, is being developed for television. The stars of the movie included Christina Ricci, Demi Moore, Rosie O'Donnell, Melanie Griffith, and Rita Wilson, a pretty solid ensemble cast. It takes place in the 1970s, which seems the next logical decade for television to become enamored with, since the 1960s love seems to have worn off. Or at least monopolized by Mad Men - both Pan Am and The Playboy Club didn't manage to get a cut of that pie this past season and were cancelled.
King was the writer on Now and Then, and now she's busy on Season 3 of the teen drama Pretty Little Liars, which -like Now and Then- centers on a group of teenage friends. Working on this new project for ABC Family should keep her safely within the fold and also keep her even busier. The project is still in the very early stages of development, but if it goes forward it should be interesting to see what changes are made to the plot and who is brought in to play the major roles.
Your Daily Blend of Entertainment News
Thank you for signing up to CinemaBlend. You will receive a verification email shortly.
There was a problem. Please refresh the page and try again.