'Tutti Frutti' And 'Long Tall Sally' Singer Little Richard Is Dead At 87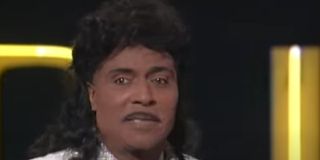 A legend has passed away. Singer and songwriter Little Richard, best known for hit songs like 1955's "Tutti Frutti," "Good Golly Miss Molly," and "Long Tall Sally," has died at the age of 87 from cancer.
Little Richard's son, Danny Jones Penniman, confirmed his father's death to The New York Times. However, Penniman did not reveal where Little Richard was when he died on the morning of Saturday, May 9. The influential singer and founding father of rock and roll suffered from many health issues, including hip problems, a stroke, and a heart attack in the final years of his life.
Born Richard Wayne Penniman in 1932, Little Richard grew up in Georgia and was one of 12 children. He began performing when he was a teenager and became a heavily influential singer and songwriter and a trailblazer for the rock and roll genre. His first major breakout hit was "Tutti Frutti," a sexually-charged song that catapulted him to fame in the 1950s. He would go on to release several more songs, including "Long Tall Sally," "Lucille," and "Rip It Up."
Little Richard's music was a combination of gospel and blues and the singer made a name for himself for the songs' upbeat nature that paired well with his frenetic and energetic stage performances. What's more, Little Richard's career and flamboyant costumes and make-up paved the way for future singers like Elton John and Prince, who died in 2016.
Little Richard's longtime guitarist and band mate Kelvin Holly posted about the singer's death on his Instagram, conveying his sadness over the news of Little Richard's death and calling him the king of rock and roll. Here's what Holly wrote:
Little Richard's music transcended decades and generations. I grew up listening to his music and performing his songs onstage in high school. While Little Richard's songs never made it to the top ten again after the late 1950s, his influence remained entrenched in the music industry. Little Richard went on to be inducted into the Rock and Roll Hall of Fame in 1986. He continued making music through the early 1990s and his final rock and roll album was released in 1992.
Later in life, Little Richard branched out and began appearing in a multitude of movies and TV shows, including guest starring stints on hit shows like Baywatch, The Simpsons, The Drew Carey Show and Full House, where he played the uncle of Michelle's friend Denise and performed at Joey's PTA election rally.
We here at CinemaBlend extend our condolences to Little Richard's friends and family.
Your Daily Blend of Entertainment News