18 Popular Cult Classic Movies That Are Perfect For Movie Night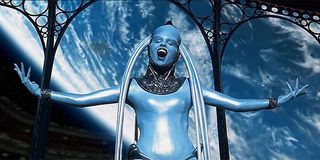 It's movie night, the shades are drawn, the popcorn is ready and your feet are up, now all you have to decide is what to watch. You could check out the latest streaming movie or see what new releases are out, or you could be a bit more adventurous and check out a cult classic movie that you haven't seen before or need to revisit.
Cult classics are named such because they have gained a dedicated and passionate following over the years. These are films that fans know by heart, and have stood the test of time. Their popularity and cult status gives some level of guarantee that they are worth your time. Fortunately, cinematic history is full of cult classics for you to discover and ones that fit every type of movie night, no matter the mood you're in or who you are watching with.
So here are 18 popular cult classics that are perfect for movie night.
Date Night
Part of the fun of being in a relationship is sharing interests and discovering things together. That's why going to the movies is such a staple of date night for new couples, and those who have been together a long time. Many of the cult classics on this list could work for date night, but if you want something with a bit of romance for you and your significant other, these titles might do the trick and add some chill to your movie night.
Romeo + Juliet
The ending might be a bit of a downer, but there's a reason William Shakespeare's tragic tale of star-crossed lovers has been around since the 16th century, it works. Yet despite the countless retellings, few are as unique and memorable as Baz Luhrmann's 1996 film starring Leonardo DiCaprio and Claire Danes. Romeo + Juliet eschews Shakespearean stuffiness in favor of a modern setting with a fun soundtrack, colorful aesthetic, guns instead of swords and plenty of humor. It oozes with a style made for the MTV generation, anchored by the magical chemistry of the two leads.
10 Things I Hate About You
Arriving in the glorious 1999, 10 Things I Hate About You is a loose adaptation of Shakespeare's The Taming of the Shrew, set in a modern American high school. The romantic dramedy stars Joseph Gordon-Levitt as Cameron, a new student at who wants to date Bianca, played by Larisa Oleynik (Alex Mack!). The only catch is, according to her father's rules, Bianca's older sister, the ill-tempered Katarina has to date first, so Cameron enlists Heath Ledger's rebellious Patrick to woo her. 10 Things is a classic high school movie filled with great characters that feel real and not like an adult's version of what adolescence is like.
The Princess Bride
Romance, comedy, action and adventure, you get all of that in this 1987 fantasy film from director Rob Reiner and writer William Goldman, based on the latter's novel. The film tells a love story in a renaissance world populated with delightful characters played by talented actors. The Princess Bride was unremarkable upon its release but found new life on VHS, and more recently it has provided great fodder for the internet thanks to its endlessly quotable lines. Even if you haven't seen this movie, an inconceivable position, you've seen and heard a lot from it, even if you didn't know it.
Scary Movie Night
Whether it's Halloween time or not, anytime is a good time to gather friends and family together to shut out the lights and watch a scary movie. The horror genre is enjoying a renaissance on the big screen right now, but its illustrious past is full of popular cult films worth revisiting or discovering for the first time. Films that frighten, disturb and sometimes even make you laugh.
Army of Darkness
What started as a pure horror film with Sam Raimi's The Evil Dead eventually became a time-traveling horror/comedy with Army of Darkness, a film that cemented Bruce Campbell's Ash as a true horror icon. The fantasy horror flick tells the story of Ash Williams, a man who is accidentally transported to the Middle Ages where he must battle an army of the dead called 'Deadites' and retrieve the Necronomicon to get back to his time. With the one-liner spouting Ash, Army of Darkness isn't a particularly scary scary movie, but it is entertaining and funny as hell. It's also the kind of movie that would have a hard time getting made today, so go enjoy this cult classic.
The Lost Boys
Joel Schumacher's 1987 teen vampire movie did sexy vampires long before Twilight gave the creatures of the night sparkles. The Lost Boys is dark and violent, but also campy and fun. It is not only a cult classic, but The Lost Boys is also considered to be among the best modern vampire movies. The film follows two brothers who move to a new town and discover that it is a haven for a gang of young, brutal vampires. With a new TV series reboot recently green-lit, there's no better time to check out the original cult classic.
Videodrome
If you are in the mood to have some gnarly nightmares, you couldn't do much better than watching Videodrome on scary movie night. David Cronenberg's 1983 science fiction body horror film is a surreal story about the sleazy CEO of a UHF TV station, played by James Woods, who discovers a signal broadcasting gruesome violence and torture. Videodrome was amazingly prescient about how the horror genre would develop, but also about many aspects of modern society, from reality TV to social media to virtual reality. For terrifying horror that messes with your head, Videodrome is a classic every film fan should check out.
Family Night
Not every cult classic is suitable for children (see above), so as beloved as Kevin Smith's films are, sometimes you need something the whole family can enjoy. These movies may not be as widely watched as Disney and Pixar titles, but they are unique and charming and they are just as enjoyable for adults as they are for kids.
The Goonies
The Goonies is one of those cult classics that it feels like everyone has seen and loves, but that doesn't make it any less essential or perfect for a movie night. Alongside films like E.T. and Stand By Me, The Goonies is a pillar of childhood adventure movies. The film from Richard Donner, Steven Spielberg and Chris Columbus follows a group of kids who call themselves 'the Goonies' who are facing the foreclosure of their homes. They discover a treasure map and set out to save their homes and what follows is a grand adventure. Goonies never say die, and this film's cult status continues to gain new converts year after year.
Matilda
This forgotten Roald Dahl adaptation from director Danny DeVito has a fanbase as loyal, if not as large as Willy Wonka and the Chocolate Factory (there was even a viral #MatildaChallenge last year). Matilda is a genius bookworm who is ignored by her family like cupboard Harry Potter, but has telekinetic powers like the X-Men's Jean Grey. The elementary schooler uses her powers to fight back against her ignorant parents and the downright sinister principal Trunchbull. Matilda gets dark at times, but it is also full of whimsy and honest emotion and teaches that being smart is a good thing. Netflix's Roald Dahl event series will have a lot to live up to if it wants to compare.
The Last Unicorn
Based on the novel by Peter S. Beagle, The Last Unicorn is much darker and stranger than many animated kids movies. It can be disturbing and scary (it's been called nightmare fuel) but it also tells an incredibly beautiful story. The deeply melancholy tale of a unicorn searching for the rest of her kind, chased off long ago by the Red Bull, deals with heavy themes for a kids movie. But the generation that grew up with it have turned it into a cult classic, so it must not have messed them up too much. It also features a stunning voice cast including Alan Arkin, Mia Farrow, Jeff Bridges, Christopher Lee and Angela Lansbury. It baffles me this hasn't been remade in live-action yet.
Cult Comedy Night
There is no shortage of great cult comedies that have found second-lives on home video long after they disappeared from cinema screens. Movies like The Big Lebowski, Clerks and Monty Python and the Holy Grail all have loyal and deserved followings. They're not the only cult classics that are infinitely quotable and completely hilarious. If you're looking for laughs on movie night, you can't go wrong with these titles.
Beerfest
The Broken Lizard gang may be best known for Super Troopers, which finally spawned a sequel last year, but that's not their only cult film as the 2006 comedy Beerfest also has a devoted legion of 'not that drunk' followers. The film follows two brothers who, while visiting Germany, stumble upon an underground, international beer-drinking competition. They return home to put together an American team and hilarity ensues. It's silly and raunchy in all the best ways, and if you went to a party in the years following its release, you've definitely seen it referenced. If you're ever training for a drinking competition remember "maybe training alone on a rooftop drinking ram piss isn't the way to go."
Office Space
Mike Judge's Office Space just celebrated its 20th anniversary last month. so there is no better time to revisit the hilarious and incisive satire of an office workplace that gave us the term 'ass clown'. Pretty much anyone who has ever worked at a place can relate to the story of three office drones that decide to rebel against the dehumanizing software company they work at, as well as the desire to unleash your wrath on a perpetually jammed printer. This film's cult status began on DVD and cable TV, but it has only grown thanks to its meme-worthiness. It is a true cult classic so if you could go ahead and watch Office Space that would be great.
Grandma's Boy
A stoner comedy that is also a great movie about gaming, Grandma's Boy remains one of the most memorable and rewatchable movies from Adam Sandler's Happy Madison Productions. The story of a 35-year-old video game tester who has to move in with his grandmother and her roommates and the personal and professional struggles he goes through is inclusive and sweet and completely hilarious, even if you're sober. Sure, it's lowbrow and I wouldn't expect to see it on the AFI top 100, but if your desire is to have a movie night where you can just relax and laugh, you can't go wrong with Grandma's Boy.
Old Friends Night
We love Stranger Things because it has a nostalgic quality to it that reminds us of the power and importance of the friendships in our lives. Old Friends Movie Night is much the same idea, movies that have great friendships at their center we look back fondly upon. It helps if you grew up with these movies and shared them with friends, but even if you didn't invite some friends over and give them a watch.
Dazed And Confused
You need a cult classic to watch on movie night? Alright, alright, alright. Richard Linklater's 1993 comedy flopped at the box office, only to now be recognized as a classic coming of age film. Set on the last day of school in 1976, Dazed and Confused follows various groups of suburban teenagers as the summer begins and they do their best to get stoned, get laid, party and survive the challenges of adolescence. Dazed and Confused has an unbelievable ensemble cast of future stars including Ben Affleck, Matthew McConaughey, Milla Jovovich, Joey Lauren Adams, Renée Zellweger, Jason London, Cole Houser and Parker Posey.
Romy And Michele's High School Reunion
This 1997 comedy about two inseparable friends who hit the road together for their high school reunion and the strife that causes between them is not for everybody, but people who love it really love it. Romy and Michele is goofy and kind of weird at points, but it features a heartwarming and genuine female friendship between Lisa Kudrow and Mira Sorvino's characters. The comedy is super witty and the message of not giving "a flying fuck" what other people think is empowering and timeless. Plus it has that iconic dance sequence with Alan Cumming. Romy and Michele is a great movie to watch with friends old and new.
Empire Records
It's fascinating how a movie that barely cracked a quarter million at the box office can go on to be so adored years later, by generations that lived through the era it depicts and those that didn't. Empire Records is a cult classic in every sense of the word, a coming of age dramedy that tells the story of a group of friends and record store employees who over the course of a day, try to prevent their store from being swallowed up by a large, overly-sanitized chain. The teen misfits and their relationships still resonate in a film that could be called The Breakfast Club of the 90's.
Action Night
Sometimes, or let's be honest, lots of times, you just want to see things go 'boom' and people get punched. That's where action movies come in. And if you want use movie night to try out a new surround sound system, there is no substitute for a great action movie. The following cult classics are the kind of movies that have more than earned their cult status, offering entertaining characters, fun action and clever stories.
The Fifth Element
George Lucas couldn't make Flash Gordon so he made Star Wars. And Luc Besson couldn't make Valerian (yet) so he made The Fifth Element. Both of those situations worked out pretty well I'd say. One of the hallmarks of a cult classic is that fans quote the film's dialogue and if you've ever heard "Chicken… good," "I am a meat Popsicle," or "Mul-ti-pass" that's The Fifth Element. Hilarious and action packed, with a kickass heroine and one of Bruce Willis' best roles, this colorful sc-fi adventure is perfect for action night or really anytime it happens to be on TV.
The Warriors
"Warriors, come out to play-ay-ayy!" Walter Hill's action-thriller is set in a near-future NYC that is overrun with gangs. When a gang leader named Cyrus bids to unite the gangs to take over the city, he is killed and the Warriors are blamed for it. They must outrun all of the city's gangs and make it back home if they are to survive. The Warriors is incredibly stylish and a bit cheesy and is the definition of a cult classic film that was critically panned and later developed a massive following. The Warriors was supposed to be getting a Hulu series from the Russo Brothers, but we haven't heard much on that in a while.
Starship Troopers
Paul Verhoeven, director of Robocop again used sci-fi action film to say something with his adaptation of Robert A. Heinlein's book; it just took a while for people to catch on to what that was. On the surface,Starship Troopers is a typical sci-fi action movie, with a fun group of pretty heroes fighting an intergalactic war against a race of alien bugs. This meta film is considered to be a scathing indictment of fascism, colonialism and the military industrial complex, but if you just want to turn your brain off and have fun, it works on that level too and the action and special effects are great.
This is just a small sampling of the popular cult classics out there that are perfect for movie night or really any time. Give them a watch to see what all the fuss is about and let us know in the comments what your favorite cult classics are.
Check out our 2019 Release Schedule to see all the biggest movies headed to theaters this year and stay tuned to CinemaBlend for all your movie news.
Your Daily Blend of Entertainment News
Nick grew up in Maryland has degrees in Film Studies and Communications. His life goal is to walk the earth, meet people and get into adventures. He's also still looking for The Adventures of Pete and Pete season 3 on DVD if anyone has a lead.