Matthew McConaughey And Jennifer Garner Devised Secret Signals To Help Her Breastfeed While Working On A Movie Together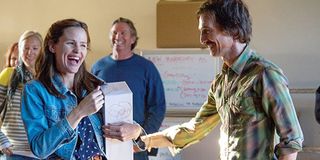 Actresses who are breastfeeding while working on a movie set face some unique challenges. Usually, they will need to take breaks from filming to go breastfeed or pump. But when on the Dallas Buyers Club set, that proved even more of a challenge than usual for Jennifer Garner. In order to make this easier, she and Matthew McConaughey developed hand signals so she could go breastfeed.
While working together on the set of Dallas Buyers Club, Matthew McConaughey and Jennifer Garner were put under a tight filming schedule, primarily because McConaughey and Jared Leto were on very strict diets. This made it almost impossible for Jennifer Garner to take a break to go pump. She told PBS she was on the verge of quitting when Matthew McConaughey intervened to see what was wrong, and once he figured it out, he made sure she could take the breaks she needed. As Garner recalled:
Matthew McConaughey really swooped in and saved the day for Jennifer Garner when they were on the Dallas Buyers Club set. If he hadn't, you have to wonder if she would have bailed and they would have needed to replace a key actress. Luckily, that never happened and Jennifer Garner was able to take breaks.
Jennifer Garner and Matthew McConaughey had a working relationship before Dallas Buyers Club, which may have helped him feel like he could step in and help her out. Back during Matthew McConaughey's rom-com days, he and Jennifer Garner co-starred in 2009's Ghosts of Girlfriends Past, which had an acting dynamic much different than their roles in Dallas Buyers Club.
Of course, this isn't the only time Matthew McConaughey has been a stand-up guy. Earlier this year, he stepped up to help out essential workers during the global pandemic. Partnering with the Lincoln Motor Company (you know, since he's the Lincoln Lawyer and everything), he delivered 110,000 masks to hospitals across Texas. Alright, alright, alright.
While it's only been about seven years since Dallas Buyers Club came out, both Matthew McConaughey and Jennifer Garner are in totally different stages of their career today. Matthew McConaughey, for his part, has been taking a step back from acting these days. Though, his most recent film was Guy Ritchie's The Gentlemen, which landed at the beginning of the year.
Meanwhile, Jennifer Garner has been dealing with a teenager, fending off the internet from asking if she's pregnant again and acting in small roles in TV and movies. Perhaps these two actors can get together again for another project, but this time minus the hand signals.
Your Daily Blend of Entertainment News
Thank you for signing up to CinemaBlend. You will receive a verification email shortly.
There was a problem. Please refresh the page and try again.