Matthew McConaughey's Unbelievable Diet For Dallas Buyers Club Included Plenty Of Alcohol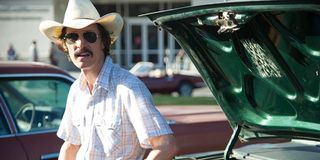 It's no secret Matthew McConaughey lost a tremendous amount of weight for his Academy Award winning role in Dallas Buyers Club. Usually, actors that want to lose a lot of weight stick to a strict diet and stay away from alcohol. While Matthew McConaughey's diet wasn't much different from what you'd expect, he revealed recently that during his diet he drank as much wine as he wanted.
Matthew McConaughey clearly had to go through a lot to transform into his character in Dallas Buyers Club. But it sounds like that didn't stop him from indulging in a little wine ever now and again. Recently, while on The Joe Rogan Experience, Matthew McConaughey revealed he was on a strict diet, but still could drink all the wine he wanted and lose 2.5 pounds a week:
It's always fascinating to hear an actor's process and the diet they undergo to prepare for a role. Back in 2013, you could tell Matthew McConaughey was fully dedicated to playing Ron Woodroof, the movie's main character that became HIV positive and developed an underground market for other patients to get access to medication that wasn't legal in the United States. Of course, for his dedication, he got an Oscar for Best Actor.
Anytime an actor loses so much weight for a role, questions about health typical rise to the surface with some concerned it might be dangerous. In their interview, Joe Rogan mentioned Matthew McConaughey "torturing himself" for the role and asked what Matthew McConaughey ended up weighing. Here's what he said:
You can check out Matthew McConaughey's conversation with Joe Rogan about his Dallas Buyers Club physical transformation below.
Actors transforming their bodies to play a role has become a lot more common recently, especially with the widescale popularity of superhero movies. Often, this means eating mostly meat and vegetables all the time and staying away from carbs. Still, it's a bit mindboggling that Matthew McConaughey could do it and still drink wine without gaining weight.
Your Daily Blend of Entertainment News