13 Tom Holland Movies To Stream Or Rent, Including The Marvel Movies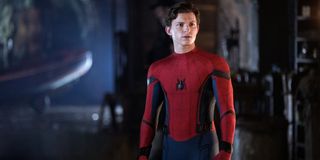 CinemaBlend participates in affiliate programs with various companies. We may earn a commission when you click on or make purchases via links.
For the better part of a decade now, Tom Holland has appeared in some of most successful blockbusters like the Spider-Man movies and three large-scale Marvel crossover events, while at the same time lending his talents to smaller and more personal ventures like The Lost City of Z and Locke. As we look toward Holland's upcoming role as Nathan Drake in the highly anticipated film adaptation of the hit video game Uncharted, there's never been a better time to look back on the roles that got the extremely charismatic and loose-lipped star this far.
So, without wasting anymore time, here are 13 Tom Holland movies that you can stream, or rent, including all of his appearances in the Marvel Cinematic Universe right now.
The Marvel Cinematic Universe Spider-Man Movies (2017 - 2019)
A list of Tom Holland movies worth checking out wouldn't be worth checking out if it didn't include 2017's Spider-Man: Homecoming or the 2019 followup Spider-Man: Far From Home, so that's where we'll start. Nothing against Tobey Maguire or Andrew Garfield (both brought something different to their respective webslingers), but no actor better captures the youth, awkwardness, and heart of Peter Parker than Tom Holland, and it shows in his first two solo adventures as the friendly neighborhood Spider-Man. And while we still don't know exactly when we'll finally get to see the third film in the trilogy, it's never a bad idea to go back and see where it all began.
Rent Spider-Man: Homecominghere.
Stream Spider-Man: Far From Home on Starz here, buy Spider-Man: Far From Homehere.
Other Movies In The Marvel Cinematic Universe (2016 - 2019)
Speaking of where it all began for Tom Holland's Spider-Man… the introduction of the Marvel Cinematic Universe's Peter Parker in the 2016 Avengers-lite adventure Captain America: Civil War was one of the most refreshing and crowd-pleasing surprises in a spectacle of a movie that was full of memorable moments. Holland's reprisal of the role in Avengers: Infinity War made just about everyone with a beating heart cry in 2018, and his momentous return in what will forever be the greatest MCU scene the following year in Avengers: Endgame provides for one of the most emotional narrative threads through the entire franchise.
Stream Captain America: Civil War on Disney+ here, Avengers: Infinity War here, Avengers: Endgame here.
Rent Captain America: Civil War here, Avengers: Infinity War here, Avengers: Endgame here.
Onward (2020)
Sometimes you can't help but feel terrible for Pixar's Onward, especially after its run in theaters was cut shortly after it was first released in March 2020. But even though not as many people got to enjoy one of the most heartwarming and surprising movies from the acclaimed animation studio in recent years because of the COVID-19 pandemic, the fantasy action adventure ended up finding an audience with its early premiere on Disney+. Watching Holland's Ian Lightfoot and Chris Pratt's Barley Lightfoot learn the true meaning of magic and what it means to be family (while on a magical journey to be reunited with their deceased father) never gets old, and it's never going to not make you cry, no matter how hard you try.
Stream it on Disney+ here.
Rent it here.
Spies In Disguise (2019)
A few months before giving a great performance in Onward, Tom Holland lent his voice to the character Walter Beckett, the awkward scientist who transforms Will Smith's Lance Sterling from a cocky special agent to a pigeon with a failed experiment in Spies in Disguise. And while the 20th Century Fox Animation (RIP) production didn't receiving as much love or attention as other movies with either actor in the past year or so, the animated adventure still has a lot to teach audiences about the value of teamwork and overcoming your differences (especially when you go from human to bird in the blink of an eye). And since Spies in Disguise is currently streaming alongside other great animated treats on HBO Max, there's never been a better time to check it out.
Stream it on HBO Max here.
Purchase it here.
The Current War (2017)
You would think that a prestige period piece about the rivalry between Thomas Edison (Benedict Cumberbatch) and George Westinghouse (Michael Shannon) wouldn't have any trouble getting released or generating buzz, that was unfortunately the case for The Current War, which made its festival debut at the Toronto International Film Festival in 2017 but didn't see a theatrical release until October 2019 thanks in part to the Harvey Weinstein sexual abuse scandal. And since so many people obviously forgot about the movie, which also features Nicholas Hoult as Nikola Tesla and Tom Holland as Samuel Insull, now is the perfect time to give it a shot and watch two titans of industry go head-to-head.
Stream it on Showtime here.
Rent it here.
The Devil All The Time (2020)
It is rare that we see Tom Holland play dark and psychologically broken characters these days, which is what makes his portrayal of Arvin Eugene Russell in the 2020 Netflix thriller The Devil All The Time such a wild departure for the Marvel star. And yeah, the movie can be a little much at times and is disjointed at others, this shouldn't take away from Holland's pained performance as a young man whose life has been torn from him without having a say. There are also other great actors giving it their all here, especially Robert Pattinson as the charismatic and corrupt Reverend Preston Teagardin, Sebastian Stan's Sheiff Lee Bedecker, and Bill Skarsgård in a non-Pennywise role. Be warned, as The Devil All The Time is a slow, bleak character study of a man at his limits.
Stream it on Netflix here.
The Lost City Of Z (2016)
There are Tom Holland movies, like The Lost City of Z, that don't get talked about as much as they should, and it's a shame. James Gray's 2017 biographical adventure drama about British explorer Percy Fawcett (Charlie Hunnam) and a small group of men who set out into the jungles of Brazil to locate a lost city and the elusive tribe that calls it home, is a dramatic affair built up around the mystery of adventure and the impact it has on those explorers leave at home while they seek their destiny. Holland portrays Jack Fawcett, Percy's son, who joins his father on one of his journeys into the heart of the jungle as the two attempt to repair their tattered relationship. There should be no reason to miss this one.
Stream it on Amazon here.
The Impossible (2012)
If you thought Peter Parker's death in the final moments of Avengers: Infinity War was about as emotional as a Tom Holland performance could get then you've obviously never seen the actor's turn as Lucas Bennett in J.A. Bayona's 2012 disaster film The Impossible. Based on the 2004 Boxing Day tsunami that claimed the lives of hundreds of thousands of people in the Indian Ocean, this tale of survival features some of the most gut-wrenching and heartbreaking moments as it follows the members of the family trying to survive and find one another in the middle of the one of the most deadly natural disasters in modern history. And since The Impossible is now streaming on Netflix, why not check it out and cry until your soul aches one more time.
Stream it on Netflix here.
Rent it here.
Locke (2013)
Tom Holland was still a relatively unknown actor when he was cast in Steven Knight's psychological drama Locke starring Tom Hardy as a construction foreman who has a series of phone calls with his family (both living and deceased) on a 90-minute drive to a London hospital to witness the birth of a colleague's child. Holland doesn't appear on-screen (no one does besides Hardy), but his voice can be heard during one of the many phone conversations that fill up the entirety of the movie. And although Holland was a brief appearance (a voice gig at that), Locke is still worth checking out if you're trying to complete your Tom Holland list while also seeing one of the great Tom Hardy performances.
Stream it on Showtime here.
Rent it here.
How I Live Now (2013)
And then there is the often overlooked and never mentioned 2013 romantic drama How I Live Now which features not only a young Tom Holland but a young Saoirse Ronan between her appearances in The Ugly Bones and The Grand Budapest Hotel. In the film based on Meg Rosoff's novel of the same name, Ronan plays an American teenager by the name of Daisy who visits her cousins Eddie (1917's George MacKay) and Eddie (Holland) and stumbles upon an extremely traumatizing situation. Let's leave things at that to avoid giving too much away, but do check out this forgotten gem.
Stream it on Tubi here.
Rent it here.
Over the course of the past 10 years, Tom Holland has taken us all on some pretty interesting adventures, and with all of the projects he has coming up in the next couple of years, this is only the beginning for one of the most promising names in movies.
Philip grew up in Louisiana (not New Orleans) before moving to St. Louis after graduating from Louisiana State University-Shreveport. When he's not writing about movies or television, Philip can be found being chased by his three kids, telling his dogs to stop yelling at the mailman, or yelling about professional wrestling to his wife. If the stars properly align, he will talk about For Love Of The Game being the best baseball movie of all time.