Onward And 8 Other Movies That Were Released At The Wrong Time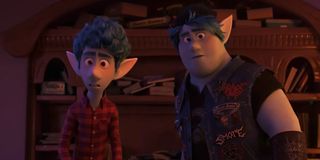 There is an intriguing recurring phenomenon in Hollywood known as "twin films," in which two movies of a similar theme and plot happen to be released in close proximity (i.e. Armageddon and Deep Impact in 1997). A film lucky enough to not receive a twin in 2020 (that anyone took notice of, at least) is Onward, but one could make the argument that it does still feel as if it came out a little too late.
To be clear, I think Pixar's animated, modern-day fantasy is a good movie, especially for its strong, unconventional family dynamics, yet it was not a home run at the box office before its premature addition to Disney+ (with a certain global catastrophe to blame) and, the film itself it seems to lack a certain thematic uniqueness that hinders it from being an ultimately refreshing and satisfying experience. I do not believe this is for a lack of trying, however, but more a result of what had preceded it and what audiences have come to expect from films of its kind as well.
In fact, Onward is far from being the only movie that has fallen prey to this sort of thing, nor is it the most damaged victim as some films did suffer commercially, critically, and even creatively for the same reasons. To better understand what I mean, I will go into further detail about why I believe Onward and 8 other notable films should have either been either given more time breathe or struck while the iron was hot.
Onward (Too Many Animated Fantasy Spoofs)
This adventure between two elvish brothers succeeds as a better present-day take on Tolkien than Bright and is one of Pixar's stronger re-uses of the deceased loved one plot device, but beating it to the punch as a clever spoof of the fantasy genre nearly two decades earlier was Shrek. The first Best Animated Feature Oscar winner inspired several more tongue-in-cheek bedtime stories, such as Hoodwinked!, Happy N'Ever After, and even the Dreamworks hit's own sequels. I would definitely put Onward miles above those rip-offs, but still struggle to separate it from that category, convincing me that even a story this heartfelt cannot escape the monotony of a tired Hollywood trend.
The Thing (Too Close To E.T.)
Fans of this chilling, uniquely psychological creature feature starring Kurt Russell often wonder how a film of such great suspense and timeless technical mastery became such a critical and commercial failure in 1982. If you ask director John Carpenter, Steven Spielberg's family-oriented tearjerker E.T. the Extra-terrestrial is to blame for ultimately turning off critics and audiences from seeking a film about a far less friendly alien after it was released just two weeks earlier. Fortunately, The Thing, about an Antarctica research team struggling to distinguish who among them is a malevolent, shapeshifting organism, frequently shows up on lists praising the best sci-fi films of all time, thanks to its ever-growing cult fanbase.
Blood Quantum (Too Many Zombie Movies/Shows)
I can not praise this 2020 Shudder exclusive --in which Native Americans are somehow immune to an epidemic turning others into undead flesh-eaters -- enough for having one of the most refreshingly original concepts I have seen in a zombie movie. Unfortunately, save a few memorably gory moments and beautiful symbolic animated sequences, that is about the extent of its imagination as the story quickly becomes a predictable greatest hits compilation of the last several seasons of The Walking Dead, essentially.
I find it ironic how a film like Blood Quantum, that clearly has its heart in the right place tonally and thematically, convinced me that the genre pioneered by George A. Romero more than 50 years ago may have run its course.
Scare Package (Too Many Horror Movie Spoofs)
I will admit that I got a chuckle out of this comedic anthology's opener, about a man whose job is to literally be the plot device of thrillers ranging from haunted house pieces to slashers. Yet, its self-aware commentary still felt a bit too familiar and the humor (or lack thereof) grows tired fast with nothing special in its following segments to ensure redemption. Perhaps Scare Package, another Shudder original from 2020, could have been the ultimate horror genre deconstruction if not for how far better that idea had been executed in Scream, Scary Movie, The Cabin in the Woods, Tucker and Dale vs. Evil, etc.
Last Action Hero (Not Enough People To Understand The Joke)
On the opposite side of that coin, this 1993 comedy is widely considered the ultimate deconstruction of the action genre today. However, with Die Hard's John McTiernan at the helm and Arnold Schwarzenegger as the lead, critics and audiences did not seem to realize at the time that Last Action Hero, about a boy magically transported into his favorite movie star's latest flick, was actually a send-up of the genre the director and actor are best known for. Furthermore, the fact that it came out the same year as National Lampoon's Loaded Weapon 1 and Hot Shots: Part Deux may have contributed to a lack of appreciation for this fun, clever parody upon release.
Steve Jobs (Too Many Movies About Steve Jobs)
Speaking of releases in close proximity, 2013 saw two dramatizations of the late Apple's co-founder's life: one earnest, by-the-numbers retelling starring Ashton Kutcher (Jobs) and the other a feature-length Funny or Die sketch (iSteve). By the time Michael Fassbender emerged in the role two years later, most critics favored Aaron Sorkin's dialogue-driven, Shakespearean take, but audiences apparently had their fill of biopics about the same person as it made only half of its budget back and barely surpassed Kutcher's version in domestic earnings. At least Steve Jobs can say it got two Oscars nominations instead of a Razzie nod.
The Maze Runner Series (Too Many Dystopian YA Novel Adaptations)
The most awards recognition for The Maze Runner, the first in a movie series inspired by James Dashner's books, was the 2015 MTV Movie Awards: the same year in which sequels to The Hunger Games and Divergent were also nominated. The story of young amnesiacs mysteriously held captive in a labyrinth crawling with deadly machines seemed original enough, until the 2014 first installment ended exactly like Insurgent in 2015. By the time the trilogy's long-awaited conclusion finally released in 2018, it became pretty difficult to distinguish this once promising franchise from every other series based on a dystopian young adult novel.
Justice League (Too Many Better Superhero Crossover Films)
It is not difficult, however, to tell the difference between an MCU film and a DCEU film, either by how much your eyes hurt afterward or by its tonal and narrative consistencies. The latter was the most frequently cited area of criticism in regards to Justice League, the 2017 Zack Snyder (and then Joss Whedon) helmed superhero crossover event that dramatically paled in comparison, both critically and commercially, to the Avengers movies. The diminishing returns were disappointing even to the loosest DC supporters as there are glimmers in there of something that could have really blown us away (especially if released in the years before comic book movie dominance) and perhaps we may get to see that on HBO Max come 2021.
Solo: A Star Wars Story (Too Many Star Wars Movies)
On that note, I wonder if footage from Phil Lord and Christopher Miller's Han Solo prequel will ever see the light of day and, more so, if their vision could have been more successful than director Ron Howard's reshoots. There are actually many angles from which we can interpret the disappointing box office and disparate audience opinions of Solo: A Star Wars Story in 2017, from the polarizing reception of the recently rebooted franchise to a more common reluctance to learn any more of the "scruffy nerherder's" backstory in the first place. In my opinion, the plan to release a new Star Wars film each year only did more to detract from what made the beloved franchise special, hopefully convincing Lucasfilm you can have too much of a good thing.
Do you agree that these films were cheated out of a more fruitful legacy by their untimely release dates? Are there any others you can think of that have suffered the same fate? Let us know in the comments and be sure to check back for more information and updates on additional victims of over-saturation or a lack of appreciation in Hollywood here on CinemaBlend.
Your Daily Blend of Entertainment News
Jason has been writing since he was able to pick up a washable marker, with which he wrote his debut illustrated children's story, later transitioning to a short-lived comic book series and (very) amateur filmmaking before finally settling on pursuing a career in writing about movies in lieu of making them. Look for his name in just about any article related to Batman.