Even Tom Cruise Thinks Getting To Film A Top Gun Sequel Is Absolutely Wild, Per Jon Hamm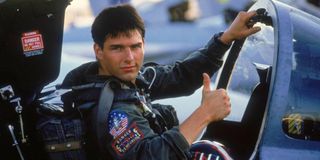 There has to be something pretty surreal about returning to a character you played decades ago. Only a few actors have had that privilege -- and since he's (finally) reprising his role as Maverick in the Top Gun sequel, Tom Cruise is now one of them. His co-star in Top Gun 2, Jon Hamm, recently revealed that the iconic actor is just as blown away by the fact that the movie is actually happening as anyone else.
In a lot of ways, the arrival of Top Gun: Maverick has been a long time coming. It's been more than 30 years since Tony Scott's Top Gun hit theaters and helped solidify Tom Cruise as one of Hollywood's most charismatic stars. A lot has changed in the movie industry since then -- and in Tom Cruise's life. So it's not a huge surprise that slipping into that iconic US Navy pilot suit again would be a wild moment for him.
Jon Hamm, who plays Vice Admiral Cyclone, told Men's Journal that Tom Cruise admitted that he was seriously going through it during production of Top Gun: Maverick:
It's cool that both actors were able to share that moment together -- but it was a bit surreal for Jon Hamm, too. He admitted that he has vivid memories of encountering Top Gun for the first time, in a very different position than he was when he was cast in the sequel:
Top Gun: Maverick will be an interesting experience for fans of Tony Scott's 1986 action blockbuster. While Tom Cruise and Val Kilmer will be back on our screens as Maverick and Iceman -- and we saw from the trailer that we can expect more adrenaline-fueled action -- much of the cast is comprised of new (at least, to Top Gun fans) faces. Jon Hamm will be joined by Miles Teller, Manny Jacinto, Glen Powell, Ed Harris and Jennifer Connelly, plus numerous other actors, many of whom probably also felt the significance of standing beside Maverick decades after the world first met him.
While Top Gun: Maverick's release was delayed due to COVID-19, it's currently scheduled to hit theaters on July 2, 2021.
Your Daily Blend of Entertainment News
Thank you for signing up to CinemaBlend. You will receive a verification email shortly.
There was a problem. Please refresh the page and try again.