Borat 2's Poster Is Causing Outrage And Not Just For The Lack Of Clothes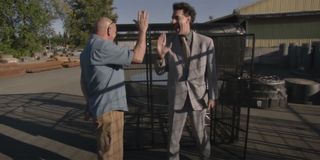 Borat 2 is already notable for a lot of things, including crashing an alt-right rally and also seemingly putting Rudy Giuliani in a compromising position (which, it should be noted, he has denied was compromising, saying he was removing a microphone). Now, however, it's causing some drama in France, where people are not happy with a Borat Subsequent Moviefilm poster that has been plastered on buses… but the controversy may not be exactly for the reason you'd guess.
If you've seen the poster, it features Sacha Baron Cohen posing seductively while wearing little clothing. In fact, he has on nothing but some jewelry and a mask over his private parts. It leaves little to the imagination and it's been plastered all over buses in Paris. Yet, it's the ring he is wearing, a ring that reads "Allah" in Arabic, that is the major component that has been riling up Muslim bus drivers. Take a look.
It may also be the combination of the disrespect of the near-nudity and the addition of the ring that is upsetting people, too. According to a post over at Le Figaro, vandalism on buses in France has actually gone up since the Amazon poster has been added to the lineup of ads currently on transportation vehicles, though the outlet notes that there is nothing specific to link the buses that were targeted to the ad.
Still, bus drivers in France have protested the inclusion of the Borat 2 poster on Twitter and it very well could go down in history as one of the many banned movie posters over the years. You can see how the poster looks on the buses in the post below.
Posters for both TV and movie projects have caused issues for a variety of reasons over the years. A poster for IT Chapter Two caused major problems after scaring children. And another poster for Fifty Shades of Grey eventually was banned after people found it to be too kinky.
In the case of Borat 2, Sacha Baron Cohen is actually Jewish though his character is from a Muslim-heavy country, Kazakhstan. Per The Jerusalem Post, the issues with the Subsequent Moviefilm poster are coming as tensions have been high between Muslim and Jewish individuals in France for some time. There has been violence even in recent weeks and a bus was torched, though whether or not that was related to the poster is unclear. According to reports, for now, many of the ads won't be taken down, but for some operators the Borat 2 poster could be taken off of buses and at train stops early. One regional bus owner noted:
This isn't the only controversy Borat Subsequent Moviefilm has stirred up. Often with Sacha Baron Cohen movies, people aren't happy with their portrayals. However, one notable story related to Borat 2 mentioned a Holocaust survivor was unhappy with their portrayal in the film, having not known they were being spoofed by someone who was, in fact, Jewish. A lawsuit was filed, though it was later dropped.
Reality TV fan with a pinch of Disney fairy dust thrown in. Theme park junkie. If you've created a rom-com I've probably watched it.