The Huge Number Of Covid Tests Jurassic World: Dominion Went Through During Its 18-Month Shoot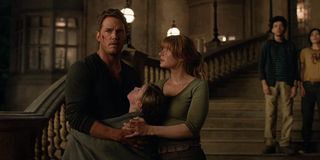 To get their productions back up and running, Hollywood filmmakers have had to put strict health and safety protocols in place, which include having the cast and crew take COVID-19 tests. With a huge production like Jurassic World: Dominion, it wouldn't be too hard to believe that they used up quite a few COVID-19 tests during production. Well, now we have an exact number, and it's huge.
Back in August, it was reported that Jurassic World: Dominion had used somewhere in the ballpark of 18,000 COVID-19 tests. Now that the film has finally wrapped production at Pinewood Studios, the production has racked up a little over double that number to 40,000 COVID tests, according to Deadline. On top of that, they also spent millions on added safety protocols and required the cast and crew to be isolated for months while they filmed.
Like many movie productions at the time, Jurassic World: Dominion shut down in mid-March due to the global pandemic. They were able to kick things back into gear in July, albeit with increased safety guidelines in place, reuniting all the actors in one place.
Unfortunately, by October, the Jurassic World: Dominion production hit a small snag when one of the crew members received a positive COVID-19 test result, causing them to shut down again for two weeks. So, all that to say, Colin Trevorrow's Jurassic World: Dominion has been through a roller coaster ride of production shutdowns, restarts, and delays.
Jurassic World: Dominion, of course, isn't the only production that has faced many obstacles during this uncertain time and taken drastic measures to overcome them. For instance, Tom Cruise reportedly spent hundreds of thousands of dollars on a Norwegian cruise ship to house the cast and crew of Mission: Impossible 7 while they filmed.
With such a tumultuous ride and filming taking longer than originally scheduled, Jurassic World: Dominion has had its released date pushed. Universal had hoped it would release on July 21, 2021 but, in early October, it was announced it would push its release date back to June 10, 2022. The move is honesty a bummer for fans but makes sense given the circumstances.
The third installment in the Jurassic World trilogy, Dominion is set to be a huge blockbuster. Not only will it see the return of Colin Trevorrow as director, but we'll also get to see the original cast return and team up with Chris Pratt and Bryce Dallas Howard. Top all that off with dinosaurs running loose across the globe, and I'd say they've got a winner on their hands.
Even though filming has wrapped, Colin Trevorrow and his team now face the task of editing and post-production. So stay tuned to CinemaBlend for more news as it develops.
Your Daily Blend of Entertainment News