20 Sean Connery Movies You Can Watch On Streaming Right Now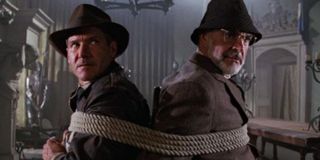 A great actor has left us, so it's only natural folks far and wide are scouring the internet looking to find where they can watch Sean Connery movies. Luckily there's no shortage of places where his movies are available, and those with the proper subscriptions and streaming services can get their fix rather easily.
From his classics to relatively obscure entries, one can find a lot of Sean Connery on the major streamers, free services, and the premium cable options. Here are 20 movies that can be found currently, all of which are worth a watch at least once or twice.
Indiana Jones And The Last Crusade - Netflix
The third installment in the Indiana Jones franchise, Indiana Jones And The Last Crusade features Sean Connery as Henry Jones Sr., Indiana's scholarly adventurer father. Henry has spent his life searching for the Holy Grail, and less time fathering his son as a result. The two end up adventuring together throughout the film and improve their bond along the way. It's one of Connery's best, probably because the role was custom-tailored to him by Stephen Spielberg and George Lucas.
Stream Indiana Jones And The Last Crusade on Netflix here (opens in new tab).
A Bridge Too Far - Netflix
A war film with an ensemble cast, Sean Connery appears alongside Michael Caine, James Caan, Robert Redford, and Anthony Hopkins in an epic tale of British and American troops combining forces in WWII to push into Nazi territory. Unfortunately, as the title may suggest, things don't go as great for Connery's Major General Roy Urquhart the Allied troops as the end of the war did, as the Allies become trapped behind enemy lines and must work to make their way back to safety.
Stream A Bridge Too Far on Netflix (opens in new tab) here.
Sean Connery's James Bond Movies - Hulu
Probably the first stop for most people looking for Sean Connery movies, one can find a good deal of the actor's James Bond collection on Hulu. Right now you can watch From Russia With Love, Thunderball, Diamonds Are Forever and You Only Live Twice, which is as good a lineup as any for any Bond fan to blow through in a day. Settle down with a beverage that's shaken, not stirred, and enjoy a healthy Bond marathon.
Stream Sean Connery's James Bond movies on Hulu:
From Russia With Love (opens in new tab)
Thunderball (opens in new tab)
Diamonds Are Forever (opens in new tab)
You Only Live Twice (opens in new tab)
The Rock - Hulu
Often a contender on a list of the best Sean Connery movies, in The Rock, Connery plays SAS Captain John Patrick Mason who has been imprisoned for two decades without charges. He's offered his release because he's one of the only men to successfully break out of Alcatraz, and his help is needed in order to stop some rogue U.S. Marines from targeting San Francisco with missiles. Add in an eccentric but classic performance from co-star Nicolas Cage, and you'll soon understand why this movie may be one of director Michael Bay's best.
Stream The Rock on Hulu here (opens in new tab).
Darby O'Gill And The Little People - Disney+
There's not a ton of movies on this list where Sean Connery isn't playing one of the biggest characters in the movie, though it's worth noting this role came before Connery was known as the man who would make James Bond the most-known fictional agent on planet Earth. Darby O'Gill And The Little People features an old man trying to catch leprechauns, eventually being retired from his role as caretaker and replaced by Connery's Michael McBride. Don't worry, he's not the bad guy, but this one is just easier to watch to fully understand.
Stream Darby O'Gill And The Little People on Disney+ here (opens in new tab).
The League Of Extraordinary Gentlemen - Amazon Prime Video
In what is the closest the Victorian era can get to The Avengers, this Sean Connery movie features him as Allan Quartermain leading a ragtag group of prestigious literary characters on a mission to stop a terrorist plot. As a heads up, the movie was generally not as well-received as most other films in the actor's career, which is a shame because it was the final live-action movie he did before his retirement in 2006. Even so, it's still worth a watch and may be appreciated by some audiences wishing to see the actor right before he left the spotlight.
Watch The League of Extraordinary Gentlemen on Amazon Prime Video here (opens in new tab).
The Untouchables - Starz
Another classic on the list, The Untouchables features Sean Connery in a movie alongside Kevin Costner and Robert De Niro as a band of men work together to bring down notorious Chicago mobster Al Capone. Connery plays Jimmy Malone, the officer fed up with the rampant corruption and looking to take the city back from Capone. This is a classic anti-mob movie that's high on action and based on the true story of how the crime kingpin was finally brought to justice.
Stream The Untouchables on Starz here (opens in new tab).
The Hunt For Red October- Showtime
The first Jack Ryan movie in Hollywood, Alec Baldwin stars in the role alongside Sean Connery, who plays Marko Ramius. Ramius originally seems to be the villain of this picture, but as The Hunt For Red October continues, the truth is not what it seems. A great Sean Connery movie for any action fan, especially those who enjoy a good Tom Clancy story.
Stream The Hunt For Red October on Showtime here.
The First Knight- Starz
To be quite honest, it's a wonder there aren't more movies where Sean Connery was in a story about Arthurian legend. Connery plays the main man King Arthur himself, but The First Knight is a movie about Lancelot's romance with Lady Guinevere. Not the greatest thing in the world considering Guinevere was sworn in marriage to Arthur, but it all works out for the better. More or less anyway, I'll let anyone who watches figure out why.
Stream The First Knight on Starz here (opens in new tab).
Outland - Starz
A Sean Connery movie, set on a moon of Jupiter? Outland is a movie that happens once in an actor's lifetime and is described as a "space western" reminiscent of the classic Western High Noon. Connery plays a lawman sent to bust up a major drug-smuggling operation on a Jupiter moon, but as is the case in these situations, there are some roadblocks up. It won't be an easy road, but never count out Connery in an action movie.
Watch Outland on Starz here (opens in new tab).
Rising Sun - Starz
Wesley Snipes and Sean Connery star in Rising Sun, an adaptation of a novel written by Michael Crichton. Connery and Snipes play two investigators in Los Angeles looking to solve the murder of a call girl in a Japanese set of companies with business interests in the city. The two look to solve the girl's murder, and potentially, get to the heart of a larger plot afoot.
Watch Rising Sun on Starz here (opens in new tab).
Time Bandits - HBO
Looking for a movie where a kid goes on a whimsical fantasy adventure? There are few better options than Time Bandits, which features Sean Connery as King Agamemnon. Terry Gilliam has said that Connery was a savior to the production, and helped him weed out the scenes from the storyboard that could and couldn't be done to make the movie happen. Though his role isn't as big as others, it's clear that without Connery, there would be no Time Bandits as we know it today.
Watch Time Bandits on HBO here.
The Russia House - Cinemax
The Russia House is a spy film, but surprise, not a James Bond movie. Sean Connery plays the head of a British publishing firm in Moscow on business. He soon becomes entangled in a situation between the Soviets and the West, and as is the case with most spy movies, finds love along the way. It's not quite a Bond adventure, but that doesn't mean you can't love it all the same.
Watch The Russia House on Max Go here.
Murder On The Orient Express- Cinemax
It's the classic Agatha Christie tale you know and love, and one that Hollywood can't seemingly leave alone. This '70s version features Sean Connery in the role of Colonel Arbuthnot and is of course worth watching compared to others because it's the only one in which he appears. It's a movie that's been redone many times because it's a quality story, so certainly worth checking out.
Watch Murder On The Orient Express on Cinemax here.
Highlander - Vudu
An iconic movie on the list, Highlander may be most remembered for the line "There can be only one." I choose to remember it for the awesome ensemble Sean Connery's Juan Sanchez Villa-Lobos Ramirez rocks through his appearance. He's the mentor to the film's hero Connor MacLeod. The movie does make an interesting choice in having Connery portray an Egyptian, but there have been stranger castings in past years.
Watch Highlander on Vudu here (opens in new tab).
Finding Forrester - IMDB TV
A young man is scouted by a prestigious school in the area for his basketball ability, and by a strange twist of fate, becomes friends with a reclusive Pulitzer prize-winning author. Finding Forrester sounds kind of weird when you put it that way, but I can assure anyone who hasn't seen the movie this should be one of the first watches on the list. Come for Sean Connery being a snarky old man, stay to see Busta Rhymes' character tell him off.
Watch Finding Forrester on IMDB TV here.
Guardian Of The Highlands - Tubi
Perhaps the oddest entry on the list, yet notable all the same as it's a performance from Sean Connery from after his official retirement from live-action acting. Guardian of the Highlands or Sir Billi to some was the first CGI film to come out of Scotland. Connery comes out of retirement to play Sir Billi, a veterinarian looking to save a beaver who is being pursued by police to be captured. It's not the quality of a Disney movie, but certainly worth a watch on a lazy afternoon.
Watch Guardian Of The Highlands on Tubi here.
Be sure to stick with CinemaBlend for more stories about the life of Sean Connery, and for the latest news happening in television and movies.
Your Daily Blend of Entertainment News
Mick likes good television, but also reality television. He grew up on Star Wars, DC, Marvel, and pro wrestling and loves to discuss and dissect most of it. He's been writing online for over a decade and never dreamed he'd be in the position he is today.