Upcoming Joaquin Phoenix Movies: What's Ahead For The Joker Star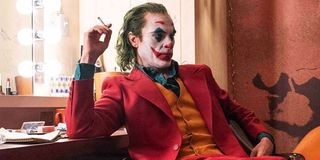 There is something about Joaquin Phoenix, a quality that few, if any, other actors of his generation possess. Whether he's portraying "the man in black" in the 2005 Johnny Cash biopic Walk the Line, the absurdist art-house documentary I'm Still Here, or his most recent effort in 2019's Joker, which netted him his first Academy Award, Phoenix is one of those rare talents who loses himself in his characters and never allows the audience to peak behind the curtain until the movie is over and done with. It's this quality that makes Phoenix so electric on the screen, and why we, as the audience, keep coming back for more.
But what's ahead for the star of great cinematic masterpieces like Gladiator, The Master, and Her? Where will we see Joaquin Phoenix again, and when will we see him lose himself once again in another acclaimed performance of a unique and tormented character? Well, there are actually a few confirmed movies and documentaries with Joaquin Phoenix's name attached to them that are either in production or about to be there very soon. Let's take a look, shall we?
C'mon C'mon - TBD
When we last saw Joaquin Phoenix, he was laughing in the chaos of a burning Gotham City in Todd Phillips' Joker, but we'll be seeing a very different character from the acclaimed actor when he appears in Mike Mills' upcoming C'mon C'mon. Phoenix's involvement in the latest movie from the director of Beginners and 20th Century Women, was first announced in September 2019 when Deadline reported he would be starring in the latest drama from A24.
In the movie, Phoenix will play a character by the name of Johnny, an artist who is responsible for the care of his young nephew, Jesse (Woody Norman) as the pair embarks upon a cross-country trip and form an unexpected and unbreakable bond. In addition to Phoenix and Norman, C'mon C'mon also features a cast that includes Gaby Hoffman and The Daily Show with Trevor Noah correspondent Jaboukie Young-White.
Production on C'mon C'mon got underway in late 2019, according to Discussing Film, with the shooting taking place in New York, Los Angeles, Detroit, and New Orleans. Cinematographer Robbie Ryan, who has worked on films like Marriage Story and The Favourite as of late, told Deadline in December 2019 that he was working on the project with Mike Mills and enjoying traveling around the country during the shoot. Production on C'mon C'mon looks to have wrapped in January 2020, but there is no word on when or how it will be released.
Kitbag - TBD
Joaquin Phoenix was already an up-and-coming actor by the time he was cast as the villainous Commodus, the power-hungry son of Marcus Aurelius in Ridley Scott's epic Gladiator, but the young star's performance, especially when going up against Russell Crowe's Maximus Decimus Meridius, only further helped his career. All these years later, Phoenix is set to team up with the visionary director once more in the upcoming Napoleon Bonaparte biographical drama, Kitbag. According to Deadline, the movie will offer an in-depth look at the origins and unprecedented climb to power by the iconic French emperor, and in typical Ridley Scott fashion, will include some of the historical figure's most famous battles and other key moments of Bonaparte's life.
And although Kitbag has been announced and a script is in the works, this one looks to be pretty far off because of director Ridley Scott's other projects that are in various stages of production. Next up for Scott will be the recently completed The Last Duel starring Matt Damon, Adam Driver, Jodie Comer, and Ben Affleck as men fighting to death in 14th Century France. After that and before Kitbag will be Gucci, a retelling of the 1995 murder of Maurizio Gucci which was arranged by his ex-wife, Patrizia Reggiani. That project will feature a rather impressive cast that includes Lady Gaga, Adam Driver, Jared Leto, Robert De Niro, Al Pacino, Jack Huston, and Reeve Carney. That being said, it might be 2022 or even 2023 before we see Joaquin Phoenix take on the role of Napoleon Bonaparte.
The End Of Medicine - TBD (Producer)
After watching Joaquin Phoenix's acceptance speech for his Best Actor win at the 92nd Academy Awards in February 2020, it should come as no surprise that the actor (along with his fiancée Rooney Mara) is not the biggest fan of animal agriculture in a large-scale capacity. Now the longtime animal rights activist is executive producing Keegan Kuhn (Cowspiracy) and Alex Lockwood's upcoming feature-length documentary The End of Medicine, which aims to shed light on zoonotic diseases, which the Centers for Disease Control and Prevention classifies as diseases that are caused by germs spreading between animals and humans like we are seeing with the COVID-19 pandemic.
According to Deadline, the documentary entered production in October 2019, just a couple of months before the world was overtaken by COVID-19, but will touch on the pandemic in some capacity. The production has continued throughout the year, even during the global shutdown, and The End of Medicine should be completed by the end of the year. There is no release date at this time, but the first teaser trailer can be watched on Alex Lookwood's Lookwood Productions website.
Joker 2? - TBD
Shortly after the release of Joker in late 2019, the internet was buzzing with rumors, reports, and speculation that Todd Phillips and company were working on a sequel for the highest grossing R-rated movie of all time. And while Phillips has denied that the sequel is actually happening (he even told Variety in December 2019 that he hadn't even talked to Joaquin Phoenix about it), that hasn't stopped fans from begging for a second Joker movie. And even if we do actually get a Joker 2, which will surely have a more clever of a name, it will probably be quite some time before wee Phoenix's emaciated Arthur Fleck running things in Batman's backyard.
Even we here at CinemaBlend have speculated about the nature of a potential Joker sequel in the past and brought up several points about what the movie would be about, if it would include more figures from the DC Comics Universe, and anything else you could ever ask about a followup to one of the most successful movies of 2019. But if Joker 2 (and possibly Joker 3) does in fact end up happening, Joaquin Phoenix has reportedly been offered a $50 million deal to return, according to Mirror. That, however, should be taken with a grain of salt until we get any confirmation from someone at Warner Bros.
Recent Joaquin Phoenix Movies
Now that we have gone through all of Joaquin Phoenix's upcoming movies and other projects, let's take a look at some of the Academy Award-winning actor's most recent releases and where you can stream them online. These range from the box office juggernaut that was Joker to those that flew under the radar like Mary Magdalene, which saw Phoenix take on the role of Jesus Christ in his journey with Mary Magdalene, portrayed here by Rooney Mara. But there are just the most recent offerings, and there are many more out there. Well, except SpaceCamp, which isn't streaming anywhere for some reason.
Joker
If you are one of the few people who missed Joker when it tore through theaters in the final months of 2019 and finally have the time to watch or want to watch Arthur Fleck's descent into madness against the backdrop of a crime-ridden Gotham City, you can do so now that it is streaming on HBO Max (opens in new tab).
The Sisters Brothers
There have been a lot of great westerns these past few years and one of the best happens to be Jacques Audiard's 2018 black comedy The Sisters Brothers starring John C. Reilly and Joaquin Phoenix as two brothers and assassins on an epic and deadly journey through the American Northwest. Most missed out on this when it came out a few years back, but now you can see it for yourself on Hulu (opens in new tab).
Don't Worry, He Won't Get Far On Foot
Joaquin Phoenix is great in dramas, nobody's taking that away from him, but he is also pretty damn great in comedies as well. This is seen in Gus Van Sant's 2018 comedy Don't Worry, He Won't Get Far on Foot, which sees Phoenix take on the role of recovering drug addict and paraplegic cartoonist John Callahan, whose memoir served as the source material. This isn't your typical comedy and is in fact quite dark and trying at times, but definitely worth a watch over on Amazon (opens in new tab).
Mary Magdalene
And then there is the 2018 Garth Davis-directed drama Mary Magdalene, which follows the biblical character as she finds refuge with Jesus Christ (played by Joaquin Phoenix) before and after his crucifixion and resurrection. You can watch Mary as she undergoes an awakening on Showtime.
That about catches up with all of Joaquin Phoenix's upcoming projects and some of his more recent movies that you can stream right now. If you want to know what else is coming out the rest of 2020 or during what will be a crowded 2021, we've got you covered here at CinemaBlend.
Philip grew up in Louisiana (not New Orleans) before moving to St. Louis after graduating from Louisiana State University-Shreveport. When he's not writing about movies or television, Philip can be found being chased by his three kids, telling his dogs to stop yelling at the mailman, or yelling about professional wrestling to his wife. If the stars properly align, he will talk about For Love Of The Game being the best baseball movie of all time.
Your Daily Blend of Entertainment News
Thank you for signing up to CinemaBlend. You will receive a verification email shortly.
There was a problem. Please refresh the page and try again.