Joaquin Phoenix: 5 Movie And Television Appearances You May Have Forgotten About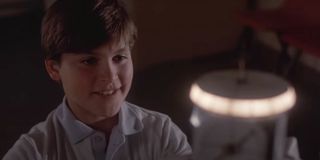 CinemaBlend is partnering with PIA VPN to bring you fresh content to stay in and stream with each day. We're also offering a special 76% discounted rate for a limited time only. You can sign up for the package with PIA here. (opens in new tab)
In terms of continued success, there are few actors who have had a better career than Joaquin Phoenix. Over the course of his career, the talented actor has worked with some of the greatest directors, starred in some of the most successful movies, and even took home an Academy Award for his pained and demented performance in 2019's Joker.
With nearly 40 years of acting under Joaquin Phoenix's belt at this point, there are some roles (especially those prior to his breakout as the power-hungry Commodus in Gladiator) that many of us may have forgotten about. From ABC After School Specials to the Ron Howard dramas, Joaquin Phoenix, or Leaf as he was known as back then, there's a lot to sink your teeth into if you're trying to watch each and every one of the two-time Golden Globe-winning actor's extensive filmography.
Robby Ellsworth - ABC After School Special
A lot of us have memories of all of those cheesy cautionary tales featured in the long-running ABC Afterschool Special series that ran from 1972 through 1997. Over the course of the anthology series' 25-year run, future stars like Meg Ryan, Rob Lowe, and Ben Affleck got their start in show business in a variety of one-off episodes tackling a number of topics. Well, you can add Joaquin Phoenix to the list of future A-listers to appear on the show after he was featured in the episode "The Riddle Of Dyslexia."
This 1984 episode follows the life of Brian Ellsworth (played by River Phoenix), a teenage boy struggling with dyslexia and its impact on reading and writing in school. Joaquin Phoenix (who is credited as Leaf Phoenix) plays Robby Ellsworth, the younger brother of the main character who tries to figure out what is going on with Brian. The episode features some pretty terrible visual effects (it's a TV special in the '80s), but there is a touching moment between the brothers at the end.
Garry Buckman-Lampkin - Parenthood
Joaquin Phoenix was on quite a run as a child actor (more on that next) when he was cast in the Ron Howard family dramatic comedy Parenthood. With an all-star cast that includes Steve Martin, Rick Moranis, Dianne Wiest, Keanu Reeves, and numerous other big names, it's easy to see how Phoenix (who was still going by Leaf at this point) got lost in the shuffle.
Portraying the Garry Buckman-Lampkin, a quiet and withdrawn teenage boy at the beginning of puberty, Joaquin Phoenix's performance is just as dark, moody, and brilliant as those that would come later in life. One of the most notable aspects of Phoenix's involvement with the project is the fact that it was his last performance until he appeared in the To Die For some six years later.
Max Graham - SpaceCamp
Joaquin Phoenix (still going by Leaf) was only 12 years old when he appeared in the 1986 space adventure film SpaceCamp, which drew its name from the Huntsville, Alabama facility of the same name. Having the bad luck of being released just months after the Challenger explosion, the film was a dud at the box office, even with an impressive cast that included Tom Skerritt, Lea Thompson, Kelly Preston, and a robot voiced by Frank Welker.
In the film, Joaquin Phoenix plays Max Graham, a 12-year-old who is finally allowed to go to the main Space Camp where he forms a bond with Jinx, a sentient robot. After telling Jinx that he wished he was in space, the robot with a knack for taking things literally fulfills the boy's wish and sends a team of campers into orbit. What follows is a color by numbers affair, but it has enough charm, especially on the part of Phoenix, to make it a movie worth revisiting.
Jimmy Emmett - To Die For
Joaquin Phoenix and Gus Van Sant came together for one of the most surprising movies of 2018 with Don't Worry, He Won't Get Far On Foot, but that wasn't the first time the visionary and controversial director and unique actor teamed up for a project. No, that honor goes to the 1995 dark comedy To Die For, which centers around an ambitious weather reporter played by Nicole Kidman as she hires a group of high school boys to kill her husband played by Matt Dillon.
After not showing up in anything of note since Parenthood, Joaquin Phoenix (using his given first name at this point) plays Jimmy Emmett, the leader of the group of outcasts which also includes a young Casey Affleck. Though not remembered liked the movies Phoenix would go on to star in a few years later, To Die For shows just how far the young actor would go for a role. There are even notes of the Arthur Fleck in this powerful performance.
Kenai - Brother Bear
This one could be considered cheating, but it was too good not to include. Years before he took on the role of the "Crown Prince of Crime" in Joker, and even before he played the drifter Freddie Quell in The Master, Joaquin Phoenix led his very own Disney animated movie. The 2003 Brother Bear probably isn't as remembered as other movies to come from the studio in the years leading up to its release, but that shouldn't take away from Phoenix's stellar performance as Kenai, a young man who is turned into a bear to learn a lesson.
You don't see his face, but listen to one word coming out of the bear's mouth and you instantly know it is Joaquin Phoenix. It's almost a shame this movie doesn't get talked about as much as it should because while it lacks some of the flash and charm of the Disney movies from the late 1980s and 1990s, it's cast, led by Phoenix, and great animation make it worth a watch.
Those are just a few of the amazing yet forgotten performances from Joaquin Phoenix. But those aren't all as the one-day Oscar winner would also have one-off appearances in shows like Murder She Wrote, Hill Street Blues, and even an episode of Superboy, where this happened.