Joaquin Phoenix And Gus Van Sant Are Finally Re-Teaming For A Cool Biopic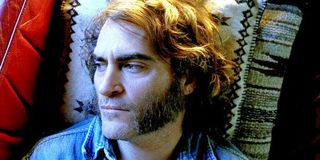 After over 20 years of searching, Joaquin Phoenix and Gus Van Sant have finally found a new film to work on together, as it's been revealed that the duo are currently circling around a biopic of cartoonist John Callahan. The three-time Oscar-nominated actor, who received these nods for his portrayals in Gladiator, Walk The Line and The Master, previously collaborated with the Drugstore Cowboy and Milk director on 1995's _To Die For. _
Variety was the first to reveal that Joaquin Phoenix and Gus Van Sant are close to a reunion on an the adaptation of Don't Worry, He Won't Get Far On Foot: The Autobiography of a Dangerous Man, which was written by John Callahan himself and released back in 1989. Thankfully, the producing teams behind the film, Iconoclast and Anonymous Content, have seen good sense and are reportedly currently sticking with the title, just without the appendage.
While Joaquin Phoenix and Gus Van Sant have been looking for a new project for over 20 years, Don't Worry, He Won't Get Far On Foot has been in development since it was originally published 27 years ago. The late great Robin Williams (Good Will Hunting, Dead Poet's Society) was attached to take the starring role of John Callahan for years, but was never able to get it made.
Let's hope that Joaquin Phoenix and Gus Van Sant can push the film over the precipice from development into production, because John Callahan's life story is one that the actor and director can both sink their teeth into to create something truly touching and beguiling. A preposterously talented individual, John Callahan became a quadriplegic at the age of 21 when the man he was bar hopping with over the course of a day of drinking crashed his car.
Following this accident, John Callahan decided to become a cartoonist, which he used as a form of therapy. He was able to draw by clutching a pen between both of his hands. While his drawings were both simplistic and rough, the macabre humor of them soon found him a fervent audience. You can check out a selection of John Callahan's work, which appeared in the New Yorker, Penthouse, Playboy, and for 27 years at the Portland newspaper Willamette Week, by visiting Callahan Online. Callahan's work was so controversial that it occasionally led to boycotts and protests against the Willamette Weekly. John Callahan died due to complications with quadriplegia and respiratory problems on July 24, 2010.
Since Gus Van Sant and Joaquin Phoenix last worked together, the pair have gone on to achieve critical acclaim because of their cinematic actions. Joaquin Phoenix has changed rather drastically since his performance in To Die For, though, when he looked like this ...
Fingers crossed that Don't Worry, He Won't Get Far On Foot finally reaches the big screen, because it really does sound like the perfect project for the duo to rekindle their working relationship on.
Your Daily Blend of Entertainment News