Why Annette Bening Was So Perfect To Play Mike Mills' Mom In 20th Century Women, According To Mike Mills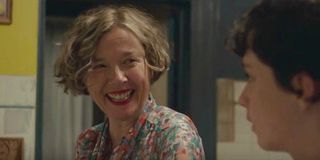 With Beginners, Mike Mills made it clear that he loves blurring the line between the highly personal and a fictional narrative. While Beginners reflected his relationship with his father, who is astonishingly portrayed by Christopher Plummer to such a degree that he won the Best Supporting Academy Award for his portrayal, his new film 20th Century Women focuses on his mother. Of course, finding someone to portray your mother on screen is always going to be a tricky process, but Mike Mills has admitted that it became simple as soon as he met Annette Bening.
Mike Mills made this admission to me when I sat down with the director earlier this month to talk about 20th Century Women, his riveting coming of age drama that's been met with stellar reviews. I quizzed Mike Mills about why Annette Bening possessed the perfect credentials to portray Dorothea. And there were plenty of reasons why, as Mike Mills explained,
Clearly Annette Bening's casting has worked wonders, as the actress has received sterling reviews for her performance as Dorothea in 20th Century Women. She's even been touted to receive at least an Oscar nomination for her performance in 20th Century Women, too, which she would more than be worthy of and would, following on from Plummer's win, be yet further proof that Mike Mills' writing certainly brings out the best of actors.
During my chat with Mike Mills, I revealed to the director just how much I'd love to see Annette Bening's Dorothea Fields from 20th Century Women and Christopher Plummer's Hal Fields from Beginners cross over in any project. But rather than immediately signing up my brief pitch and asking me to detail how the plot would unfold, he simply laughed it off and dismissed it as "hysterical," adding, "I never even thought of that."
Set in 1979, 20th Century Women revolves around Dorothea Fields, a determined single mother in her mid-50s, who is struggling to raise her teenage son Jamie (Lucas Jade Zumann) during a period of great cultural upheaval. She enlists the help of Abbie (Greta Gerwig) and Julie (Elle Fanning) to do so. You can check out the trailer for 20th Century Women below.
20th Century Women is now in limited cinemas across the US, while it will go wide across the country from 20 January.
Your Daily Blend of Entertainment News