5 Joaquin Phoenix Movies Worth Streaming On Netflix And Amazon Ahead Of Joker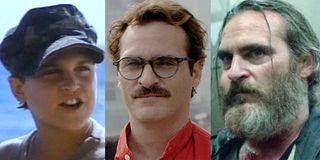 Joaquin Phoenix has been stealing scenes on the big screen since he was still calling himself Leaf Phoenix. Now he's getting Oscar buzz -- again -- for DC's Joker movie, opening in theaters October 4. If he's nominated, it would be his fourth Academy Award nod after Gladiator, Walk the Line, and The Master. All well deserved!
The now 44-year-old Joaquin Phoenix has an eclectic filmography filled with showcase roles but, per usual, not everything is available to stream right now on Netflix or "free" with an Amazon Prime subscription. That limits us a bit, but not too much, since Phoenix still has plenty of good titles on both streamers. I've also added some bonus titles into the mix for further viewing on various other streaming platforms.
Russkies
Russkies was Joaquin Phoenix's first major lead role in a movie. It was one of three movies River Phoenix's younger brother made under the self-given name "Leaf" before going back to his birth name of Joaquin. After Kids Don't Tell and the still amazing 1986 movie SpaceCamp, Phoenix led the 1987 film Russkies alongside Peter Billingsley -- yes, Ralphie from A Christmas Story. They play patriotic superhero-loving military brats in Miami who find a stranded Russian and ultimately befriend him. The usual lessons about empathy are learned, with a backdrop of the U.S./Russia Cold War.
I just rewatched this movie last night and it has the typical '80s cheese -- including the soundtrack, which warmed my synthesizer-loving heart -- but it's also surprisingly timely. Several scenes could've come straight out of the most recent season of Netflix's Stranger Things. It's a great early look at the promise Joaquin Phoenix would later show, balancing his trademark intensity with a lot of vulnerability and heart.
Stream Russkies now on Prime (opens in new tab).
Her
Joaquin Phoenix + Spike Jonze = an inspired combination. Phoenix's depressed introvert Theodore Twombly dominates the film, although Scarlett Johansson's fantastic performance as A.I. assistant Samantha very rightly launched Oscar conversations about honoring voice-over talent. I love everything about this movie -- the look, the mood, the painful realism, the sad and quiet beautiful meditation on modern loneliness. Netflix doesn't have a huge selection of Joaquin Phoenix titles as of September 2019, but Her a must-see.
Stream Her on Netflix (opens in new tab).
Don't Worry, He Won't Get Far on Foot
Joaquin Phoenix reunited with his Her co-star Rooney Mara -- also now his real-life fiancée -- for this Gus Van Sant dramedy. The story is based on the memoir by John Callahan, with Phoenix playing alcoholic cartoonist Callahan, who is left a quadriplegic after an accident and falls in love with his physical therapist (Mara). Jonah Hill plays Callahan's AA sponsor Donnie in this sentimental life-affirming story. Amazon Studios released this movie in 2018, and it's now streaming on Prime. It is Gus Van Sant's most recent film as a writer/director and I can't help but think of one of his first such films -- My Own Private Idaho back in 1991, starring Joaquin's late brother River and Keanu Reeves.
Stream Don't Worry, He Won't Get Far on Foot on Amazon Prime (opens in new tab).
You Were Never Really Here
Amazon Studios also released this 2017 movie, which gives Joaquin Phoenix another lead role, but a very different one from the above films. Once again, he's the muse of a true artist -- this time writer/director Lynne Ramsay, based on the novella by Jonathan Ames. The stark, stylish film runs at a crisp 90 minutes. It's a polarizing one. Some critics raved about its masterful intensity, while others found it frustratingly distant and, well, artsy-fartsy. Phoenix won the the Best Actor award at the Cannes Film Festival for his performance, with Ramsay earned the Best Screenplay win. Among the film's many awards circuit honors were wins for composer Jonny Greenwood's always brilliant music.
Stream You Were Never Really Here on Amazon (opens in new tab).
We Own The Night
James Gray's Ad Astra is finally opening this month, starring Brad Pitt. Back in 2007, he made the crime drama We Own the Night, starring Joaquin Phoenix and Mark Wahlberg as brothers, with Robert Duvall as their NYPD deputy chief father. It was a reunion for Phoenix and Wahlberg after James Gray's previous movie, The Yards, in 2000. In that film, Wahlberg took the lead. By 2007 they had switched places and Phoenix had the starring role. We Own the Night did well at the box office, but got mixed reviews from critics, who felt it didn't quite live up to the potential of its impressive cast, which included Eva Mendes.
Stream We Own the Night on Amazon Prime (opens in new tab).
BONUS: The Master, To Die For, Signs, Reservation Road, Space Camp
They're not available on Netflix or for free with an Amazon Prime subscription, but you can stream these Joaquin Phoenix films right now elsewhere.
• Stream The Master right now on Vudu (opens in new tab).
• Stream To Die For right now on Crackle.
• Stream Signs on HBO Go with an HBO subscription.
• Stream Reservation Road with a Starz subscription (opens in new tab).
• Stream SpaceCamp ... if you can. I'm actually really upset SpaceCamp isn't available more places; you can watch the whole movie here on YouTube, unless it's pulled.
If you're looking for more streaming recommendations, check out these past features:
• 5 Excellent Keanu Reeves Roles Worth Streaming On Netflix And Amazon
• 5 Sci-Fi TV Shows To Watch On Netflix: Our Streaming Recommendations
• 5 Documentary Series To Watch On Netflix: Our Streaming Recommendations
• 5 British TV Comedies On Netflix You Should Bloody Well Watch: Our Streaming Recommendations
• 3%, Occupied, Harlots, and Other Streaming Recommendations
• 5 Robert Downey Jr. Movies To Love 3000 On Netflix
• 5 Chris Evans Movies Worth Streaming On Netflix And Amazon
• 5 Ryan Reynolds Roles Worth Streaming On Netflix And Amazon
• 5 Will Smith Movies Worth Streaming Right Now On Netflix And Beyond
• 5 Refreshingly Non-Toxic Reality TV Shows Worth Streaming On Netflix
Are you ready to watch Joaquin Phoenix in Joker? What movies of his have you streamed lately, and on what platforms?
Gina grew up in Massachusetts and California in her own version of The Parent Trap. She went to three different middle schools, four high schools, and three universities -- including half a year in Perth, Western Australia. She currently lives in a small town in Maine, the kind Stephen King regularly sets terrible things in, so this may be the last you hear from her.
Your Daily Blend of Entertainment News
Thank you for signing up to CinemaBlend. You will receive a verification email shortly.
There was a problem. Please refresh the page and try again.