What It Was Like To Work With Heath Ledger On Brokeback Mountain, According To Kate Mara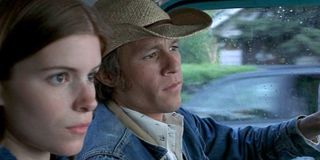 Imagine getting one of your first big roles in a movie -- and having your on-screen partner be one of the most well-known actors in Hollywood. That was Kate Mara's experience with Brokeback Mountain after she was cast to play against Heath Ledger. The experience was certainly memorable -- and, luckily, one that she doesn't seem to be in any hurry to forget.
Brokeback Mountain wasn't Kate Mara's first professional acting role but in many ways, was a breakthrough role for her. She played Alma Jr., the daughter of Heath Ledger's Ennis Del Mar -- but despite having a smaller role, she found the experience of filming to be memorable and rewarding. On the Watch What Happens Live After Show, Kate Mara revealed what it was like to work with Heath Ledger and discussed the unusual circumstances they found themselves in on set:
Heath Ledger was in his mid-20s when Brokeback Mountain was filmed -- in other words, less than a decade older than Kate Mara. When she shows up at the end of the film, Ennis is supposed to be roughly 40 years old, which the filmmakers and Heath Ledger pulled off using a combination of styling and subtle changes in the way he carried himself. Still, it's funny to consider the small gap in their ages when you remember their on-screen relationship.
More importantly, it's nice to hear that the late actor was supportive of Kate Mara while they were filming, especially since she didn't have much experience on set. By that point, Heath Ledger was a well-known actor, thanks to roles in movies like 10 Things I Hate About You, The Patriot and A Knight's Tale. So it's easy to see why having someone so well known would be a huge help to someone who was new to making movies on such a big scale.
Despite his experience, Brokeback Mountain would end up being a huge milestone in Heath Ledger's career, too. While it was controversial in some circles, its portrayal of a romantic relationship between two men was groundbreaking, and it was both a commercial and critical success. Heath Ledger's performance ultimately resulted in his first Academy Award nomination.
It was, unfortunately, the only time the two actors worked together. Heath Ledger died less than three years after Brokeback Mountain was released. Kate Mara went on to enjoy a busy career with starring roles in everything from American Horror Story and House of Cards to Fantastic Four and The Martian. Next, she's starring in the FX on Hulu series, A Teacher.
Your Daily Blend of Entertainment News
Thank you for signing up to CinemaBlend. You will receive a verification email shortly.
There was a problem. Please refresh the page and try again.