Upcoming Jake Gyllenhaal Movies And TV: What's Ahead For The Spider-Man: Far From Home Actor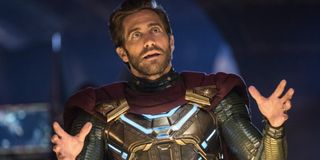 Through his tour-de-force performances in acclaimed films like Nightcrawler, Enemy, Stronger, Okja, and many more, Jake Gyllenhaal has established himself to be one of the most impressive and daring A-list performers working in Hollywood (and outside of Hollywood) today. Now certifying himself as a producer to boot, the Oscar-nominated Brokeback Mountain actor is attaching his famous name to a variety of intriguing and promising titles — for screens both big and small.
If you consider yourself a fan of the hard-working star of the stage and screen, here are more-than-a-few upcoming Jake Gyllenhaal movies and shows worth looking out for.
The Guilty - TBA 2021 (Filming)
While Jake Gyllenhaal has already proven himself to be an arresting actor with several criminally good performances on his resume, he'll put his talents to the test with his latest project, the upcoming Netflix thriller, The Guilty, which also stars Ethan Hawke, Riley Keough, Peter Sarsgaard, Bill Burr, and Paul Dano.
Directed by Antoine Fuqua, who previously collaborated with Gyllenhaal on 2015's Southpaw, this streaming exclusive will follow a demoted police officer who finds himself in a conflicted position when he receives an emergency phone call from a kidnapped woman while assigned to call desk duty. It's based on the Danish film of the same name by Gustav Möller (we'll mention him again later) and the screenplay comes adapted by True Detective's Nic Pizzolatto. The remake will be released sometime next year. Production started earlier this month, and it's expected to go on through the year.
Ambulance - TBA (Pre-Production)
Michael Bay and Jake Gyllenhaal. An unlikely pair or a duo destined to be? The answer might soon arrive with Ambulance, the latest film directed by the famous blockbuster auteur. Coming off of last year's 6 Underground, Bay reportedly found his next project with this upcoming action-thriller, which is said to be in the vein of Speed and Bay's own Bad Boys. Certainly, a return to the sort of actor-driven '90s action movies of yore plays into Bay's deranged wheelhouse, and he'll find good company with Gyllenhaal, who's reportedly circling the project as a potential follow-up to 2021's The Guilty.
The movie is said to be in pre-production with plans to start shooting in January. Given the growing restrictions placed by COVID-related lockdowns, it's uncertain if that production start date will be set in stone, but that's apparently the goal at the moment.
The Division - TBA (Pre-Production)
Admittedly, like a great number of people in Hollywood, Jake Gyllenhaal hasn't had the best luck with video game adaptations. Notably, Prince of Persia: The Sands of Time was supposed to be Disney's next blockbuster franchise, but the end result became one of the biggest financial and critical disappointments of his career. Therefore, it's understandable that he has avoided bringing any more video games to the screen. But he'll test his luck once more with The Division, based on Massive Entertainment's Tom Clancy's The Division.
While Hollywood has found success with other Clancy adaptations, including Amazon Prime's Jack Ryan, video games don't make the most graceful transitions. Nevertheless, this action blockbuster will also star Jessica Chastain, and director David Leitch (Deadpool 2) is calling the shots. Plus, Netflix is footing the bill. Here's hoping for the best for Gyllenhaal's sake. He's also attached as a producer.
The Son - TBA (Announced)
Director Denis Villeneuve has brought out a few of Jake Gyllenhaal's most impressive performances, which is certainly saying something. The actor's past two collaborations with the French-Canadian director, 2013's Prisoners and Enemy, showcased his exceptional range, and we'll hopefully see another great Gyllenhaal performance under Villeneuve's gaze when he and the acclaimed filmmaker team up again to adapt Jo Nesbø's The Son.
The story follows a son suffering from a criminal breakdown after his police officer father commits suicide, who eventually discovers more information about his once-incarcerated father following this tragic occurrence, including the ways in which the system held him down. Certainly, given their previous moody movies, The Son won't be the most uplifting tale, but it's doubtless that they'll produce something intriguing with the material. Once set to be a film, it's being reworked as an HBO mini-series. Gyllenhaal is also producing.
Snow Blind - TBA (Announced)
AppleTV+ is slowly-but-surely building up an impressive resume for itself. In addition to all the other titles they've got on their service or coming up in the weeks or months ahead, they're also involved with one of Jake Gyllenhaal's latest projects, Snow Blind, a thriller based on the graphic novel by Ollie Masters and Tyler Jenkins. Also set to produce the movie in addition to starring, Gyllenhaal will team-up with director Gustav Möller. The actor must certainly be a fan of the filmmaker's work because he's currently filming an English-language remake of his 2018 film, The Guilty. Additionally, the script is set to be adapted by Patrick Ness (A Monster Calls), as Collider reported earlier this summer.
There's no word yet on when Snow Blind will start shooting, but with AppleTV+ on-board, we should expect the ball to start rolling soon enough. Possibly even next year.
Fun House - TBA (Announced)
On the stage, Jake Gyllenhaal proved his musical chops with his acclaimed lead performances in Off-Broadway's Little Shop of Horrors and Broadway's Sunday in the Park with George. Additionally, on the small screen, Gyllenhaal proved his musicality in the meme-able role of Mr. Music in Netflix's special, John Mulaney & the Sack Lunch Bunch. Now, the Oscar/Tony-nominated actor will finally belt out a tune on the big screen with an upcoming adaptation of Fun House, the Tony-winning musical based on Alison Bechdel's graphic memoir. Gyllenhaal is slated to star as Bruce Bechdel, Alison's closeted father, who met a tragic end. It should be noted that this is yet another film where Gyllenhaal will be splitting his time with producing duties.
It was inevitable that Jake Gyllenhaal would bring his musical theater chops to the silver screen. And it sounds like a project worthy of his talents.
Finest Kind - TBA (Announced)
Truth be told, updates have been slow on Finest Kind, an upcoming thriller from writer-director Brian Helgeland (A Knight's Tale, 42). The tale of two brothers who find themselves pulled into a deal with an organized Boston crime syndicate, the story itself doesn't sound exceptionally original. But hey, if it ain't broke! At one point, Zendaya and Ansel Elgort were also attached to the project, though it's unclear if they're still involved.
Since the project was first announced back in 2018, developments have otherwise been non-existent. But if it does end up coming together, especially with Zendaya attached, it could result in a potential Spider-Man: Far From Home reunion. Additionally, Jake Gyllenhaal is also attached as a producer.
Francis And The Godfather - TBA (Announced)
Francis Ford Coppola's The Godfather is one of the finest films ever made, and you'd be hard-pressed to find too many people who'll say otherwise. The crime epic is considered a classic by both film historians and general moviegoers alike, and we'll see soon enough if the story behind the making of this cinematic masterpiece is equally as compelling with Barry Levinson's forthcoming biopic, Francis and the Godfather. Starring Oscar Isaac as the aforementioned Coppola and Jake Gyllenhaal as notorious film producer Robert Evans, this drama will explore the battles that ensued when these two cinematic titans made 1972's Best Picture-winning triumph. It comes from a screenplay from Andrew Farotte and Levinson, as Deadline reported.
It's certainly not easy to live up to the high standards of this incredible trilogy starter, though Barry Levinson is a proven talent in his own right. Additionally, the late Robert Evans is a producer whose reputation proceeded him, so it'll be fun to see how Jake Gyllenhaal portrays this real-life cinematic legend.
Lake Success - TBA (Announced)
Will Lake Success's title prove to be fitting or ironic? Only time will tell, but Jake Gyllenhaal is attached to another upcoming limited HBO series, this one based on Gary Shteyngart's novel. Shteyngart will serve as the co-writer and co-showrunner for this forthcoming program alongside Tom Spezialy, as Indiewire reported, and Gyllenhaal is on-board to produce and play Barry Cohen, a hedge-fund manager who leaves his wife and autistic son behind to track down his college girlfriend through a cross-country bus ride. Well, that's certainly an... interesting idea — particularly for a mini-series. But if there's anyone who could sell us on this premise, it's Gyllenhaal.
The actor is unafraid to tackle challenging and complex characters, and this one would certainly prove to be a complicated role for the actor-producer. It's unclear if this show would come before or after his commitments to The Son.
The Helicopter Heist - TBA (Announced)
Based on the book of the same name by Jonas Bonnier, The Helicopter Heist has the potential to be an exhilarating action-caper in the right hands. Based on a screenplay written by Steven Knight (Locke), this upcoming drama-thriller will tell the real-life story of four Swedish men who pulled off one of the greatest heists in history using a stolen Bell 206 Jet Ranger helicopter. Heist movies are always a delicious bit of cinematic fun, especially if they're done well, and this proposed adaptation will hopefully have the benefit of being helmed by Elizabeth Chai Vasarhelyi & Jimmy Chin, the Oscar-winning documentarians behind Free Solo. They were in talks to make this promising movie as of last year, per Deadline, though developments have been slow since.
Nevertheless, in addition to starring in this upcoming movie, Jake Gyllenhaal is also producing, while Netflix distributes.
A Suspense Novelist's Trial Of Deceptions - TBA (Announced)
As this list makes apparent, Jake Gyllenhaal has several movies and shows in his upcoming schedule. But what's one more for the pile? In August of this year, it was announced that Gyllenhaal will star in and executive produces A Suspense Novelist's Trail of Deceptions, which adapts Iain Parker's New Yorker article of the same name (one that's certainly worth a read) centered around novelist Dan Mallory, best known as the author and former book editor behind The Woman in the Window. His life story prior to his best-selling success is filled with shocking twists and turns, and it'll provide some intriguing dramatic material to mine. Produced by Annapurna, it'll be written and directed by Janicza Bravo, the filmmaker behind Sundance's Zola.
Certainly, this stranger-than-fiction look at the fiction writer will give Jake Gyllenhaal another role where he can unleash an utterly unhinged personality.
Additional Upcoming Jake Gyllenhaal Producing Credits:
In addition to his extensive list of upcoming acting credits, Jake Gyllenhaal is also slated to produce a number of forthcoming films. Next, Gyllenhaal is a producer on Joe Bell, starring Mark Wahlberg, which premiered at the Toronto International Film Festival in September with its original title, Good Joe Bell. The reviews weren't especially kind (including my own), so it's not surprising to learn that the filmmakers are re-editing the heavily-criticized drama prior to its February 19th, 2021 release date. Additionally, Gyllenhaal is also a producer on Breaking News in Yuba County, the newest movie from director Tate Taylor (The Help), which is currently slated to be released on January 22nd, 2021.
Furthermore, Jake Gyllenhaal is also set to produce Gilded Rage, an upcoming crime drama from director Charlie McDowell (The One I Love). Certainly, even when he's not acting, Gyllenhaal keeps himself plenty busy.
Which upcoming Jake Gyllenhaal movie or show are you most looking forward to? Please let us know in the comment section below!
Your Daily Blend of Entertainment News
Will is an entertainment writer based in Pittsburgh, PA. His writing can also be found in The Playlist, Cut Print Film, We Got This Covered, The Young Folks, Slate and other outlets. He also co-hosts the weekly film/TV podcast Cinemaholics with Jon Negroni and he likes to think he's a professional Garfield enthusiast.