Upcoming Zendaya Movies And TV: What's Ahead For The Spider-Man Star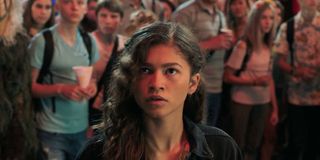 If it hasn't become clear yet, Zendaya is becoming one of our biggest up-and-coming superstars. The young actress/musician has proven her talents on screens both big and small — be it the MCU or Euphoria — and that's not expected to change anytime soon. Once a Disney Channel star, the one-name star moved on to high profile projects like The Greatest Showman, Smallfoot, and upcoming Zendaya movies like Dune and Spider-Man: No Way Home, and her profile is only growing from there.
When it comes to the future, Zendaya certainly has a few noteworthy projects in the works, as well as some other titles with her memorable name attached. It's unclear when all these movies and shows are still planning to move forward. But if you're a fan of Zendaya and you want to know what she has on the docket in the near future, we're here to help.
Dune - October 1, 2021 (Post-Production)
Dune, Frank Herbert's massive tome of a novel, hasn't found the easiest filmmaking processes. There's even a whole documentary about one famous filmmaker's failed attempt to bring it to the silver screen. David Lynch succeeded — if to mixed results — with his 1984 film, but now Denis Villeneuve will make an admirable attempt to bring Herbert's words to the screen.
With an all-star cast that includes Timothee Chalamet, Rebecca Ferguson, Dave Bautista, Oscar Isaac, Stellan Skarsgard, Javier Bardem, Josh Brolin, Jason Momoa, and Charlotte Rampling. Many fans are intrigued to see Zendaya play Chani, a mysterious Freman woman who's also Timothee Chalamet's love interest, which only required four days of filming.
Dune is one of the movies that has bounced between release dates the most over the last few years, with Warner Bros. having set the premiere for November 2020 before pushing it back another month. The film's debut became much more concrete in late 2020 when the studio announced its plans to release all of its 2021 slate of movies on HBO Max the same day they open in theaters, meaning Dune will finally be unveiled to the world October 1, 2021.
Spider-Man: No Way Home - December 17, 2021 (Filming)
When it comes to the continuously expansive Marvel Cinematic Universe, you can typically (or, at least, usually) expect to see another sequel somewhere down the line. The superhero film franchise is always swelling with each additional inclusion into the moviemaking machine. That'll continue to be the case (almost certainly) since Spider-Man: No Way Home is among the ranks of the other upcoming Marvel movies slated to land this year and next.
Production began on Spider-Man: No Way Home back in mid-October 2020 and then went into overdrive throughout the remainder of the year, continuing well into 2021. Principal photography is scheduled to wrap at some point in March 2021, though it remains unknown if reshoots will be needed before the film's eventual release.
The third installment in the new Spider-Man trilogy has already become one of the most anticipated movies of Phase 4 of the MCU, thanks to its multiple villains, the presence of a certain Sorcerer Supreme, and the possibility of multiple Spider-Men popping up through some Multiverse shenanigans. We will finally get to see if Tobey Maguire and Andrew Garfield return for what would essentially be the live-action version of Spider-Man: Into the Spider-Verse, when No Way Home opens in theaters December 17, 2021.
Euphoria Season 2 - TBD (Pre-Production)
In HBO's provocative teen drama series Euphoria, Zendaya gives what might arguably be her best performance to date as Rue, a recovering drug addict trying to find her place in the world while navigating the challenges of high school in the modern era. The actress has earned some of the best reviews of her career for this demanding role in this headline-catching series, and the show has definitely helped to boost her ever-growing profile as she continues to find success in film and on television. While there are many TV lovers who are eager to discover what happens next when the show airs its second season, they'll ultimately need to wait a little while longer. The earliest this season will arrive is 2021, and that's assuming that more TV shows will be allowed to start their production schedules again in the near future.
The show has already been renewed for a second season, and the scripts should be completed as it was reportedly already in the first days of shooting earlier this year before COVID-19 shut down production. But rather than wait around and hope for the best, Zendaya and Sam Levinson opted to use this downtime to work on a completely separate project with Malcolm & Marie. Levinson and Zendaya followed up their secret quarantine movie with two Euphoria specials that premiered in December 2020 and January 2021. And while that did hold over fans, we're still waiting for Euphoria Season 2, which is said to be entering production in March 2021.
Finest Kind - TBD (Pre-Production)
Admittedly, development seems slow on Finest Kind. Announced back in 2018, this crime thriller is set to be written and directed by Brian Helgeland (A Knight's Tale, 42) and it follows two brothers who are pulled into a deal with an organized crime syndicate in Boston. Perhaps that's not the most original plot synopsis, but in addition to Zendaya, the upcoming film is also set to star Jake Gyllenhaal. Ansel Elgort's name remains attached to the project, though it's unclear if he'll stay involved when the movie decides to move forward. If, of course, it moves forward at all.
With limited developments or updates on this project, it's hard to know if it's stalled or no longer happening. It's difficult to say in our current climate. But if it does happen and Zendaya and Gyllenhaal are still involved, it'll reunite these Spider-Man: Far From Home actors.
A White Lie - TBD (Announced)
In early 2018, it was revealed that Zendaya would frontline A White Lie, a psychological thriller produced by Reese Witherspoon and inspired by the true story of Anita Hemmings, who became the first Black woman to attend Vassar College, an extremely exclusive school for women, by passing as white. When the project was announced, the forthcoming film became the subject of some criticism, which may or may not be the reason why we haven't much of anything about the movie since this article broke out. It's also possible that the busy schedules of both its star producer and its lead actress (as well as our current pandemic) might've had an impact on its looming production schedule. In any case, it's been a little over two years since we've gotten any official updates regarding this reported film, and it remains unclear where development is now.
Recently Released Zendaya Movies
Zendaya has a ton of new and exciting projects coming out this year and beyond, but the talented actress has had some titles come out here recently that are worth checking out.
Malcolm & Marie - Released February 5, 2021
During this global pandemic, where many movie and TV productions are currently shut down in order to try to prevent the spread of COVID-19, several actors, moviemakers, and other professionals have opted to stay home and divert their time elsewhere as the state of the industry remains uncertain.
During this unprecedented time, many professionals (presumably) lied around on their couch, munched on some snacks, and caught up on shows like Tiger King and Ozark while they waited for things to return to normal. But that wasn't the case for Zendaya and writer/director Sam Levinson. When production on Season 2 of HBO's Euphoria shut down in the middle of March, the actress and showrunner found themselves with a lot more free time on their hands. But they didn't want to sit around twiddling their thumbs.
Instead, as Deadline reported, Zendaya asked Sam Levinson if he could write and direct a movie during quarantine. Within a mere six days, he cranked out the script for Malcolm & Marie, an intimate romantic drama starring Zendaya and John David Washington. The quickly-made film was made completely in secret, and it was only announced after filming was completed. The set took extreme precautions, as they've noted, which resulted in a smaller, more enclosed production crew. It was also later revealed that Malcolm & Marie was shot in 35mm. Only a few months after the mysterious project was announced, Netflix stepped up and paid $30 million for the distribution rights. The unexpected new movie is noteworthy for being one of the first films written, shot, edited, and possibly even completed in a post-COVID world.
Just like with the other 2021 new movie releases, everything can change in an instant with all of these Zendaya movies and TV shows, so make sure to check back for all the latest updates.
Will is an entertainment writer based in Pittsburgh, PA. His writing can also be found in The Playlist, Cut Print Film, We Got This Covered, The Young Folks, Slate and other outlets. He also co-hosts the weekly film/TV podcast Cinemaholics with Jon Negroni and he likes to think he's a professional Garfield enthusiast.
Your Daily Blend of Entertainment News
Thank you for signing up to CinemaBlend. You will receive a verification email shortly.
There was a problem. Please refresh the page and try again.