If It Wasn't For Goldeneye, I'd Have Never Been A James Bond Fan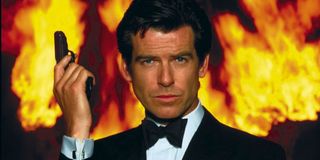 It might surprise some of you readers out there, but I like to think of myself as a bit of a James Bond fan. Raised in a household with a healthy appreciation for all things 007, it's a fandom that's followed me throughout my life. But if it wasn't for a rather unconventional path, initialized by 1995's Pierce Brosnan-led Goldeneye, I'd have never been a James Bond fan. It's a weird thing to say, but it makes for one hell of an origin story. On this, the 25th anniversary of Goldeneye's domestic theatrical release, I figured I'd share that tale.
I Can Thank Toy Story For My First Encounter With James Bond
Throughout my childhood, one of my greatest memories has always been raiding my father's massive VHS collection. Tagging along on many an adventure to build such a library, the pride of his stash was the James Bond collection; which, before the whole series went to DVD, meant that he had everything up to Goldeneye in his possession. It would come in handy for the journey ahead, but that's not where my exposure to the first of director Martin Campbell's two Bond reboots would first take place. And the funny thing is, I wasn't even at the movies to see that particular film.
Confession time: sometimes, when my dad and I went to the movies, we'd sneak into other movies after our main attraction. In later years, this would include us going to see Face/Off after watching Men In Black, as well as experiencing The Last Samurai after the disappointment that was Timeline. So when Toy Story came out, I was expecting to just watch that movie and be on our way home; an expectation dashed by the fact that my best friend George and his father were at the same movie theater, for the same movie. Running into each other in the lobby, our fathers wanted to go see Goldeneye, and we accompanied them.
We kids didn't last long in that movie before wanting to go out into the lobby and play the brand-new Sony PlayStation on display. To be honest, we'd just come out of Toy Story and didn't know what to expect with a James Bond movie. So when your first time watching a Bond movie is the scene where Joe Don Baker's Jack Wade shows off his rose tattoo to Pierce Brosnan's "stiff assed Brit," it's not exactly the same as starting Goldeneye from the beginning. By the time 007 was interrogating Zukovsky, George and I were out of there; though who could blame 13-year-olds hopped up on the first Disney/Pixar movie when this was the follow-up:
If we'd started the film from the beginning and saw that sweet bungie jump off of the Arkangel dam in the pre-credits sequence, this story might have turned out differently. Strangely enough, my obsession with video games plays into this story rather nicely. It would take a little longer for me to get into Goldeneye, but by the time Tomorrow Never Dies came around, I was ready to dive into James Bond's world of espionage.
How Nintendo 64 Made Me A Fan Of Goldeneye
To this day, anyone who was a gamer in the '90s knows that one of the most legendary titles to ever hit the market was the Nintendo 64 adaptation of Goldeneye. Arriving in the same year that Tomorrow Never Dies was priming the public for its theatrical release, this delayed adaptation was popular with everyone. I can't remember exactly who I played Goldeneye 64 with for the first time, as it was either a cousin of mine or another friend that had a copy before I did. But playing that game changed everything for me, much as playing Star Wars Arcade on the Sega 32X put me on the path of The Force, just in time for the Special Editions to hit theaters.
In both cases, experiencing the video games made me more curious to see what the actual movies had in store. Which makes having a father who not only loved this stuff before you, but had the VHS tapes to prove it, all the more exciting. Playing Goldeneye 64 pushed me to watch my father's copy of Goldeneye, in the hopes that maybe the film would contain some sort of strategy tips to best the game. Unintentionally, however, I had become a fan of the movie, Pierce Brosnan's James Bond and the 007 series overall.
When watching Goldeneye, I could see exactly what my father saw in the Bond series. As I was still developing a taste for action-adventures, the stunt work and the set-pieces were introducing me to a new dialect in the language of movies. I started to love seeing stuff blow up and really cool characters making their way out of tight situations with either a quip or a gunshot. But the scene that really brought it all home for me was when Brosnan's Bond hijacked a tank, and triggered another lifelong obsession:
A well-dressed man commandeering over a tank and taking the fight to the enemy to the tune of John Barry's iconic theme was the thing that did the trick. While I may not have been a fan of too many action movies as a kid, I did have a thing for formal wear. So seeing three piece suits and explosions, with dangerous female assassins and fatal one-liners along for the ride, convinced me that this whole James Bond thing was worth sticking around for.
Goldeneye Was The Key To Keeping Me In The James Bond Fandom
Once Goldeneye had its hooks in me, there was no going back. When Tomorrow Never Dies hit home video, I was sure to watch it with my father, and it only confirmed with me that I could get behind Ian Fleming's world famous agent. As the Brosnan era continued to release video games, I'd not only get a new movie to watch every so often, but also a new adventure to take part in on the console of my choice. Before I knew it, I was collecting various books on the subject of James Bond, and then I finally dove into the entire series.
The VHS tapes I once enjoyed solely for the fact that they had Pink Panther shorts on them became gateways to Sean Connery's brawling charm, Roger Moore's quick witted retorts and Timothy Dalton's vastly underrated run as a deadly serious 007. And, of course, it introduced me to the Bond classic that still sits pretty high up when it comes to the rankings, On Her Majesty's Secret Service. It cannot be stressed enough that while formal film education is always encouraged, sometimes the best lessons can be learned just by browsing your parent's collections and sampling everything you can get your hands on as a kid. Were it not for my father introducing me to the world of James Bond, no matter how small that initial exposure was, it wouldn't have led me down the path that landed me as a Bond fan for life.
It still sucks that we're not going to see No Time To Die in theaters this year, both with the April 2020 date well past and the backup date of this Friday, November 20, being off as well. However, with there being plenty of history to explore in all of the media that James Bond has made his way into, there won't be any shortage of celebrations for the legendary franchise that never dies. As such, if you want to celebrate two pretty big anniversaries that happen to land on this very day, you can watch the now 25-year-old Goldeneye, as it currently resides with the 14-year-old Casino Royale on Netflix.
Your Daily Blend of Entertainment News
Senior Movies Contributor
CinemaBlend's James Bond (expert). Also versed in Large Scale Aggressors, time travel, and Guillermo del Toro. He fights for The User.