Turns Out, Kristen Stewart Was The Big Rule Breaker On The Twilight Set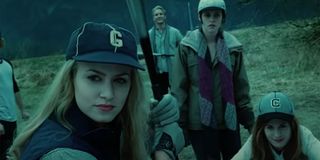 It's a time-honored tradition for many actors to take mementos from the sets of movies and TV shows they've worked on -- even though they are not supposed to. When it comes to the Twilight Saga, it should come as no surprise that some of the young actors wanted to take home a memento from the movie series that kicked off many of their careers. However, as it turns out Kristen Stewart may have been the biggest rule breaker, as she even helped her co-star Nikki Reed nick an item when she was too scared to do it herself.
Nikki Reed, who played Rosalie Hale through the movies, really, really wanted to keep a particular souvenir from the set, but she's a big rule follower and says she really struggled with how to get away with it. That is, until she talked to her co-star Kristen Stewart, who not only convinced her it was a rite of passage to nab something from set, but actually did the dirty work for her when it came to sneaking off some baseball shoes.
The item in question that Nikki Reed wanted were the cleats from the infamous baseball scene in Twilight's original 2008 outing. That's one of the most memorable scenes from the entire franchise and it took a long time to map out. It's also worth noting the shoes in the scene were Converse shoes, then very cool. Reed told Insider that she was ultimately too scared to grab them for herself, so Kristen Stewart swiped them and then gifted them to her.
While technically against the rules, I'm not sure what Summit Entertainment would have done with Nikki Reed's already-sweated-in shoes other than sell 'em to a collector or stick them in a display case somewhere. Ultimately, lots of props end up in actors' homes -- Chris Hemsworth once admitted to keeping Mjolnir by his toilet--so as far as set swiping goes, this is a minor offense. Still, it was a risk Kristen Stewart was willing to take and Nikki Reed very much wasn't.
This isn't the first time we've heard about Kristen Stewart swiping stuff from the set of Twilight. The Happiest Season actress previously admitted to having Bella's rings, noting that they are "really, truly quite important." That was the same interview in which Robert Pattinson admitted to stealing underwear from the movies, so it seems the two leads in the franchise were a bit in rule breaking cahoots with one another.
It's interesting because Kristen Stewart more recently revealed she did not take anything from the set of Charlie's Angels, so it's possible her rule breaking days on set are over. However, it seems Nikki Reed still fondly remembers her help on Twilight, thus perhaps proving the saying that "rules are made to be broken."
Reality TV fan with a pinch of Disney fairy dust thrown in. Theme park junkie. If you've created a rom-com I've probably watched it.
Your Daily Blend of Entertainment News
Thank you for signing up to CinemaBlend. You will receive a verification email shortly.
There was a problem. Please refresh the page and try again.