What Kristen Stewart Finds 'Intimidating' About Playing Princess Diana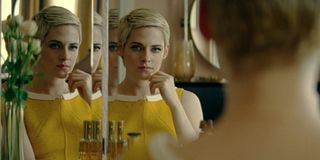 Any time an actor takes on a real-life role, there's some added pressure. If the person they're playing happens to be one of the most famous people in the world, it's safe to say the scrutiny will be even more intense. It sounds like Kristen Stewart is well aware of that fact as she prepares to play Princess Diana in the upcoming film Spencer. She revealed that she finds certain aspects of the upcoming project to be quite intimidating.
There's a lot you can say about Princess Diana. Though it's been more than 20 years since she tragically passed away, her legacy worldwide has only grown. The fourth season of Netflix's The Crown has only helped reignite our fascination with the royal -- and Spencer is likely to do more of the same.
Kristen Stewart will portray Princess Diana in the film, which is due to begin filming in January 2021. During an interview with InStyle, she made it clear that she's well aware of the pressure that comes with portraying such a well-known figure:
The actress also knows that convincingly playing someone as complex and well-known as Princess Diana is about more than just nailing the accent, though:
So while there's a lot of pressure on Kristen Stewart to get this performance right, it sounds like she's ready to take on the challenge. Doing that kind of in-depth research will likely be a big help, since Spencer aims to reveal a part of Princess Diana's life that we've been less privy to: the moment at which she began to realize that her marriage to Prince Charles was headed toward divorce.
The film will be directed by Pablo Larraín, who also brought us the gripping biopic Jackie in 2016. Fans should find comfort in knowing that Princess Diana's story is in the hands of two artists who've shown they have respect for the real-life subjects they tackle.
While we'll have to wait a bit before we can see how the Spencer team brings one of Princess Diana's most pivotal weekends to life, fans of Kristen Stewart have something seasonal to tide them over. Her new Christmas film, Happiest Season, is now available to stream on Hulu.
Your Daily Blend of Entertainment News