Sean Connery Died From Pneumonia, Heart Failure And Other Underlying Issues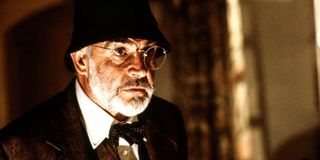 Sean Connery's death was a cause for mourning for cinephiles around the world. Now, we have learned the cause of the iconic actor's death -- pneumonia, heart failure, and other issues that resulted from old age.
News first broke that Sean Connery had passed away on October 31, 2020 at his home in the Bahamas. It was initially reported that he had been "unwell for some time." TMZ has now obtained his death certificate, which lists the official cause as respiratory failure. The death certificate attributes the respiratory failure to a combination of pneumonia, old age, and atrial fibrillation, a condition which can cause irregular heartbeats, heart failure or stroke.
Sean Connery was 90 years old when he died. In the days following his death, Sean Connery's widow Micheline Roquebrune, announced that he had died peacefully in his sleep and that his final wishes were to have his ashes scattered both in The Bahamas and in Scotland, where he was born in 1930. Fans from all over the world, including Daniel Craig and former co-star Harrison Ford, paid their condolences and reminisced about his remarkable film career.
He appeared in dozens of films and television series in a career that spanned six decades. After getting his start as a stage actor in his native Edinburgh, Sean Connery made his film debut in 1957. In the subsequent decades, he earned a reputation as a charming leading man and starred in multiple film franchises -- most notably Indiana Jones and of course, as Bond, James Bond.
While some actors can get pigeonholed into a specific kind of role, especially if it's one as iconic as 007, Sean Connery made it a point to seek out a wide range of films. He starred in blockbusters like The Hunt For Red October and The Rock, fantasies like Dragonheart, and thrillers like Alfred Hitchcock's Marnie. He even won an Academy Award for his supporting role in The Untouchables.
Sean Connery's death certificate listed his occupation as "Retired actor." However, he was such an iconic part of film history that the sadness we felt at his loss wasn't lessened by the fact that he hadn't appeared on screen in close to two decades.
After 2003's League of Extraordinary Gentlemen, he contributed to only two more film projects -- though he did once say he'd consider coming out of retirement for another Indiana Jones film. He leant his voice for the titular character in the animated film Sir Billi and served as narrator for the documentary Ever to Excel. Both films were released in 2012.
Sean Connery's legacy in Hollywood is far from over, though. Shortly after his death, it was reported that a TV adaptation of his film Finding Forrester is being planned. Keep it here at CinemaBlend for more news from the world of movies and TV.
Your Daily Blend of Entertainment News
Thank you for signing up to CinemaBlend. You will receive a verification email shortly.
There was a problem. Please refresh the page and try again.