What Excited The Christmas Chronicles 2's Cast About Making The Sequel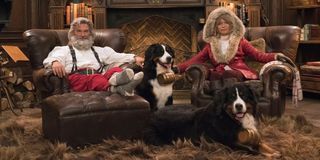 If you were to talk to Hollywood actors about the prospect of sequels to their most successful movies, you might find some people are a bit cagey on the prospect. But Netflix's The Christmas Chronicles 2 is one of those projects that excited both returning cast members from the first Big Ride and the newcomers who joined up this time around. Everyone was excited to get to work when the time came to deliver the follow-up to the 2018 surprising streaming smash hit, and it's a reality that shows in the performances that make this new adventure a must see for 2020's holiday season.
As if that excitement wasn't already palpable when watching the cast of The Christmas Chronicles 2 in action, I was treated to even more proof that co-writer/director Chris Columbus' universe of holiday cheer had won its cast over. Attending the press day for the film on behalf of CinemaBlend, I was able to speak with a good number of the cast members who had the job of bringing the world back into the realm of Santa's magic powers. With each person I talked to, I got similar, but different answers that patched together a great picture of Christmas magic.
Kicking things off were actors Darby Camp and Kimberly Williams-Paisley, two of the returning Pierce family members who were first seen in 2018's The Christmas Chronicles. Getting to go back to the world they helped build excited both Camp and Williams-Paisley, and in the case of both performers, "excited" can't be stated enough. It was a perfect case of like on-screen mother, like on-screen daughter.
Darby Camp made that much clear when mentioning how reuniting with her Christmas Chronicles cast and crew family was a point of happiness for her in making this sequel. However, another big point of energizing excitement came from playing Kate Pierce again, as Camp told me about the following reasons this return was so welcomed:
The story of the Pierce family, both as true believers in Santa's Christmas magic and as people who are still getting over the loss of Doug, the patriarch of their unit, is something that The Christmas Chronicles 2 uses to great effect, much like its predecessor did just two years ago. With such a tightly knit story, there's a chance for this series to become Netflix's Christmas tradition, with a new entry every couple of years.
It's a potential scenario that you could easily see Darby Camp, or her on-screen mother Kimberley Williams-Paisley, tackling enthusiastically. Part of that, at least in Williams-Paisley's case, is the fact that she and her own family have already made the first film a baked-in family tradition. But also, much like Ms. Camp, Ms. Williams-Paisley is invested in the story of the Pierce family, to the point where she mentions revisiting their lives as a joy to her, in the following terms;
As families grow and evolve, there's opportunities for growth and sadness. In The Christmas Chronicles, the Pierce family was only a year removed from the tragic death of Doug Pierce. But in The Christmas Chronicles 2, there's an opportunity for the Pierces to expand their family into a greater picture. That comes from the introduction of two of the film's new roles, Bob and Jack Booker, played respectively by Fast & Furious saga veteran Tyrese Gibson and Jahzir Bruno, the latter of whom made a big splash earlier this year with his performance in HBO Max's The Witches.
In the case of the young up-and-comer that Jahzir Bruno embodies, his reason for being on board with The Christmas Chronicles 2 was pretty extensive. And as you read his thoughts below, you'll see why he was such a perfect choice to play a potential step-brother to Darby Camp's Kate. The big reason being that his enthusiasm matches hers in the following statement:
Not to be outdone by his young co-star, with whom he almost instantly bonded with, Tyrese Gibson also enjoys being a part of The Christmas Chronicles 2's continuation of a Netflix tradition. A big portion of that enjoyment also came from being able to brighten the spirits of people who might be entering the holiday season a little sadder than usual. Which is why Gibson expressed these tidings of joy for being a part of the big sequel:
Of course, if we're going to talk about The Christmas Chronicles, we need to talk about Kurt Russell as Santa, and Goldie Hawn as the new "woman of today" version of Mrs. Claus she brings to this sequel. After being set up as the holiday power couple at the end of the first film, the path was laid down for Mrs. Claus to help lead The Christmas Chronicles 2 down a road that would bring the franchise into the future. And while she didn't know it when she made her big cameo at the end of the original installment, Hawn was always game to come back and bring some cheer to the picture.
However, part of the reason that both Goldie Hawn and Kurt Russell took part in The Christmas Chronicles series was because they wanted to be in on the Christmas tradition market. Which stemmed from the fact that their holidays were a bit busier than most other families, as their professional and personal lives saw them hustling and bustling at that time of the year. So while there's no one movie that their family holds as the holiday tradition, the spirit of such a film inspired them thusly:
There are many ways that the spirit of togetherness can be enjoyed at this time of year, and watching something like The Christmas Chronicles 2 is a big way that friends and family have always bonded over the holiday. And now, with the arrival of the second film on Netflix's already holiday-enhanced platform, you'll be able to schedule Santa's latest adventure with the Pierce family into your big rotation. So whether we're able to have our loved ones gathered near, or through a Netflix party online, there's plenty of fantastic options to use as enjoyable distractions as we draw 2020 to a close.
Senior Movies Contributor
CinemaBlend's James Bond (expert). Also versed in Large Scale Aggressors, time travel, and Guillermo del Toro. He fights for The User.
Your Daily Blend of Entertainment News
Thank you for signing up to CinemaBlend. You will receive a verification email shortly.
There was a problem. Please refresh the page and try again.