Why Utkarsh Ambudkar Is Excited To Watch Godmothered With His Daughter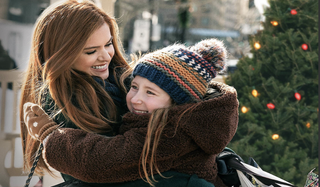 Disney has given us many fairy tales to love, and the latest, Godmothered, is redefining happily ever after. The film follows Eleanor (Jillian Bell), a fairy-godmother in training, who sets off to help 12-year old Mackenzie, only to find Mackenzie (Isla Fisher) is now 40 and has a very different perspective on love and happiness. Utkarsh Ambudkar plays Mackenzie's boss, Grant, in the film, and he recently shared in an interview with CinemaBlend why he's excited to watch Godmothered with his five-year-old daughter.
Without spoiling any plot points, Godmothered delightfully acknowledges the messaging of previous Disney films most of us grew up on, and then provides an alternative story. There is a moment in the film where some of the characters discuss living happily as opposed to searching for happily ever after. When I sat down with Utkarsh Ambudkar, he was excited about this aspect of Godmothered. Here's what he said:
Part of the magic of Godmothered is its relatability. Every character has a different thing that they're pursuing and each has a different definition of what happiness looks like to them - as is real life. The audience gets to go on a journey with Eleanor as she learns to shift her perspective from what she's been taught earlier in life. Utkarsh Ambudkar also shared his thoughts on this, too.
Godmothered has absolutely changed the framework of how stories are told, but with that it still carries the familiar Disney magic. Godmothered is now streaming on Disney+, and it's a great option for the whole family. While you're on the platform, give these another shot.
Your Daily Blend of Entertainment News
Obsessed with Hamilton and most things Disney. Gets too attached to TV show characters. Loves a good thriller, but will only tolerate so much blood.